Windows 10/11 is an impressive operating system with plenty of gaming options, including native games, retro titles, and Xbox One streaming. However, to fully enjoy all that it has to offer, some tweaks are necessary. Lucky for you, we've compiled a list of ways how to optimize your PC for gaming. Let's dive in!
#1 Activate gaming mode
If you're a gamer, you know that performance is everything. Luckily, Windows 10 has a built-in Game Mode that optimizes your PC for gaming. With Game Mode turned on, your system resources are managed to provide the best possible performance. As an added bonus, Windows Update will be suspended to prevent interruptions.
How to boost PC performance for gaming through:
1. Press the Windows key + I to open Windows Settings.
2. Type 'game mode' into the search bar.
3. Click on Game Mode settings or Turn on Game Mode.
4. On the Gaming screen, toggle Game Mode to On.
#2 Turn on Hardware-accelerated
Get the most out of your hardware and enjoy smoother, more responsive gameplay today with hardware-accelerated GPU scheduling! If you have a recent graphics card and Windows 10 or 11, turning on this setting is easy. Just follow these simple steps:
1. Press the Start button and search for "Graphics Settings".
2. Turn on Hardware-accelerated GPU Scheduling.
3. Scroll down to "Graphics performance preference" and select the app you want to set your preference for. For Nvidia users, this is done through the Nvidia Control Panel which can be selected as a desktop or Microsoft Store app from the dropdown menu.
4. Click on your chosen app, select options, and then choose "High Performance".
5. Repeat these steps for any game where you want maximum performance.
#3 Use a VPN
Another time-tested way to get better gaming performance is to install and activate a VPN. Perhaps it makes sense to explain why this is so. By connecting to VPN servers, you can switch to another game server, which may have less ping or less internet load. This is made possible by the VPN's ability to open access to any content. Advanced services are also able to optimize the traffic route, thereby reducing delays in the game. If your service is not working properly, then you need to improve VPN performance by installing another app. One of the best solutions on the market is VeePN, which has the most productive servers and smart traffic optimization algorithms.
#4 Enable maximum performance mode
By default, Windows prioritizes appearance, complete with fancy animations and shiny edges. However, these visual settings can negatively impact gaming performance. To optimize your gaming experience, consider adjusting the settings for performance instead of appearance. Here's how to do it:
1. Press the Windows start button on your PC or keyboard and search for "appearance and performance".
2. Click on "Adjust the performance and appearance of Windows".
3. Select "Adjust for best performance" and apply the changes.
4. On the advanced tab, double-check that the best performance is set for programs and not background tasks.
#5 Disable notifications
Windows has a feature called Focus Assist that allows you to control when and how you receive notifications. Interrupting popups and chimes can be a hassle while gaming, but with Focus Assist, you can manage your focus levels and optimize your gameplay. To activate it, open your Settings by pressing Windows + I, select System > Focus Assist, and choose Alarms Only to hide all other notifications. Make sure to turn on When I'm playing a game feature. These simple steps will reduce notification interruptions and make them available for later viewing.
#6 Turn off enhanced pointer precision
Don't let Windows settings hinder the performance of your high-end gaming mouse. Follow these simple steps to turn off the problematic setting that affects mouse pointer speed:
1. Press the Windows start button on your PC or keyboard and type "mouse pointer."
2. Click "Change the mouse pointer display or speed."
3. Untick the option to "enhance pointer precision" under the "motion" setting.
4. Click "Apply".
For even better results, check your mouse software for high polling rate options. Choose the highest option – 1,000Hz, 4,000Hz, or 8,000Hz – to ensure that your signals get to your PC faster and give you a competitive edge in gaming.
#7 Activate Nvidia G-Sync
Enhance your gaming experience by turning on G-Sync with just a compatible monitor and a new graphics card. Eliminate screen tearing and achieve seamless gameplay by matching your monitor's refresh rate with the frames per second of your graphics card. Follow our guide on how to enable G-Sync in your monitor and Windows settings. Additionally, fine-tune your display settings by adjusting your game's refresh rate and limiting FPS to the high end of your monitor's refresh rate.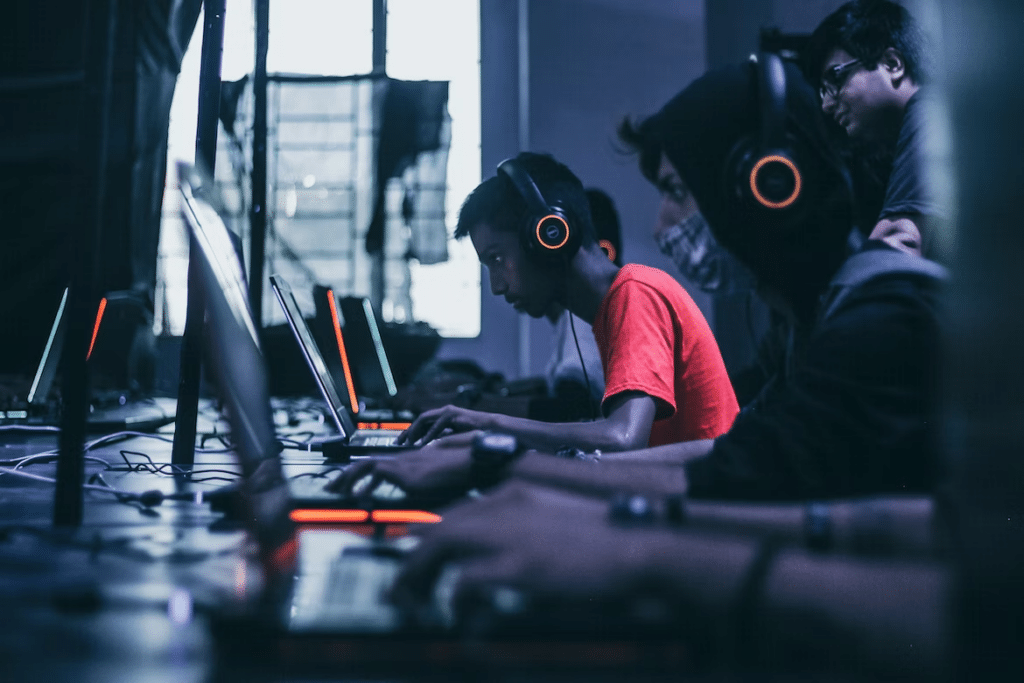 #8 Use a max power plan
Gamers often overlook the impact of power options on their PC's performance, but some claim that adjusting for higher performance makes a difference. To find out for yourself, follow these steps:
1. Open Settings.
2. Type "power" and select Power & Sleep settings > Additional power settings.
3. Choose the high-performance option, or create a custom power plan.
However, keep in mind that activating this option may increase energy consumption and temperature levels, making it more suitable for desktops than laptops.
#9 Disable auto-update of Steam games
If you're a Windows gamer using Steam, chances are you purchase and install games through the platform. However, a common frustration among users is the automatic game update feature, which can consume memory and limit network connectivity.
But fear not, there is a solution! To prevent background updates, simply launch the Steam client, go to Steam > Settings > Downloads, and uncheck the option for "Allow downloads during gameplay." And just like that, you'll be able to control when your games update without any interruptions.
Conclusion
By following these simple tips, you can optimize your Windows gaming experience and get the most out of your PC. You'll be able to enjoy smoother gameplay and experience fewer interruptions or lags. Now that you know how to make your computer run faster for gaming, all that's left is for you to enjoy a great gaming session! Good game.