Gamestop will buy your used and new electronics, and they are starting to accept more items than ever before. This leads to the question, does Gamestop buy tablets? The answer is yes. Gamestop will buy your used and new tablets.
If you check Gamestop's website, although they take a wide variety of tablets, their selection of tablets that they buy are limited. The majority of models that they are buying are either the Galaxy Tab or Ipads.
In order for Gamestop to purchase a tablet, you will need to make sure the make and model is on their website. This can easily be done by using the search function on their website when you are under the section for trade-in value.
How Much Does Gamestop Pay For Tablets?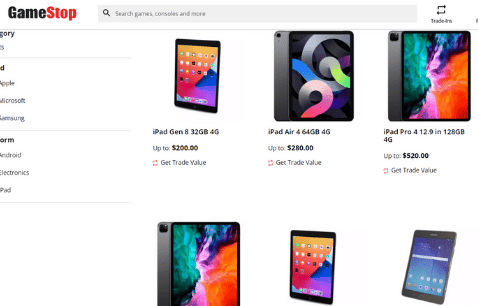 Below is a small chart with some of the most recent credit and cash prices for Gamestop Trade-In values:
Device
Trade-In Value
iPad Gen 8 32GB 4G
Cash: 160$

Store Credit: 200$
iPad Air 4 64GB 4G
Cash: 224$

Store Credit: 280$
Galaxy Tab S6 10.5 256GB Wi-Fi
Cash: 100$

Store Credit: 125$
Galaxy Tab 4 7.0 in Wi-Fi
Cash: 8$

Store Credit: 10$
Gamestop will pay you a certain amount based on the make and model of tablet that you bring into their store. Once you find the make and model you will be trading in, you will then have to choose the condition.
The conditions of the devices that they will accept for trade-in range from working, damaged, to dead. These conditions will also affect how much Gamestop will be able to offer you for your tablet.
Does Gamestop Give Cash?
Gamestop will give both cash or credit however if you choose cash, you will receive a much lower amount than if you were to accept your payment in credit. This is the industry norm across all of their electronics and video game purchases.
Gamestop is also notoriously known for giving a much lower cash value than in-store credit. If you do plan on trading in your device for cash, just know the value will be much much lower and you will almost always be able to get a better deal if you were to sell it yourself on a platform like eBay or OfferUp.
How Does Gamestop Trade-In Work?
When trading in electronics, a customer can trade as many items as they want and they can trade towards any product in the store or an upcoming product that is not released yet. If you decide to cash out in Gamestop credits, they will give you a Gamestop card that you can use later at any Gamestop location.
The only caveat is the device you are planning to trade-in must be on their list. This list can be filtered through on their website, or a Gamestop employee will be able to show you in-store.
Does Gamestop Buy Broken Tablets?
Gamestop will buy your tablet if it is working, damaged, and even broken. The price you will receive for a broken tablet is pretty miniscule. Gamestop will have to first repair the tablet before they are able to list it for sale on their marketplace.
Many times it is well worth it to fix your device before selling it or trading it in. Almost anybody will offer the lowest price possible they can when a device is damaged or broken, such has a broken or cracked screen.
Can You Negotiate Prices with Gamestop?
Gamestop employees are not able to negotiate prices with you. These prices are set by corporate and the employees are just following the protocol. For the most up to date prices of what you can receive if you were to trade-in your tablet to Gamestop, you can visit their website.
These prices are constantly changing, especially when newer models of tablets come out. Newer models will essentially make older models cheaper when it comes to trade-in and cash value.
Is It Worth Selling Your Tablet to Gamestop?
We only recommend selling your tablet to Gamestop if this is your only option. Gamestop will heavily underpay what your device is worth so that they can make the most profit once they relist it and sell it.
There are many other platforms that you can sell your tablet on to make more money. Places like Facebook Marketplace, OfferUp, and Ebay will yield far better prices for your items.
The only downside to selling your device on a different platform rather than trading it in to Gamestop is that it's going to take a little more work as well as patience.
Another thing you may have to worry about when selling your devices online is paying taxes. With new tax laws coming out, you only need to sell a total of 600$ worth of items in the year for it to be considered taxable. Again, this is per platform or payment system that you will be planning on using.
Final Thoughts
Gamestop will buy your used and new electronics. Their platform has been expanding the past few years and they are taking electronics from tablets and watches, to even phones. If you go to their website, you will be able to see a complete list of categories of all the electronics that they take for trade-in.
The prices vary greatly depending on the make, model, and size of the tablet you will be trading in. You will also have to select the condition it is in from working, damaged, or broken.
Overall, if you are thinking about trading in your tablet to Gamestop, we recommend that you first see how much Gamestop is offering, and then check your local marketplaces to see what the going prices are. Most of the time you will be able to get a lot more money if you just sold it yourself rather than trading it in to Gamestop.