For comfortable play, selecting the pool table's proportions that will fit in your room is crucial. However, it could be challenging because there are several pool table size options.
For decades, Pool has been among the most played games. It appeals to people of all ages and across oceans. As a result of installing one, your home's worth will rise, and you, your friends, and your family will enjoy playing pool on a top-notch table.
In addition to pool table price, size is crucial when purchasing a pool table for your house. However, figuring out the typical pool table dimensions for household use could be challenging. Therefore, you should first become familiar with typical pool table sizes. For specific applications, different sizes are ideal.
We are here to help you determine the best pool table size to achieve a proper fit.
A pool table's length measures from 6 feet to 9 feet. The size of the table's width depends on the regulation table's rule of a 2:1 ratio. That means that for a 9 feet long table, the width is 4.5 feet. Factors like room size also affect the size of the table you purchase.
Standard Sizes
The term standard-size pool table defines tables between 6 and 9 feet long. Standard pool tables are regulation pool tables.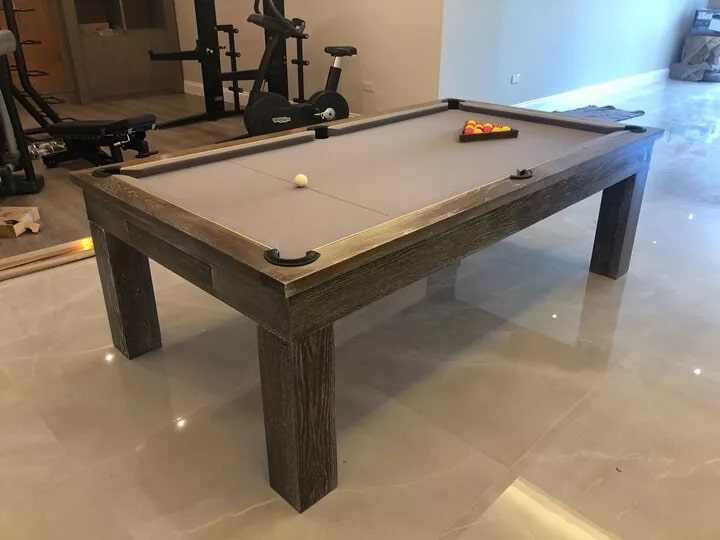 As a result, it is simple to understand how people could be puzzled by the distinctions between standard and regulatory tables.
Regulation Pool Tables
The length-to-width ratio of both commercial and residential pool tables is relatively consistent because Pool is an angle-based game. A pool table that adheres to the 2-to-1 ratio necessary for regulation sizes pool tables is a regulation-size table. Therefore, the pool table needs to be two times as long as wide.
So long as the playing area specifications are precise, any size table can be used. For instance, a table with a 44-inch width needs to be 88 inches long to qualify as a regulation.
It is indeed more challenging to transition to a regulation-size table after gaming on a non-standard pool table at any time. The measurements are off, even a little bit.
How Big Is a Pool Table in Meters
Pool tables can be 9 feet (2.7 meters), 8.5 feet (2.6 meters), 8 feet (2.4 meters), or 7 feet (2.1 meters) in length. The table is always rectangular and has a 2:1 ratio (for example, 9 4.5 ft).
The World Pool-Billiard Association (WPA) and its numerous regional and national affiliates have only accepted the 9 x 4.5 and 8 x 4-foot models for tournament play. The International Olympic Committee recognizes these models as the recognized sport regulatory body of pool.
How Big Is a Pool Table in Inches
The playing surface (the area between the cushion's noses) for a 9-foot table is 100 inches (254 cm) by 50 inches (127 cm), whereas the width is 92 inches (234 cm) x 46 inches (117 cm) with the same eighth of an inch margin of error permitted for an 8-foot table.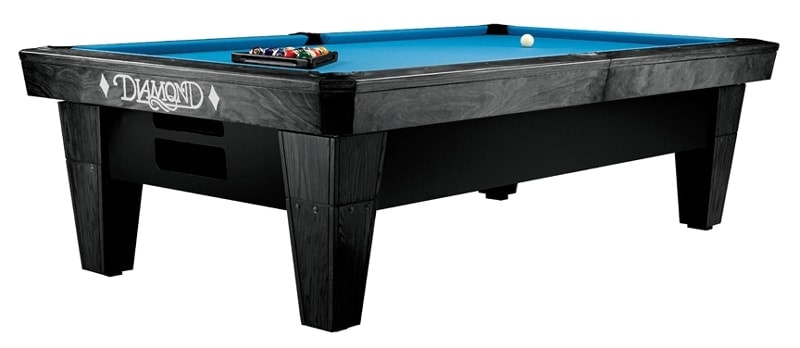 There are other pool table sizes besides only 7-foot, 8-foot, and 9-foot. Additionally, there are 6-foot, 10-foot, and 12-foot tables available. Therefore, you can order a pool table in any size you like. The important thing to keep in mind is that you should look for a pool table that complies with the 2-to-1 standard.
8-Foot Pool Table
Standard tables used in households are 8-foot pool tables. Playing surfaces on 8-foot tables measure 88 (224 cm) in length and 44 (112 cm) in width and are set at 29 1/4-31 (74.3-78.7 cm) in height.
The overall dimensions of an 8-foot pool table are 103 x 59 | 262 x 150 cm, and its height is 32 | 81.3 cm. Therefore, for an 8′ pool or billiards table, a clearance area of at least 11'8 x 15'4 | 3.55 x 4.67 m should be offered.
Full-Size Pool Table
A pool table six feet to nine feet in length is simply a full-size pool table. Anyone who wants to learn how to play pool but has a small room would benefit from 6-foot tables. Although there are table-top and smaller pool tables, anything under 6 feet makes the playing area so small that it is difficult to play pool.
Because they are 1 foot longer and 1⁄2 a foot broader than a professional-size table, 10-foot tables are frequently referred to as oversized pool tables. It's interesting to note that 12-foot tables are standard pool tables.
So you might need a 12-foot table if you want to learn to play billiards.
Related: How to Set up a Pool Table – A Detailed Illustrated Guide
Room Size Requirements
When selecting a table, the official room size for the pool table is quite important. To be able to move around comfortably, you need enough room. Likewise, the shooting stroke will have enough room. Your design, size, and load-bearing column are crucial in the basement and are additional factors.
Measure the total floor space, allowing players enough room to squat down and make shots. Keep your cue rack and scoreboard in mind, and make a place for others waiting their turn.
What is enough space for you that may need to feel comfortable can differ for someone else because everyone plays pool differently. It's a good idea to ensure you have more space than you need. For example, if you think an 8-foot table is too huge, think about a smaller table.
Can a Pool Table Fit in a 12×12 Room?
Although there are various standard sizes for pool tables, the average home pool table is 8 feet in length. Therefore, players won't have as much space to move about and shoot without striking a wall when you consider that a pool cue's length is 58 inches. That means a regular home pool table won't fit in 12 feet × 12 feet room.
However, pool tables are available in smaller and bigger sizes than the typical household pool table. With a few pool cue changes, smaller tables, also known as bar boxes since they are common in clubs or pubs, may fit inside 12 feet by 12 feet space.
A huge, spacious basement would be a fantastic place for longer tables 10 to 12 feet long.
Related: Can You Put a Pool Table on Concrete?
Custom Made Tables
You can get specially constructed tables to suit your pool table requirements. However, custom pool tables are the solution if you're seeking something unique, lovely, and the ideal piece to serve as the main point of any area.
While looking around to see if what's available is fantastic, remember that you can combine all your best aspects into a personalized, bespoke design. To build your distinctive model, you can select your preferred design features from various pool tables.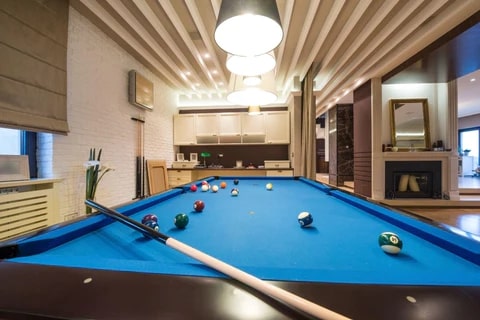 Because they let you take your area and make it distinctive, custom designs are a popular interior design trend. That gives the design a personal touch. Custom designs allow you to think bigger, reject preconceived notions, and develop design concepts that uniquely express your personality.
You can now take tremendous delight in enjoying a game of pool with your loved ones and knowing that you created the component that makes it possible.
Related: Is a Pool Table Considered Furniture?
How Big Is a Pool Table FAQs
Is a 7FT Pool Table Too Small?
Eight-foot tables are generally professional size, whereas seven-foot tables are bar size. However, we advise getting the bigger size if you have the room because it usually makes for a better playing experience.
A seven-foot table can be a fantastic addition if you have a tiny space.
What Size Pool Table Do Professionals Play On?
The size of a professional standard pool table is a factor that pool table buyers frequently consider (especially if they're competitive or wish to practice). Whether you're playing American or English pool, the size of a league table depends on the form of cue sport you're participating in.
Most American pool leagues accept a 9-foot table as the norm for events, though there may often be exceptions. Although 9 feet is normal, most billiard halls specializing in American tables would utilize 8-foot tables instead, much like English pubs may use a 6-foot table.
What Is the Actual Size of an 8-Foot Pool Table?
A pool table 8 feet long and 4 feet wide will have 88-inch to 44-inch dimensions. An 8-foot professional table will be 46 inches broad and 92 inches long. On the other hand, the dimensions of a 9-foot table are 50 inches wide by 100 inches in length.
Related: Will Water Ruin My Pool Table?
Conclusion
Having the perfect size pool table for your space is essential while determining your conventional size. However, owning a pool table also requires commitment, upkeep, and a fundamental awareness of choosing the ideal one for your residence, place of employment, or other recreational spaces.
You are now aware that typical tables are those between 6 and 9 feet long. Nevertheless, normal pool tables can also be tournament-size tables when they are 9 feet long and 4.5 feet broad or regulation-size tables when they adhere to the 2-to-1 ratio.