Refelting your pool table can be a pain. Nonetheless, it is sometimes necessary to ensure the look and feel of your table is flawless from one game to the next. If your pool table has become worn down with repeated play and use, you're going to need to figure out how much money it costs to refelt a pool table.
As you may have suspected, the cost of refelting a pool table is going to be determined by a few different factors. The size of the table itself is obviously the most important factor to keep in mind. If you own a pool table that measures upwards of eight feet, you can expect to pay anywhere from $260 to $500. The nine-foot pool tables can cost anywhere between $280 and $560.
Assuming you purchase the felt for the table yourself, additional costs will be necessary. There is also obviously the decision of whether or not to do the work on your own, or if it would be better to call in a professional. To answer that question fully, let's break down the various considerations that will drive the eventual decisions you will need to make.
How Much Does It Cost to Refelt an 8 Foot Pool Table?
The price is always going to vary, regardless of the specific size of your pool table. Different companies charge different amounts of money for the materials and work involved. For your 8-foot pool table, the quality of the felt you're purchasing is also going to play a significant role in how much you wind up spending.
For example, Teflon is cheap and fairly durable, but it isn't of the very best quality. Worsted cloth is considerably more expensive. Most experts suggest not going for the cheapest option. Well-maintained, high-quality felt for your pool table can last up to a full decade.
Having said all of this, you can expect to pay at least $260. If you start getting into subjects like higher-quality felt, or even customized work, the costs are obviously going to start rising. It is unlikely that you will have to pay more than five hundred for even the best possible results.
What about a smaller table? How much can you expect to pay to refelt a seven-foot pool table?
How Much Does It Cost to Refelt a 7 Foot Pool Table?
Although the costs do go down for a 7-foot pool table, as opposed to one of the 8-foot options, you're going to find that when you compare those prices, the difference isn't all that big of a deal. Generally speaking, refelting pool tables in the 7-foot range is going to cost you $20-$30 less than what you would have to pay to refelt an 8-foot table.
Prices for refelting 7-foot pool tables will start somewhere in the neighborhood of $240-$260. There are cheaper options out there, as we touched on earlier, but this is not advisable.
At the highest level of quality, and keeping all of your extra options in mind (installation, leveling etc), you will probably find yourself paying $450 to $500.
Regardless of the specific size of your pool table, you should obviously make an effort to shop around for the best pool table refelting prices as much as you can.
Next, let's take a closer look at the different types of options for refelting any given pool table. This can go a long way towards showing you what you should be expecting on the pricing side of things.
A Closer Look at the Different Types of Pool Table Felt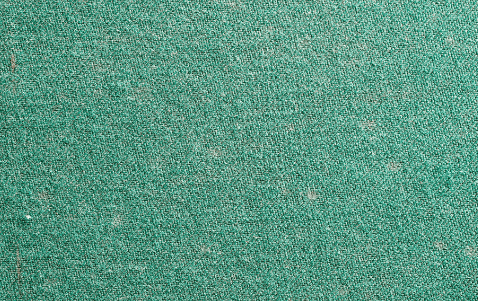 Woolen cloth is the most common type of felt used for pool tables. It tends to have a thick, heavy feel to the touch. If you never knew a thing about pool table felt until today, it is likely that the vast majority of the pool tables you've played on were made from the range of options available in this category.
Comprised of at least sixty percent wool, this is the more affordable of the two main categories. 8FT Championship Invitational Teflon Felt is one example of the woolen cloth variety.
At a fabric cost of approximately $130, it is the cheapest felt material on the market. Coin-operated pool tables may use this material, although it is generally advised that any pool table for any purpose go at least one level up from the bare minimum.
While worsted cloth is generally much more expensive, there are woolen cloth options that are in the $300 range. Billiard balls tend to move more slowly on this material.
If you are thinking about refelting a pool table, we highly recommend going with a precut pool table felt like this one from Accuplay as it will make installation a whole lot easier. The pool table felt comes in a wide variety of colors, is priced competitively, and you have the option of selecting a precut section for either a 7′, 8′, or 9′ pool table.
Turning to worsted cloth, we see something that is not in fact felt at all. With a level of detail that allows you to actually see the weaving that has been put into the cloth, worsted cloth is often found in professional-level tournament play.
Some amateur players like a worsted cloth pool table in their home because they prefer a material that feels not unlike touching a woolen suit. They may also just want to use what the experts prefer.
You will also want to note that billiard balls tend to move much, much faster on this material.
So, why is it so expensive? It comes down to the quality of the materials being used. Only the finest combed wool in the entire world is used to make these high-end pool tables.
Furthermore, the material has to be made using specialized machinery, which exists solely to make this material for pool tables. It isn't hard to see where the price difference comes into play.
While overall promising a better level of quality, the choice between the two is ultimately going to come down to your personal tastes. Some have played with both of these materials, and still preferred woolen cloth at the end of the day.
There are a couple more specialty cloths, including carom and snooker. The interesting thing about carom in particular is its thinness. This produces the fasted balls on average.
Let's summarize the price differences to keep in mind:
| | |
| --- | --- |
| Felt Material | Approximate Material Cost |
| Championship Invitational Teflon Felts (Woolen Cloth) | Starting at $130 |
| 303 Teflon Felts (Woolen Cloth) | Starting at $160 |
| 404 Felts (Woolen Cloth) | Starting at $165 |
| ProForm Felts (Woolen Cloth) | Starting at $215 |
| Simonis 860 (Worsted) | Starting at $315 |
| Simonis 760 (Woolen Cloth) | Starting at $315 |
| Simonis 860-HR (Worsted) | Starting at $335 |
While there are other options and prices out there, the above should give you a pretty good idea of what you can expect to pay among the two main categories.
Is It Difficult to Refelt a Pool Table?
In the sense of overall complexity, refelting a pool table is fairly straightforward. Nonetheless, it can still prove to be involved, challenging work, particularly for a first-timer. Many opt to have the work done by professionals simply because they don't want to risk causing damage to the table.
A professional can refelt most pool tables in two to three hours. You will likely have to spend a little more time than that on the work involved.
How to Refelt a Pool Table Yourself: A Short DIY Guide
Let's briefly cover the steps involved in refelting a pool table by yourself. If you're serious about doing this, you may want to consult additional how-to guides and/or instructional videos online:
Start taking down the pool table. This includes removing pocket liners, taking out the bolts under your table, and moving the railing of the table to a safe location.
Remove the original felt. Use a staple remover if staples are part of your table. If the felt was glued on, you need only rip it completely off.
Have your pool table leveled. Although optional, it is ideal to check to make sure the table is still flat.
Have the slate cleaned up. Remove dust and any old residue as gently as you can.
Sealing your seams is the next step. If you have an older model pool table, you may need to use beeswax to reseal your seams.
Purchase new felt: Using the guide we created above as your starting point, figure out which option for felt is going to give you the results you have in mind. Experts suggest purchasing enough felt to where you'll have twelve inches more material than the table itself on any given side.
Staple or glue? In terms of putting down the new felt, you're going to be using either staples or glue. If there is wood or particle board underneath your slate, you're going to use staples. Otherwise, you're going to use glue to put the new felt down.
Cut the felt to suit your needs. Anything you purchase should come with very clear instructions for making sure this is done correctly. These instructions should be followed to the letter. Even a small mistake can leave you with costly damage.
Start rolling out your felt over the table. You want the felt to be facing upwards. Somewhere on the felt you have purchased should be an indicator of how the felt needs to be set down. Make sure to check the material you have purchased for any signs of damage, including rips and tears.
Stretching your felt over the head end of your table, you will want to start stapling along the vertical edge in several different areas. This process will need to be done again for the left side of your pool table.
After stapling your foot end, you're going to need to do the same thing for the right side.
Moving along to the pockets of the table, you will need to start trimming the material along these areas. Make sure the felt has been stapled inside each of the pockets, as well. Any excess felt can be removed simply enough with any sharp blade. Just be careful not to cut too much!
The above covers parts 1 and 2 of refelting a pool table. Let's see what you'll need to do to finish the job:
Staple or glue your playing surface to keep it firmly in place. You'll want to make sure you're using the right materials, depending on your table.
Lay down some newspaper, with the paper hanging just over the edge. This protects you from spilling glue on the table, if necessary.
Following the instructions included with your material, start cutting your felt.
Once you've figured out where the playing surface of the pool table is, you can begin placing your new felt down.
Folding the head side of the material upwards, you'll apply some glue.
The felt can now be gently attached to the actual pool table.
You can now begin repeating the steps outlined above for not only your far end, but for your table's long sides, as well.
If you need to line your table's pockets, cut and use any excess felt you may have on the table already.
What about railing felt? Here are the steps:
Old felt from your railings should be removed with a staple puller, or perhaps even a flat-head screwdriver.
The wooden feather strip should be removed carefully.
New felt can now be established over your railing.
A tapping block, or perhaps a hammer, can be used to carefully wedge in your featherstrip's center.
As you're pulling the material towards your cushion, start tapping in the ends of your featherstrip.
You can now begin reassembling your outer railing.
Costs for an Expert to Refelt a Pool Table
Going by the long list of steps highlighted above, you can probably better appreciate why many prefer to just have an expert do the work. Labor costs tend to start in the $100-$130 range. It really depends on the work involved, the materials, and more.
How Often Should You Refelt A Pool Table?
Many experts suggest refelting a pool table every three years or so. However, with good care, your pool table felt can last for up to a decade. Also, use your best judgement when you think it's time for a refelt. If your pool table's felt is affecting the performance of your games, or you are unable to clean it effectively, then it may be time for a refelt.
Final Thoughts
Refelting a pool table can be a costly investment, especially if you are not installing it yourself. You can expect to pay anywhere from $260 and $500 dollars.
The price will vary quite a bit depending on the cost of the pool felt as well as the cost of labor if you are hiring a professional to to the job for you.
The most effective way to get the best price when refelting your pool table is to research different types of pool table felt, as well as getting installation quotes from a few professional installers until you can find a price that meets your required budget.