Painting miniatures is a really fun hobby. If you already paint miniatures, or you are thinking about taking up the hobby, it has probably crossed your mind to sell them for some extra money. The good news is this is a hobby that can make you a decent amount of money.
Miniatures are often used in role-playing games. They have the ability to be pieces like vehicles, dragons, furniture, dollhouses, dungeons, and multiple other gaming pieces. In most cases, people want to have beautifully decorated miniatures for their game, but they don't want to take the time to do it themselves.
There are three different levels of having a miniature painting business. They are low-level, mid-level, and top tier level. When you first start out selling miniatures, you will usually start on the low level. As you get better and more popular, you can move up to the top tier.
Can You Make Money Painting Warhammer Figures?
There are tons of people that play Warhammer. This tabletop game has several little figures that need to be decorated. There are figures such as humans, elves, orcs, and a variety of other monstrous creatures. The game has several different modules of figurines, which some game players might not want to decorate themselves.
Creating detailed Warhammer miniatures is extremely satisfying and easier to master than it may seem. You build the model, prime it, paint a base coat, add different layers and shading, highlighting, and detailing.
Some people think the process is too time consuming and not worth the hassle but will be more than willing to pay someone else to do it for them. There is definitely money to be made is painting and selling Warhammer figures.
Did you Know? Citadel paints are undeniable gorgeous, but also exceedingly expensive. They are very high quality and come in an assortment of colors which other brands just don't have to offer. So essentially you are paying for the high quality paint, and the awesome array of colors.
Can You Make Money Selling Painted Miniatures?
Painting miniatures is a business that you can definitely make money from. The art on the box of a game makes it easy to have a guideline to follow. People who are searching for pre-painted miniatures will want them to look as similar to the box as possible.
In some cases, you will have someone reach out and request specific figures painted a specific way. In others, you can paint them and sell them on websites like eBay or Etsy without needing to talk to the client.
To make the most out of selling painted miniatures, you need to paint well, efficiently, and quickly. You can also decide whether you want to paint individual figures or full sets that are completely ready for war during a tabletop game.
The best way to start making money is by painting figures for people in your town. This is a great way to get word out and gain some customer feedback. If you present yourself professionally, you will earn a great reputation to sell more and make more.
How Much Do Commission Miniature Painters Make?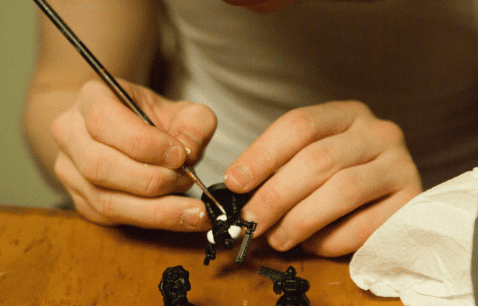 Whether you are trying to make a living painting miniatures or just picking up a side job, wondering how much commission painters make is a valid question. When starting commission painting, it is a very common assumption that you need to charge the lowest possible price until you have more experience.
The truth is, if you charge a rate that is low, people are likely to take advantage of it. This can quickly lead to burn out and you will be doing more work than what you are charging for. It is important to understand that you need to include all aspects of the process in your charge.
When choosing a price to charge for your commission work, you need to include assembly of the model, painting, as the cost of the materials used. This will ensure that you are getting properly compensated for the work you are completing and not getting taken advantage of.
The best way to make sure you are getting paid properly is by setting an hourly rate. Let's say you want to make $15 per hour you spend painting. If you only charge for the time you spend painting, you won't get paid as much. If it takes you 10 hours to paint 10 miniatures, you would charge $150.
Say it takes you a total of 13 hours total to finish all 10 miniatures because you didn't charge for assembly. In this case, instead of making $15 per hour of work, you would only make $11.50. You should instead count for the assembly time and charge $195 for all 10 figures.
The amount of money you make selling painted miniatures depends on how much work you do and how much you charge. The more work, the more you will make. As long as you are charging a proper fee, you will make great money doing something you love.
Is it Legal to Sell Painted Miniatures?
There is nothing saying that it is illegal to sell painted miniatures. You can even sell unpainted miniatures legally. The catch is the miniatures have to be bought directly. You can't make a mold of a miniature, make your own copies, and sell them. This would become a copyright issue.
As long as the miniature you are selling is a legal copy that was purchased, the copyright holder transfers that copy to you. This means you legally purchased that copy and can do whatever you want with it. As long as you are planning on selling only miniatures that you legally purchase, you can legally sell painted miniatures.
How Do You Become a Commission Mini Painter?
It can be intimidating and scary trying to break into the world of being a commission miniature painter. If you know where to start, you will feel more confident and prepared. Starting this new career doesn't have to be hard or scary.
The first thing you will want to do is start building a reputation. Paint miniatures for family, friends, or other people in your town. Once you have some people who are able to back up your work and give you reviews, you will have plenty of work to show potential clients the quality of what you do.
You also need to practice. If you apply effort, you will quickly see your skills grow and improve. There might be several times where you feel that your skills aren't improving, but you need to push through and keep motivating yourself. The best practice strategy is to paint as much as possible.
During your practice, you will want to try out different painting techniques and designs. This will help you find your groove and determine what works best for you. If you are going to be painting a large number of miniatures at once, you might want to invest in an airbrush to speed up the process.
Instead of purchasing a premade set of Citadel paints, we recommend building your own paint set with this build your own assortment bundle. This allows you to choose only the colors you need or want at a great value.
Where to Sell
Deciding where you want to sell will also play a huge role in how you become a commission mini painter. There are several different websites that you can sell on, you just need to choose the one that you prefer and like best.
Etsy
One of the most popular websites to sell on is Etsy. You can sell handmade items, including painted miniatures. You can list several different items on Etsy, but there are fees involved. There is a listing fee, transaction fee, and payment processing fee.
eBay
eBay is probably the biggest online marketplace. There are so many different items for sale and putting your painted miniatures here is a great option. Selling on eBay is really easy and all you need to do is create an account and list your work for sale.
You can list 50 separate items before having to pay a 30-cent fee for each extra listing. Make sure the pictures you post are clear and showcase the detail in your work. It is also important to be honest when you are describing your product. Don't put anything in the listing that can be misleading.
Chairish
There are online consignment websites that you can sell your painted miniatures on. The most popular is called Chairish and has four different consignment options. You can sell as a consignor (which is for beginners), professional, elite, or wholesale. You will likely stay within consignor and professional, both of which are free.
Tips for Becoming a Commission Mini Painter
Becoming a commission mini painter doesn't have to be hard. Here are a few tips that will make the process even easier.
Put in Work
Commissioning means working at home. When you are at home, it can be difficult to stay focused. You need to quickly respond to clients with questions and potential clients. Running a website and social media account for your artwork can be a beneficial way of getting your name out there.
You will also need to spend the majority of your time painting, listing your items for sale, and shipping them out to your customers. The more work you put into your business, the more you are going to get out of it in the long run.
Be Consistent
If you are not consistent, it's not likely you will get repeat customers. They will probably leave an honest review about their experience and prevent other clients from contacting you for work. Burnout is real, so in order to stay consistent you need to be realistic with your timelines.
When you take on a job, give your client an achievable date for the project to be completed and sent to them. This will help your clients gain trust in you and know that you will meet the deadlines you set. Always take other current projects under consideration before creating a deadline for any new ones.
Final Thoughts
If you enjoy painting miniatures and you are wondering if you can make some money on the side doing so, it is possible. There is a pretty high market for pre-painted miniature figures. Most people want their miniature game figures painted but don't have the time or interest to do it themselves.
You can start painting miniatures as a side hustle or a main job depending on how much work you are willing to put in. It is recommended to start painting for friends, families, or other people in your town. This will be a great way to earn a reputation before selling your services online.
Word of mouth is one of the best ways to get commission work. Once you have a few clients that are happy with their purchase, you can ask them for reviews and testimonials. You can then use these to attract new clients.