If you are looking for bowling supplies there are serious advantages to going with the best. Today we're going to give you a list of bowling ball companies which are at the top of the game. We'll tell you a little about their history so that you can make an informed choice when it comes to your gear.
'Spinoff' companies abound, but everyone on our list has a rich history of experience when it comes to the game and to providing you with proper supplies. With this information, we hope that you can find exactly what you are looking for and be assured of their quality.
We'll get started with some information on the top companies and we'll answer a few of the common questions which we receive on the subject. Without further ado, let's get this ball rolling!
The Top 5 Bowling Ball Companies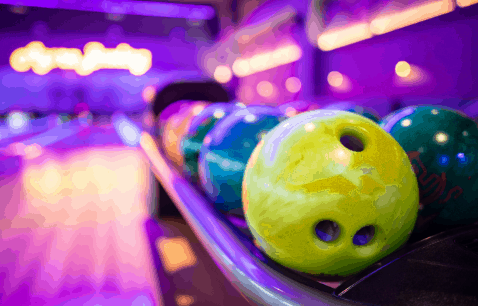 There are lots of companies but winnowing down the list to the most prominent was actually quite easy. The companies below have the experience and deliver the goods, but we thought we'd give you a little more information about them so that you can get an idea why they are some of the best in the business.
Brunswick
Established in 1845, Brunswick is one of the best-known names in bowling and for good reason. This company actually helped to establish the American Bowling Congress. As relative pioneers in the game of bowling, they are quite well-equipped to supply you with top-rated bowling balls and more.
We should note that they have had a change in their management, but this hasn't affected the quality goods that they provide. We'll tell you a little more about that later in this article, but if you want a vendor with a long history in the game and consistently good reviews then you can't go wrong with Brunswick.
Pyramid
Established in 2011, relative newcomer Pyramid has been getting a lot of attention and for good reason. They have an aggressive marketing strategy that draws attention to what is important – that Pyramid provides quality bowling balls at prices that won't break the bank.
They have some interesting bowling balls in their lines and are well-worth checking out when you are looking for the perfect bowling ball for you.
Storm
Originally vendors of bowling ball cleaners, this companies popularity surged with the release of their first ball which was called, of course, the 'Storm'. This company thinks outside of the box and one example is that they were the first providers of scented bowling balls.
This was a smart move, evoking nostalgic memories with bowlers when they first encountered these balls and it certainly cemented the brand name into their minds. Fast forward and Storm is still going strong, with a large range of products, competitive pricing, and specialized high-end balls are also available through them.
They are also avid supporters of breast cancer awareness and even offer bowling balls promoting this!
Ebonite
Next up we have Ebonite and you've probably heard of them. Famous for the versatility of their offerings, Ebonite has their own lines as well as a few others brands which they have gathered over years of successful business. They offer reasonable prices, a huge selection of bowling balls, and they also cater to different kinds of bowlers.
If you want a little something special in a bowling ball, Ebonite is well-worth an online visit.
Hammer
Hammer released the second urethane bowling ball that hit the markets and the first 2-piece urethane balls were soon to follow. This company got off to a rocky start initially, with their bowling balls and other goods being considered merely adequate, but this was soon to change.
After a ball with their logo was seen during a PBA game, they got a much-needed boost in both their brand-recognition and moved their profits into the quality of their products. These days, Hammer is all about quality and innovation.
Not only that, but they offer both low and high-end balls and a wide range of selections. Some of the balls even come with a 3-year warranty, so the Hammer of today is a completely different beast than the Hammer of old. If you know the name but didn't know that they've changed, you should certainly pay them a visit.
We think that you might be pleasantly surprised.
What Is the Best Bowling Ball Company?
If we had to go with one, we'd select Brunswick. They've got the history, they helped to innovate the gameplay itself, and they still get stellar reviews. It's hard to argue with that so for overall best goods for most bowlers, we have to give that title to Brunswick.
To check the current prices and availability of Brunswick Bowling Balls, click here to check them out on Amazon.
What Bowling Ball Brands Are Owned by Brunswick?
As of 2019, Brunswick has acquired 7 prominent brands to go with their own Brunswick lines. Each of these companies have their own flavors and styles when it comes to bowling goods and you'll certainly recognize some of the names:
DV8
Radical
Ebonite
Radical
Track
Columbia 300
Hammer
Is Storm and Roto Grip the Same Company?
Storm owns Roto Grip, along with around 900 other global brands! On their own, this bowling company produces somewhere in the neighborhood of 500,000 bowling balls which they ship around the world, currently to approximately 70 countries.
Did you know that Storm bowling balls have tons of different fragrances available for their bowling balls? This Storm bowling ball is widely popular due to its birthday cake fragrance!
Who Owns Hammer Bowling?
Hammer was technically owned by Ebonite until their acquisition by bowling-giant Brunswick occurred in November of 2019. Known for their mid to high end bowling balls as well as their quality accessories, Hammer is still a popular option for bowling supplies and it appears that little more than ownership has changed.
Who Owns Motiv Bowling?
Motive Bowling is owned by Muskegon Michigan-based Wilbur Products. This American company has been producing high-performance bowling balls and accessories for over 25 years and these American-made balls are sold through their 'Tech-line Products' for those patriotic bowlers who only want their goods to come from the good ol' USA.
Did AMF Buy Brunswick?
Brunswick has been busy acquiring companies, as we've explained in the article, but they in turn were acquired by the Bowlero corporation, formerly known as Bowlmor AMF. Before they were acquired, Brunswick was actually the 2nd largest operator when it came to bowling centers in the United States.
Bowlero acquired them and cemented their position as the largest provider of 10-pin bowling centers in the world, with a count of close to 300 centers and with most of those centers being located in the United States.
What Bowling Balls Are Made in the USA?
A number of bowlers like to know that they are bowling with balls made in the United States and so we are often asked which companies provide this. There are a quite a few that you can choose from.
First off, Roto Grip and 900 Global are two brands that both produce American-made bowling balls that you may purchase. You may recall Michigan-based Motiv and they are also a strong supplier of quality, high-end bowling products which were also made in the U.S.A.
Storm Bowling balls are also all-American, with the exception of two lines. The Ice Storm and the Tropical lines of bowling balls are the exception in the Storm line of products, but all of their other balls are American-made.
Ebonite was formerly American-made, but with their acquisition by Brunswick in 2019 their factory production was moved from Hopkinsville, Kentucky, and relocated to the Brunswick factory in Mexico. This affects all of the Ebonite international lines, such as Hammer, Columbia 300, and Track so all of these lines are currently no longer American-made.
That said, you can still sometimes find older Ebonite products available for purchase. So if you get a ball with the Ebonite, Track, Hammer, or Columbia 300 brand which pre-dates November of 2019 then you will be getting a ball that was 100% manufactured in the U.S.A..
As we've covered in this article, acquisitions do occur quite frequently, so when in doubt be sure to check with the manufacturer that you are considering. They'll be able to tell you right away where their bowling balls are manufactured so that if you want to bowl only with American bowling balls then you will have that option!
Final Thoughts
Today we've explored the world of bowling companies and as you can see, you've got a lot of great companies with long histories and genuine vested interest in the sport of bowling. So, the next time that you are looking for gear, just keep a few things in mind.
First, you'll want to select a company that's been around for awhile and stands behind their work. Selecting a relative 'unknown' might save you a little cash in the short run but if you are an avid bowler it's a risky choice.
Finally, if you want to go with balls that are made in the USA, then vendors like Motiv, Roto Grip, and Columbia 300 are there to help. We hope that the information we've provided today helps to answer your questions and steer you to the right vendor for your needs and we hope that you enjoy your new bowling gear for many years to come!