Our top pick for the best app to keep track of your bowling score is Bowlsheet. It does a phenomenal job at tracking just about every aspect of your game.
You might not be aware of it, but bowling apps are indeed around and you might be surprised what they have to offer. Today we're going to explore the top 5 best apps to keep track of bowling scores and some that do even more!
As it turns out, you can keep track of your stats, view live games, and there's even an official app from Bowling giants Brunswick! We'll tell you about these apps today, as well as which were our favorites, and why. In the end you'll have everything you need to know to decide which app is best for you. Let's take a peek at the best apps for bowling!
Lanetalk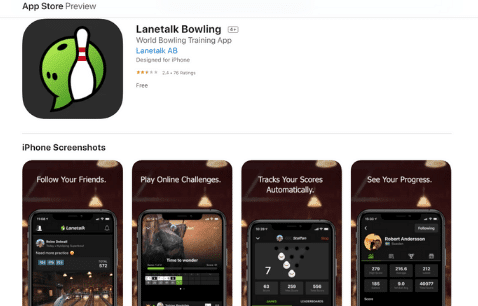 If you want to track information from your games and even bowl against friends who are far away, then Lanetalk has a lot to offer. First off, it can absorb your stats from your local bowling center, building a personalized statistics profile that is gives you the information that you need to really focus on your game.
It takes this statistical information and turns it into training tips, but that's just a little of what this app can do. You can follow live games, see how you rank against other bowlers around the world, and even initiate a virtual challenge to a friend in a lane far away.
It's designed to work with major bowling centers local software so give it a try and take your game to the next level.
Bowling Scorer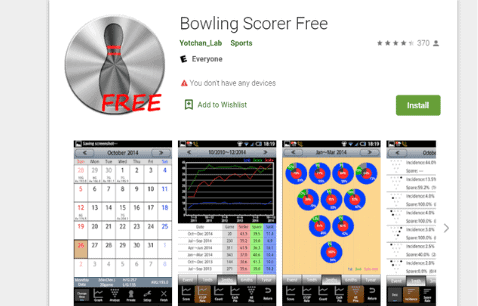 If you just want to keep track of your score, then Bowling Scorer fits the bill. Keeping things simple, this app can keep track of multiple games and give you informative graphs to show where your game is strong and where you might want to focus to make it better.
It's a good app, if a little clumsy, and we'd love it more if it could give you a pinfall series, but for basic tracking it's hard to fault Bowling Scorer. It looks good, it's easy to use, and it helps you to see your game from a larger perspective.
Who says an app has to be fancy to be useful? Take a look and see what you think.
Bowlsheet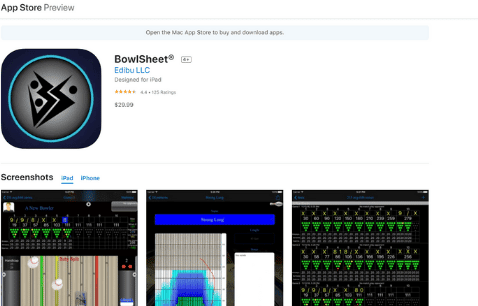 Some of us want a little more detail about our games and this is where Bowlsheet shines. It has scorecards and keeps track of the miles per hour you're throwing the ball. It even tracks hand layout, surface data, and more can compare your stats with other bowlers worldwide.
This one has gotten the attention of the NCAA, in fact, for its absolutely granular analysis of your game. How far does your shoe slide before you deliver the ball, for instance? Bowlsheet can tell you this and even break your team down into statistics, such as pocket shots, first ball averages, and more.
If you REALLY want to track your game, Bowlsheet is available for IOS and Android and it's well worth a peek.
Open Lane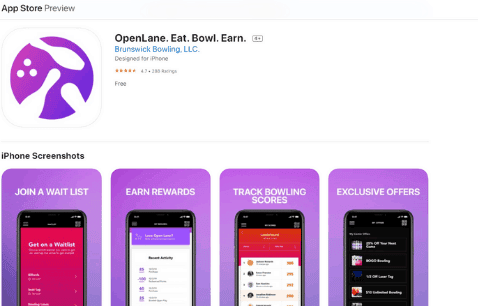 Open Lane is a sweet little offering from Brunswick and it's nothing short of amazing. With Open Lane, you can track your stats and time, but since it's sponsored by Brunswick you can do much, much more. Feel like customizing your lane? You can do it, at any lane supported by Brunswick.
It also comes with a digital membership card, allowing you to reserve your lanes and to earn points for freebies. It's useful too, keeping detailed stats on your games and improving game socialization, as your reward points aren't completely based on spending.
Open Lane is a labor of love and warrants a closer look. Take a look and see what you think. Brunswick has some nice little gifts to keep your attention, so this is definitely an app to install.
Track My Roll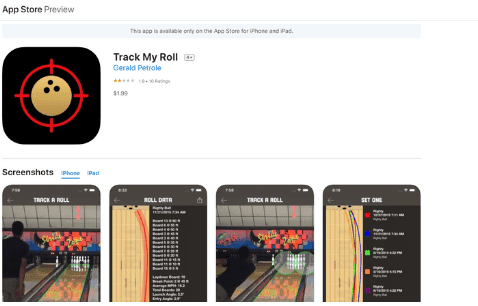 Keeping your score is good but judging your delivery is even better. Track my roll lets you take advantage of today's tech, providing you with mobile shot tracking that checks the speed, angle, and impact of your shots, turning it into statistics that you can use.
It's pretty impressive and while the tech is young, you can get a lot of useful data on your game if you give this one a try. The tracking function is unique, in that it can watch your actual roll, and while it is still a bit primitive the approach is dead-on and the information is certainly still useful.
Encourage the effort by giving them a try, you might learn a little something about your game. It's the only app that we've found that seems to analyze your personal, real throw, using the best of today's tech. See what you think. Personally, we think they are on to something.
What's the Best Bowling App?
All in all, Bowlsheet had to be our favorite. The sheer amount of information on a personal game which it provides is hard to beat. Every aspect of approach, angle, speed… they've quantified it and it's there for you to use. When it comes to keeping score and getting a tip or two on improving your game (that is all about numbers!), then Bowlsheet delivers the goods.
If you want an app that gives you stats you might not have considered, Bowlsheet is definitely the winner.
Did you know that you can even keep score on premade bowling sheets? Click here to view the portable bowling score book listing on Amazon.
Bonus: Bowling News App
Aside from scoring, you want to keep track of what's going on in the world of bowling and there's actually a great, free way to do that. Feedly is free and good at what it does and well worth the download. Let's take a closer look!
Feedly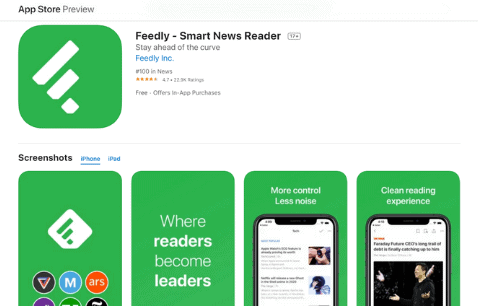 Feedly is actually useful. Bowling, like any other sport, has taken to the web, and that means that the news you want to read about it ready and waiting. So, how do you find it?
This is where Feedly comes in. You open the app, select the bowling news that you wanna hear about, and Feedly does the rest. You can get daily information feeds that include important tournaments and the latest information on your favorite bowling celebs. It works for Android and for IOS, so whatever your phone or tablet might be, you can have the news at your fingertips.
It's free and informative, so consider installing Feedly. It's a great way to build and keep track of a personal newsfeed.
Final Thoughts
So, there you have it! When it comes to apps and bowling, there really aren't a lot out there yet, but apps like Bowlsheet can seriously improve your game. Take a look at them and see what you think. You can score track, view important tournaments, and more.
Every app on this list is good and can help you to keep track of your personal scores, league scores, and handicaps, so they are well worth your while to try. With a little focus and the right app, you can take advantage of statistics that you've never thought to track.
It's amazing to see bowling from this perspective. So, if you want the stats, feel like watching a tourney, or simply want to defeat your friend across the world, one or more of these apps can do it.