If you have many old bowling trophies taking up too much room in your house or your storage, it may be best to look into donating them, reselling them, or recycling them.
Your old trophy most likely holds great sentimental value to you, but if you can help it, it is in your best interest to downsize your old bowling trophy collection or see how you can turn a profit from your memorabilia.
If you are interested in how you can best re-use or recycle your old bowling trophies, continue reading below!
Should I Throw Away Old Bowling Trophies?
Throwing away your old bowling trophies may not seem like a good idea if you are looking to keep them as keepsakes for your children or grandchildren.
Although it may seem easier to hoard your prized trophies, it is probably a better idea for you to downsize your collection.
Take a Picture of Your Trophy
If you are trying to declutter your collection, but you still want to have some memory of the trophy, you can take a picture of it and keep it in a photo album.
Taking a photo of your awards is an excellent idea because you still get to show off your trophy without having the clutter.
Downsize Your Trophy
Another suggestion is to remove the small plaques from your larger trophies or any of your awards. Then, instead of having the entire trophy taking up space, you will have a smaller and more compact version of that memory.
Place Them in Storage
If you are considering the idea of throwing away your old trophies but aren't exactly excited about the idea of completely parting ways with them, you can place them in storage.
However, it is probably ideal for you to go ahead and set aside a small specific amount of storage space that you want to dedicate to these trophies.
You can then narrow down whichever trophies hold the most sentimental value to you and place them in that space.
Trophy and Medal Shelves
A good way to keep your trophies and medals is to invest in a trophy wall shelf. Many shelves are designed to hold a number of trophies to help minimize clutter in your home as well as to save space. This is a much better option than just putting your trophies into storage.
Trophy shelves also provide a stylish and sleek way to display your trophies acquired through the years.
We recommend this trophy and medal display rack by MedalAwardsRack. This shelf has 27 hangers to display medals and boasts a 3 ½ inch wide top shelf that is ideal for displaying trophies. It's high-quality, made of Poplar wood, and easy to setup and install.
Will Goodwill Take Old Trophies?
Goodwill and other charities in your area are known to take donations of all kinds, even trophies. Therefore, it is crucial to make sure you reach out to your local branches of Goodwill or other larger charities like Salvation Army to confirm that they will take your old bowling trophies before you pack them all in the car and drop them off. 
Another idea to look into is possibly donating your old trophies to smaller non-profits or schools to re-use for their activities and events.
Does Anybody Buy Old Trophies?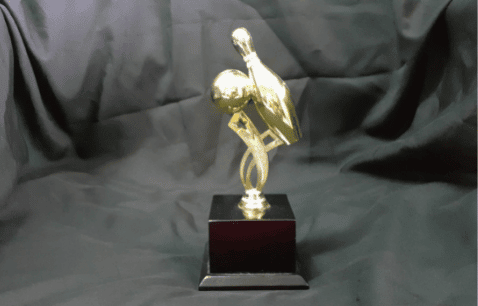 You may be surprised to hear this, but there are people out there who are willing to purchase your old bowling trophies. You can list your old bowling trophies on eBay, Craigslist, OfferUp, or Facebook Marketplace.
In addition, some people collect old bowling trophies as a hobby, so you may be able to find them on those types of sites. Some people purchase old bowling trophies because they can re-use them for their organizations or their precious metals.
Who Takes Old Bowling Trophies?
There are companies that you can ship your old trophies to for them to re-use or to break down and sell. For example, companies like Total Awards and Promotions in Madison, Wisconsin, take in unwanted trophies and breaks them down for parts. They then take those parts and create new trophies to sell or to donate to non-profits.
Any parts that are not able to be used are carefully recycled. There are some restrictions on the types of trophies that you can send in.
Restricted Trophies:
Glass awards
Fake wood plaques
Awards with photos that they cannot remove
Sculptures 
Any trophy will water damage or mold
Trophies with plastic bases 
The main reason why they do not take any glass awards, or anything acrylic, is because some locations cant take off the etching or engraving on the material.
Fake wood plaques are typically not accepted either because they cannot re-use them; only read wood plaques can be broken down and re-used.
Marathon Medals
If you have any old bowling medals, you can send them to companies like Sports Medal Recycling and Medals4Mettle. They can re-use and recycle both the medal and the ribbon on your old bowling award. As a bonus, they can recycle the box and bubble wrap that you send the medals in!
These companies will re-use the medal and the ribbon and donate those new medals to organizations that help children and adults fighting severe illnesses.
The awards that are donated are meant to honor those patients for their bravery in battling those illnesses.
For the medals that cannot be used, they are recycled, and the proceeds from recycling that scrap metal are then donated to charities to help fund their charity runs.
Alternatives to Shipping Trophies and Medals
If you cannot ship the medals off to these great organizations, you can look at the closest organization to you to donate them to. There are several organizations in several different countries that do what Medals4Mettle does.
You can also look into contacting your local recycling programs to see if they will take your old bowling trophies.
Final Thoughts
Whether your bowling trophy is something you just won last weekend or one you won decades ago, it is time to think about if they are worth keeping. The sentimental value behind each award may prohibit you from wanting to part ways, but you can save a few trophies, just not every single one of them.
Donating your old trophies to organizations that can re-use them or recreate them to be sent to non-profit organizations can add more sentimental meaning because they are being re-used for a great cause.
Whatever you decide to do with your old bowling trophies is entirely up to you, and you have so many options to choose from!