Looking to purchase Yugioh booster boxes? Well, it should come as no surprise that they can be difficult to track down. So, where can you buy Yugioh booster boxes?
Yugioh cards can be a bit trickier to find than Pokemon and Magic: The Gathering cards. However, online stores such as eBay and Amazon will likely always have them in stock, as well as offline stores such as Walmart and your local trading card game store.
On this page, we are going to look at some of the best places to pick up Yugioh booster boxes.
Best Online Stores for Yugioh Booster Boxes
Due to the lower prices, and the fact that you will often have a larger selection of booster boxes available, we suggest that you buy online wherever possible.
Here are some of the best online stores for Yugioh booster boxes, but do bear in mind that there are countless places online to pick them up.
eBay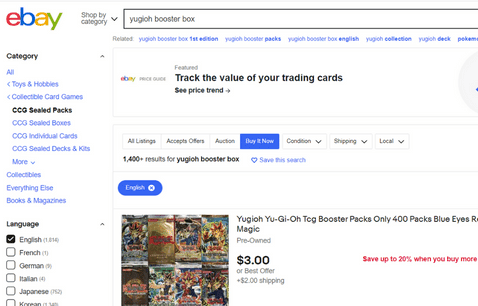 eBay is probably one of the best places to buy Yugioh booster boxes. This is because, if you are lucky, you should be able to find booster boxes from pretty much every single expansion set that has ever been released under the Yugioh banner.
eBay prices tend to be some of the cheapest that you can find too, in part down to the fact that eBay operates a bidding system. Although, even if the products are listed as 'Buy it Now', you may still get a decent price due to the sheer amount of competition that is kicking around on the website.
Amazon
Amazon is a close second to eBay. It will still have competitive prices for booster boxes, and there should be a good selection available.
The downside of Amazon is that you won't always find the booster box that you want. Sure, the site is going to be fantastic if you are looking to purchase brand new booster boxes for the newer sets.
However, when you start getting into the older sets, you probably won't find them on Amazon. This is because the vast majority of sellers end up moving their wares to eBay instead.
To check the current price and availability of Yugioh Booster Boxes, click here to view the selection on Amazon.
Troll and Toad
Troll and Toad is one of the largest online stores for trading card games. They always seem to have competitive prices on Yugioh booster boxes, and you will even be able to pick up a few singles there if you wish.
However, just like Amazon, the site tends to stick to selling booster boxes from the latest sets. Although, this does make sense.
They are purchasing their products directly from the team at Yugioh, which means that they are not going to have access to the older expansions unless they had them in stock anyway, and the low prices of Troll and Toad mean that they rarely will. 
Best Offline Stores For Yugioh Booster Boxes
Finding Yugioh booster boxes online isn't going to be a problem. It is finding them offline that is really going to start to pose a few issues. This is because very few stores keep Yugioh cards, let alone booster boxes.
Still, we have found a selection of places that you may want to check out.
Costco (In Some Areas Only)
Costco does sell Yugioh cards. You will be able to find them alongside the Pokemon and Magic: The Gathering Cards in the toy department. However, whether they have booster boxes is going to be a whole other story.
Costco is currently experimenting with the addition of Yugioh booster boxes in some of their stores. If you live in a larger area, then there is a chance that you will find booster boxes in stock.
One of the cool things about finding a Costco with booster boxes is the fact that there will be some pretty deep sales every so often, which ensures that you can save a bit of cash on the cards.
Walmart
Walmart falls into the same boat as Costco. This means that while some stores can have Yugioh booster boxes in stock, many of them do not. If they do have them in stock, then you will find the products located in the toy department alongside all of the other trading cards.
Walmart is only ever going to sell the latest expansion sets, with older sets often getting deep discounts for clearance.
Local Trading Card Stores 
The best place to buy Yugioh booster boxes is to head to your local trading card game store. If they stock Yugioh cards, then they will likely have the booster boxes in stock too.
It is often the local trading card game stores that will have some of the most competitive prices for the booster boxes.
Target
Target is another company that is starting to experiment with having Yugioh booster boxes in stock. You may not be able to find them listed on their website, but many people report that you can head into one of their stores and see them on display. The prices are fairly competitive. 
How Much Do Yugioh Booster Boxes Cost Online vs Physical Retail Stores?
Obviously, the price of Yugioh booster boxes is always changing, which means that we are not going to be able to give you a firm price here.
Generally speaking, you may be able to save $10-$20 on a booster box if you either purchase online or if you head to a physical location for a real trading card game store.
If you head to places like Walmart, Target, etc. then unless the product is on sale, you are going to be paying full RRP.
Final Thoughts
There are a lot of places to buy Yugioh booster boxes.
The best place to buy Yugioh booster boxes is online. You can end up making huge savings if you are purchasing from the likes of eBay and Amazon.
If you want to buy offline, then always check out your local treading card game store first. The price will often be much cheaper.