At the time of writing, not only is Fallon Sherrock one of the youngest players on the professional dart scene, but she is also one of the only women. It is no surprise that there are a lot of people that look up to her, and they are likely itching to know what darts she uses.
Fallon Sherron, like many top players in the world of darts, currently has her own signature line. This is the Dynasty Black Fallon Sherron line. So, if you want to pick yourself up a set of the darts that she rocks, then this is the range that you need to be looking for. Yes. She has played with multiple dart types over the years, but this is where most of her focus seems to be spent nowadays.
Let us go into a little bit more depth on this, shall we? This way you will know exactly how well her darts are going to be performing for you when you are hurling them toward a board.
What Darts Does Fallon Sherrock Use?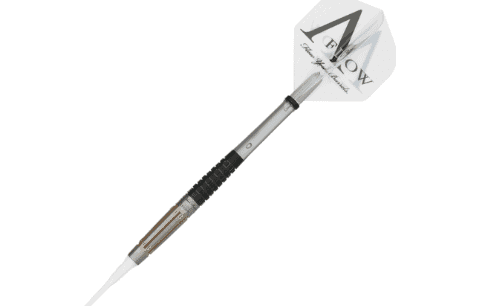 Fallon Sherrock uses her own signature line of darts. You will find them sold as Dynasty Black Fallon Sherron. They will come in a variety of different weights. However, the ones that you want if you want the exact darts that she uses will be the 24.4-gram darts.
Let's run you through some of the features found in the Fallon Sherrock signature line of darts. This way you will know what to expect from them if you are lucky enough to pick yourself up a set.
95% Tungsten 
These darts are made of 95% tungsten. This is a bit different from some of the other professional darts on the market which tend to be 90% tungsten. This means that they do react a little bit differently when they are flowing through the air. it is this extra tungsten that does give the darts a little bit of extra weight.
Of course, at the end of the day, this is still going to be a tungsten dart. As anybody who has played darts will know, tungsten allows the dart to fly through the air without losing its angle. This means that if you throw these darts, then you can be sure that they are going to land wherever you aim them.
Grip
These darts have what is known as a level 3 grip. Anybody that plays darts regularly will know that level 3 grips are going to be middle of the road. So, not so rough that they can be tough to release,. but not so smooth that they are going to be slipping and sliding about everywhere. Basically, a level 3 grip is where you are going to want to be looking if you aren't quite sure what grip type is going to be the right grip type for you.
Length and Thickness
These darts are 52.5mm in length. They are 7.20mm in thickness. This means that they may be a little bit thicker than other darts that you have played with. However, we feel that this is something that helps give you a little bit of extra grip. While these darts are certainly being used by one of the best darts players in the business, we also think that this extra thickness can also be great for some of those newer darts players that are still trying to work out the perfect way for them to hold the dart.
Center Balanced
These darts are perfectly center-balanced. Again, this means that you stand a much better chance of your dart landing wherever you plan on it landing on the board. You do not have to worry about the darts taking a small dive through the air, or approaching the dartboard at the wrong angle. It is no wonder why Fallon Sherrock is so great on the pro darts circuit at the moment. Her darts are absolutely fabulous.
What Weight of Dart Does Fallon Sherrock Use?
There is a little bit of a debate about this. Some people say that she uses 23-gram darts. However, there are others that say she will use 24.3-gram darts. We are leaning more toward her using the latter. This is because she has always played a little bit differently from some of the other players out there on the circuit.
Since the majority of the professional darts players that you encounter will be using 23-gram darts, it certainly would make sense that Fallon Sherrock is leaning more toward the 24.3-gram darts.
This may actually pose a little bit of a problem if you are new to the world of darts. This is because, as we said, the bulk of the darts that are being played with are going to be 23-grams. You may not think that adding a gram of weight onto this is going to be making that much of a difference.
However, it does. They fly through the air a little bit differently. It is something that is going to be taking a little bit of getting used to. However, we reckon that it is worth putting in the time to get used to them. 
Fallon Sherrock Player History
At the time of writing, Fallon Sherrock is just 27-years-old. This means that in comparison to some of the other players on the circuit, she is incredibly new to the world of professional darts. However, despite being fairly new, she has also made a big splash on the scene. In fact, she is currently ranked as the number 2 female darts player in the world, which certainly isn't too bad.
Interestingly, she got into the career a bit later than others too. While she had played darts recreationally, it wasn't until she was 27 that she decided to start taking the game seriously.  After this, it wasn't too long before she had a couple of women's titles under her belt. Of course, she was hungry to be even more competitive on the dart's scene.
The current championships she has won, outside of her women's championships, include the World Darts Championship and the Finders Masters. She is still looking to break onto the main tour circuit in the United Kingdom, but we reckon it won't be long before she is able to get there.
Once she manages to do this, we reckon that the amount of success that she is going to end up having as a professional darts player is going to shoot all the way up. This is a woman that people are going to be talking about for an incredibly long time. 
Final Thoughts
Fallon Sherrock is currently one of the top players on the international darts scene. She is also one of the youngest players and one of the only competing females.
She currently uses her own line of darts on the circuit. If you want to replicate the darts that she uses, then you will want to be looking for the Dynasty Black Fallon Sherrock line.
If you want the darts that she uses the most on the circuit, then you are going to want to be on the lookout for the 24-3-gram darts, even though this range also includes other dart weights.