Gaming mouse pads are more expensive than your traditional mouse pads because they offer an overall better feel and increased performance when paired with a high-dpi gaming mouse.
Gaming mouse pads are designed for better precision which often includes a larger pad surface that has optimal sensor imagery for a gaming mouse, as well as a rubber base to prevent the mouse pad from moving or bunching up during competitive play.
Are these features alone enough to warrant the steep price for some of these mousepads? It depends, but if you are a popular brand like Logitech, HyperX, or Alienware then you have a fan base that is willing to pay just about any price you put out there.
Are Gaming Mouse Pads Worth It?
If you have a gaming mouse and primarily play FPS type games, then purchasing a gaming mouse pad is definitely worth it. Not only will your gaming setup look nicer, but the smooth feel of your mouse as well as the increased in game precision and performance makes it well worth it.
Not to say that a normal mouse pad wouldn't suffice, but having a specialized gaming mouse pad is like having the icing on the cake. Having less friction and better tracking with a gaming mouse pad will give you a better overall gaming experience.
Do Gaming Mouse Pads Make a Difference?
Gaming mouse pads offer a much smoother and consistent surface than your average mouse pad. Gaming mouse pads also tend to be larger to accommodate larger movements during gameplay.
Remember that your mouse pad is only as good as your mouse. Don't expect a gaming mouse pad to do much if you are using a low quality mouse. High quality gaming mice have optical lasers that respond well to the consistent surface texture of gaming mouse pads.
What Is Special About a Gaming Mouse Pad?
Gaming mouse pads are specially designed to give you the most control over your mouse. Even the most precise movements will be captured due to the way these mouse pads are designed.
Here are characteristics that make up a good gaming mouse pad:
Anti-Fray
Many gaming mouse pads have stitched edges that protect against surface peeling or fraying.
Low Friction Surface
This is what all high quality mouse pads have in common. They will all have a low friction surface that is usually tightly woven out of a high quality fiber. This allows for precise tracking with high dpi gaming mice.
Anti-Slip
The bottom of gaming mouse pads usually have a rubber bottom. This helps to keep your mouse pad securely in its place no matter how rough it's being used.
High-Quality Material
The tops of most gaming mouse pads are made with a high quality, soft
Who Makes the Best Gaming Mouse Pads?
There are many brands in the industry that make high quality gaming mouse pads. Some of these include brands like Alienware, Logitech, Corsair, and more. Here is a small list of a few of the top brands when it comes to pc gaming.
Logitech
Logitech is one of the top brands when it comes to gaming accessories. Their mousepads are made out of a soft cloth with a consistent texture to provide the best possible precision for your gaming mouse.
Its rubber bottom also helps prevent the cloth pad from moving around or bunching up during even the most intense gaming sessions. Unfortunately, this model does not have anti-fray and one of the downsides is that the sides will eventually begin to fray apart.
To check the current price and availability of the Logitech G640 Large Cloth Gaming Mousepad, click here to view the listing on Amazon.
Alienware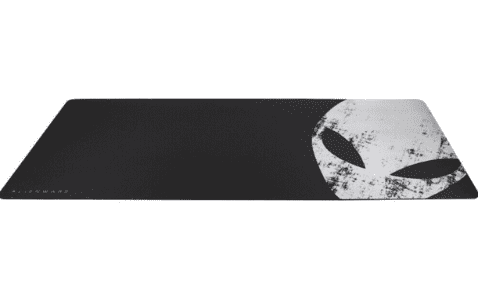 Alienware is another high-quality, but reputable brand in the gaming industry. The Alienware Tactx Gaming Mouse Pad is extra large and is big enough to accommodate both your keyboard and mouse.
This mouse pad has anti-fray edges and is made with a high-density nylon for a smooth and seamless surface. I personally use this mouse pad and it works great paired with my Logitech Pro Gaming Mouse. This mouse pad can be found at best buy or on Ebay.
HyperX
HyperX is another brand to look out for in the gaming industry. This mousepad offers anti-fray stitched edges, and a very dense surface which is perfect for precise optical movement. The bottom side is rubberized to allow for a mouse pad that stays in place.
The mouse pad comes in four different sizes to suit almost any type of gamer.
To check the current price and availability of the HyperX Fury Mouse Pad, click here to view the listing on Amazon.
Corsair
Corsair is another established brand that has many different gaming accessories. This gaming mouse pad has an ultra thing surface that keeps your mouse almost level with your desk. This can have its advantages by giving your wrist a more natural position when gaming.
The bottom of this mouse pad also offers an anti-skid silicon to keep it in place during gaming. The top is also wear-resistant to help keep your mousepad lasting long, even with the Corsair graphic.
To check the current price and availability of the Corsair Ultra-Thin Gaming Mouse Pad, click here to view the listing on Amazon.
Final Thoughts
Gaming mouse pads are more expensive as they allow for the best possible performance when paired with a high-dpi gaming mouse. It's always important to look at the specs of the mouse pad you are looking to buy to make sure it has everything you are looking for.
Some of these characteristics may include: the size of the mouse pad, anti-fray edges, the material of the cloth, the graphic or image, as well as the brand.
At the end of the day, having a high quality mouse pad for your gaming mouse will make all of the difference when playing FPS type games. If you want that small edge against your opponent, owning a gaming mouse pad is definitely worth the extra price tag that they come with.