The darts you throw are the most important tool in your arsenal when it comes to getting ahead of the game. It doesn't matter if you're playing on a bristle dartboard or an electronic dartboard, having a good set of darts is what will set you apart from the rest of the crowd.
Darts is a game of skill and having the best tools available will help you leverage your skill to a level above your competitors. There are many different sizes and types of darts available on the market, each having their own special traits. If you primarily throw darts with your hands towards the front of the barrel, front weighted darts are likely to land you a better game.
In our comprehensive guide to the best front weighted darts, we'll show you the best darts on the market and give you some advice when it comes time to choose. Let's get started.
IN A HURRY? HERE'S OUR TOP PICKS…
1- Shot! Birds of Prey Falcon Soft Tip Dart Set (90% Tungsten)
The Birds of Prey Falcon dart set by Shot! is our top pick due to their superb performance, craftsmanship, and price. These are soft tip darts that are made of 90% tungsten.
The first thing that stands out is the awesome unique missile design that these darts portray. The barrel length and grip pattern is pretty much perfect for a front weighted dart. The beveled grooves in the barrel are perfectly machined to give maximum grip when throwing.
The flights are custom designed 100 micron flights that fit snugly on top of a Shot! darts the eagle claw shaft to add the finishing touches to this beautiful dart.
Last, but not least, these darts have a PCT coating which gives them a rich and highly reflective color. This coating helps the durability of these darts as well and also adds to the overall premium look.
Here is a great video review that really goes in depth about each and every component of these darts:
What we like
Innovative high quality design
100 micron flights
90% Tungsten
Great for beginners and pros alike
Soft tip and steel tip options
Comes in multiple different weights
What we don't like
Grip of dart may take some getting used to
Check Price and Reviews on Amazon
---
2- Shot! Ronin Makoto Soft Tip Dart Set (90% Tungsten)
The next dart set on our list is Ronin Makoto by Shot! Another high performance front weighted dart. This darts theme is based on ancient Japanese warrior dynasty. These are soft tip darts and are made out of 90% tungsten.
At first glance, this torpedo shaped dart looks like it has a lot going on, and it does. The barrel length and beveled grip is nothing to scoff at. The grip is absolutely a 5/5. The detailed milling and sharp edges are honed to perfection.
The extra thick custom 100 micron flights are top-tier in terms of performance and design. They sit on top of the Shot! Darts eagle claw stems for maximum holding.
The small standard sizing of these flights help provide maximum lift and stability. These flights will help your dart fly effortlessly through the air without hesitation.
What we like
Innovative design
Unrivaled grip
90% tungsten
Great for beginners and pros
100 micron extra thick flights
Comes in a variety of different weights
Soft tip or steel tip options available
What we don't like
Check Price and Reviews on Amazon
---
3- Viper Pitbull Soft Tip Dart Set (90% Tungsten)
The Viper Pitbull soft tip dart set made out of 90% tungsten is the next up on our list. This is a great budget buy as it comes with six flights, twelve 2BA Tufflex II Tips, a dart repair tool, and a TacTech case and all at a reasonable price. These darts look great as well with its red, black, and silver color scheme.
The barrel length is exactly what you'd expect from a front weighted dart. The beveled grip is what makes this dart unique. You can actually choose from 3 different variants of grip depending on your play style.
Each flight is finished off with a pit-bull graphic that attaches to an aluminum spinster shaft. These shafts feature locking holes which is one of the most secure ways to fasten a shaft to a dart barrel. They also rotate freely to help reduce bounce outs.
What we like
Great bang for the buck
90% tungsten
Different grip choices
Great for beginner and intermediate players
Comes with a dart case and repair tool
Extra flights included
What we don't like
Doesn't fly as straight as some of the more expensive darts
Not many selections when it comes to weight
Check Price and Reviews on Amazon
---
4- Shot! Warrior Tipu Soft Tip Dart Set (80% Tungsten)
The next dart set is by Shot! Darts yet again. They really do have a wide variety of darts that can suit many different budgets and play styles. The Warrior Tipu dart set is made out of 80% tungsten. They are also cheaper than the previous iterations that we looked at earlier.
The barrel length and grip design are pretty standard with this dart. The dart grips well at almost any grip style so you aren't locked down to one style of throwing. This makes it great if you are still experimenting with gripping your dart in different ways.
The standard 100 micron flights attach to their eagle claw shaft design for maximum lift and a nice and stable flight.
What we like
Lower priced than other Shot! products
Soft tip and steel tip options
Different weight options
Great for beginners still trying to find the right grip style
What we don't like
Only 80% tungsten
Barrel is more of a one size fits all
Check Price and Reviews on Amazon
---
5- Laser Darts Black Widow Soft Tip Dart Set (90% Tungsten)
Although this isn't our top pick, it probably should be. The Black Widow dart set by Laser Darts is the epitome of luxury darts. They are absolutely gorgeous. Its simple, yet sleek design is nothing to ridicule. Laser Darts has a reputation of creating some of the highest quality dart barrels and shafts in the game due to their unique manufacturing process.
Their process begins with a billet of a very high density tungsten. The tungsten is then ground and shaped. The design of the barrel gives the best of both worlds.
A slightly front weighted dart for increased accuracy and precision, and a slim barrel. After the initial tooling is completed, they then re-check the barrel for proper weight. The shafts are also specially designed to hold the flights in place.
So enough of the design about these darts. How do these darts fly? Many of the user reviews say that these darts are hands down the best darts they have ever used. The darts are extremely accurate, balanced, and durable. They have a solid feel and are definitely worth the money if you are a dart enthusiast.
What we like
Top-tier quality and craftsmanship
Ringed or grooved barrels
90% tungsten
Available in multiple different weights
Steel tips can have fixed or movable points
Soft or steel tip options
What we don't like
Check Price and Reviews on Amazon
---
What to Look for in a Front Weighted Dart
To find the best front weighted darts for your needs, consider the following major aspects before finalizing a purchase.
Price
The price of darts is the first thing you need to take into consideration. Depending on your budget, there will be a wide variety of darts that you could choose from.
Professional dart players will often pay as much as $100 for a good set of darts. Are these overpriced? Probably, but you are paying for the brand name as well as the high quality craftsmanship that goes behind crafting them.
Although these expensive darts are definitely worth the money, they may not be right for you. If you're more of a dart enthusiast rather than an aspiring pro, then there are plenty of other reasonably priced darts that feel great and are of high quality.
Barrel Shape, Texture, and Material
Some players may prefer to have a smooth barrel to allow their darts to fly straight out of their fingertips with ease, but most players will want to have some sort of groove or pattern on their barrel.
These grooves or patterns will help you grip the darts so that they don't accidentally slip out of your fingers before you release them. A barrel with a good amount of grip also allows you to put a nice spin or twist on the dart as it's leaving your fingertips to help the dart fly straighter than it normally would.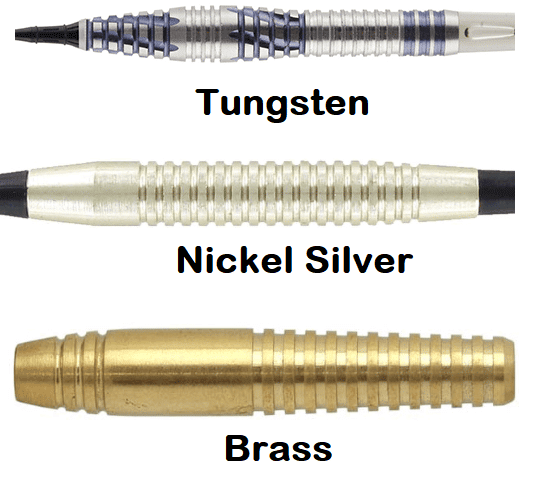 Along with the different shapes and textures, you will also see barrels made out of different materials. Tungsten, nickel, brass, and stainless steel are the different types of barrels that you may run into. All high-quality barrels will be made out of tungsten.
Low-quality darts will either have stainless steel, nickel or brass barrels. While these darts are perfectly fine to play with, you may find that they will feel and play less optimal than a high-quality dart. These darts are also much cheaper than tungsten darts.
They will most likely provide less consistent results in the long run and may eventually affect your skill and play style in the long run.
Percentage of Tungsten
High quality darts will be made primarily out of the metal tungsten with a little bit of nickel mixed in. Tungsten is mainly used in high quality dart barrels because it is durable, easy to grip, and has a heavier weight which allows manufacturers to create a more versatile and consistent dart.
The most common barrel compositions available in today's market are:
• 80% Tungsten – 20% Nickel
• 90% Tungsten – 10% Nickel
• 95% Tungsten – 05% Nickel
• 97% Tungsten – 03% Nickel
Barrel Length
The barrel length contributes to the overall balance of a dart. Center weighted darts usually have a little bit longer of a barrel to favor a middle grip, while front and rear weighted darts usually have a shorter barrel length with a tapered design to shift the weight to the front or back of the barrel.
Balance and Weight
Often, people will overlook the impact that the balance and weight a dart will have in correlation to the precision and accuracy of their throws. In theory, a heavier dart is easier to throw, but not as accurate as a light dart. A lighter dart takes more effort to throw, but is easier to throw harder and is more accurate.
The balance of a dart also has it benefits. A little variation in the balancing can vastly affect the flight of your dart and finger positioning when throwing. A front weighted dart will usually have a front grip since they are more weighted towards the front of the barrel. As a result, these darts may need to be thrown slightly higher as compared to a rear weighted dart.
Best Front Weighted Dart Brands
A no-brainer. If you play darts, then you know Shot! They've been around since the 1970's and have been making darts more accurate, accessible, and fun. Shot! brings passion to the game like nobody else and it shows through their high-end lineup of darts.
The majority of their fan base are professionals, amateurs, weekend warriors, and even casuals that are all in search for the perfect dart. If you are still looking for that perfect set of darts, I'm sure Shot! has something to offer.
Starting in a south Milwaukee Tavern, Great Lakes Dart manufacturing has grown to become one of the biggest premier names in darts, gaming tables, and billiards. They have been innovating for nearly 35 years and have paved themselves a name in the way of dart games and technology, as well as other areas. They own a variety of brands, one of which is Viper.
The luxury option when it comes to darts. Do you want some of the finest craftsmanship available with a premium price? Then Laser Darts is the brand for you. Some players will only play with Laser Darts and once you get a feel for them you would know why.
Laser Darts offers the finest, most carefully crafted darts that are currently available. They have darts in every price range, but are mostly known for their Black Widow lineup. Every one of their darts are a masterpiece of machinery.
A brand created by a man named Kenny. Kenny has been playing darts and billiards in bars for many years before he started something special. That something special has grown into what CUESOUL is today.
Bringing some good quality items at affordable prices is what they are known for.
This company was established in the fall of later 2017 in Europe. They have been bringing affordable, high quality items to the market ever since. They strive in bringing value to their customers in both the U.S. and Europe.
FAQs
Are Tungsten Darts the Best?
Tungsten has definitely made a name for itself as being one of the best materials for darts due to its strength, durability, and grip.
Most of the pro players use darts that have tungsten barrels in all of their professional games.
Are Heavy or Light Darts Better?
The weight of the darts are mostly personal preference. As a good general rule of thumb it's good to start at about a 24 g weight barrel as a beginner.
Once you get a feel for the darts, you can then venture off either going a tiny bit higher or lower in terms of weight.
What Is the Best Weight Dart to Use?
There is no best weight to use since this is purely personal preference. The professionals in the sport use a variety of weights.
The most common weight of darts used by the pros are 18-26 g.
Final Thoughts
The Birds of Prey Falcon dart set by Shot! is our top pick due to their superb performance, craftsmanship, and price. These darts throw almost perfect right out of the box, are extremely durable, and look awesome.
The runner up is the Ronin Makoto dart set by Shot! Darts. The main difference is the design of the barrel. The barrels are designed for maximum grip, and they definitely deliver. These darts are also a little bit better priced and perform just about as good as The Birds of Prey Falcon set.
Whichever front weighted dart you choose, we hope this guide has been helpful in your purchasing decision. Thanks for reading!