Gamestop has been known for their less than optimal video game trade-in program. It was notorious for giving customers a fraction of a price of what they paid for originally. However through the years, Gamestop has been expanding their trade-in program to accommodate more items than ever.
Does gamestop buy headphones? The answer to this question is yes. Gamestop will indeed buy your used Headphones for trade-in credit or cash.
However, there is a caveat. Gamestop will not just accept any headset you send their way. You will need to go on their website to check and see if your make and model is accepted. At this time, Gamestop has a very limited selection on the types of headsets that they will actually give you cash or credit for.
How Much Does Gamestop Pay For Headphones?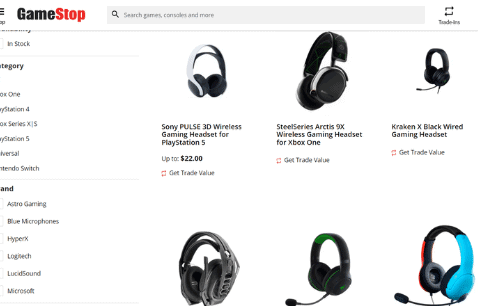 Below is a small chart with some of the most recent credit and cash prices for Gamestop Trade-In values for headphones:
Device
Trade-In Value
Sony PULSE 3D Wireless Gaming Headset for PlayStation 5
Cash: 16$

Store Credit: 20$
Xbox One Stereo Headset Adapter
Cash: 8$

Store Credit: 10$
PDP Gaming LVL40 Wired Stereo Gaming Headset for Xbox Series X Matte Black
Cash: 11.20$

Store Credit: 14$
Astro Gaming A10 Wired Gaming Headset Call of Duty Edition
Cash: 12.80$

Store Credit: 16$
Gamestop will pay you a fixed amount based on the make and model of your headphones. If you do not see your headphones on their website, or it doesn't have a trade-in value, then they won't be able to give you any amount for your headphones.
At the moment, Gamestop is accepting only a few types of headphones for trade-in. This list is periodically updated so be sure to check on it before you go to the store expecting to trade-in a pair of headphones that they once accepted.
Does Gamestop Give Cash for Headphones?
Gamestop will indeed pay you out in cash if that is what you prefer. We highly recommend not cashing out since the cash out value is usually substantially lower than the in-store credit. This is mostly done to encourage you to purchase products in their store, which makes sense as they are a business after all.
Also take note that Gamestop is notoriously known for taking in customer items for a lot less than market value. This means if you were to actually sell your item on a big marketplace like eBay or OfferUp, you would more than likely get a lot more money for your item.
How Does Gamestop Trade-In Work for Headphones?
Trading in electronics to Gamestop is pretty straightforward. First, you need to make sure that they actually accept the item that you are trying to give them. You can check this by going on their website, or by talking with a store employee.
Also note, when trading in electronics, you are able to trade-in as many items as you want. You can trade-in items to go towards an item in the store, an upcoming product, get a Gamestop gift card, or cash out.
Once Gamestop purchases your item, they will restore it, clean it, and test it for full functionality before reselling it to their customers.
Does Gamestop Buy Broken Headphones?
Gamestop's trade-in program actually buys broken items, but headphones is not one of them. A broken pair of headphones is not worth fixing to resell due to the low cost of the item. More premium items like tablets and Ipads are better to repair and resell due to their higher value and price points in general.
When a headset breaks, it is almost always better to just replace the headset entirely due to costs of parts and labor. However, a very expensive headset like Bose, may be worthwhile to repair rather than purchase a new one outright.
Can You Negotiate Trade-In Prices with Gamestop?
Unfortunately, you are not able to negotiate prices with Gamestop employees. The prices that they offer you are the actual prices that are set by Gamestop.
These prices can change without notice so you should always check their website for the most current and up to date information on the trade-in values, as well as the types of headphones that they are taking in.
Is It Worth Selling Your Headphones to Gamestop?
We believe that it is not worth it to sell your headphones to Gamestop. Unfortunately, they do not offer much money and they also have a very limited selection of the type of headsets that they accept for trade-in.
A low trade-in price coupled with a limited selection makes it a very poor choice to sell to Gamestop. You would be able to get much more money selling on a local marketplace like OfferUp or Facebook Marketplace which is what we recommend. eBay is also another option, but that will require you to list the product as well as ship it out.
Final Thoughts
Gamestop will buy your used headphones from you. Just make sure that the headphones you are wanting to trade-in are in fact accepted by their trade-in program.
Gamestop is widely known for their trade-in program. Today, they are accepting more electronics than ever before.
A quick look at their website, and you will be able to see all the categories of items that they are currently taking in and giving in-store credit or cash for.