Gamestop is the leading video game retailer in the world. With such authority, they have been constantly evolving and releasing new ways to let their customers purchase from them. This includes one of their most popular programs, the trade-in program.
Trading in video games, consoles, and electronics is common, but what about Pokemon cards? Does Gamestop buy Pokemon cards? Unfortunately you cannot trade in your Pokemon cards for Gamestop store credit or cash at this time.
Although you cannot trade in your Pokemon cards to Gamestop, there are many different third party marketplaces in which you can get money for your cards. Many Pokemon cards are worth money, even ones that you would least expect can still fetch you a small amount.
Can You Sell Your Pokémon Cards at Gamestop?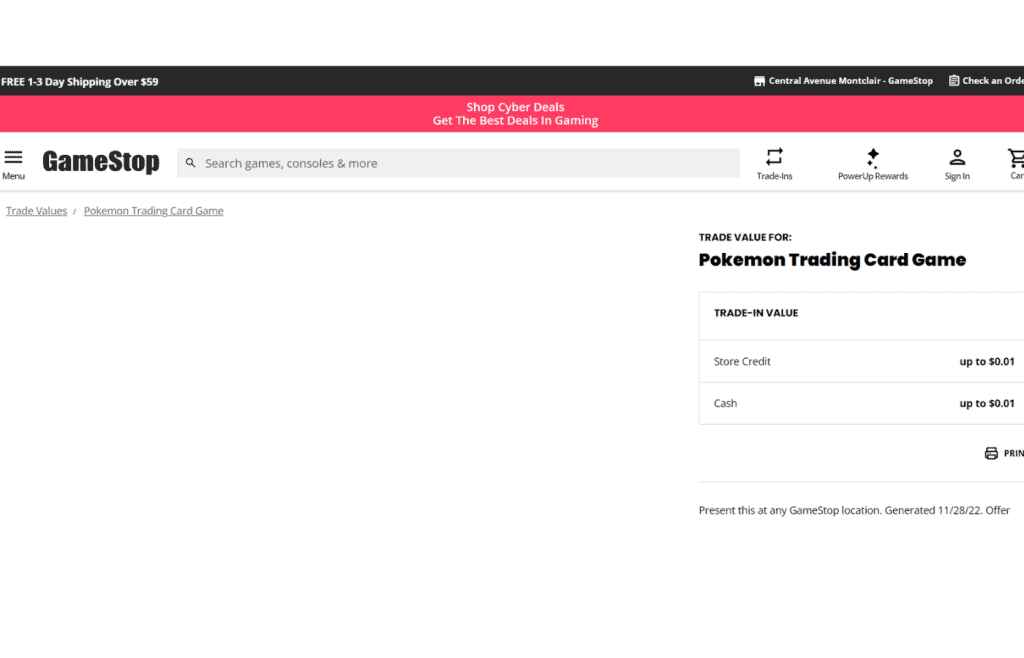 The best way to see if Gamestop will accept a certain trade-in is to check on their website. Upon checking for trade-ins related to the Pokemon Trading Card game, you will be brought to a blank white page showing the value as 1 cent for both cash and store credit.
This is the default trade-in page for offers that Gamestop no longer offers. This could be proof that Gamestop did in fact take certain Pokemon cards or even booster packs/boxes as an acceptable form of trade-in value at one point or another.
We also went the extra step and contacted our local Gamestop and asked them if they bought or gave store credit for Pokemon cards.
We got the answer that we were expecting, it was a "No, sorry we do not take Pokemon cards."
Where Can I Sell My Pokemon Cards for Money?
eBay is one of the original online marketplaces where you can sell just about anything. This includes Pokemon cards, toys, games, and more.
eBay is a great marketplace to use. The eBay app is free to download is and very user friendly. The website itself is a little outdated, but you can use the app and website interchangeably when it comes to listing and buying.
Troll and Toad has one of the largest selection of trading cards on the internet. Their cards don't just stop at Pokemon. They also sell Yugioh, Magic the Gathering, and even collectible miniatures.
In order to buy, sell, or trade, you must first make an account. Here is a quick link to their How to Sell Policy which outlines their guidelines.
CardMarket is Europe's largest online marketplace for trading card games. They offer a huge variety of games to choose from when it comes to buying and selling.
They are available to use in over 30 countries, and have over 300,000 members. That is huge! You can find just about any card possible on this platform simply due to the sheer amount of traffic that this site sees on a month to month basis.
Simply create an account and start listing your collection today!
Card Cavern is another huge marketplace when it comes to the trading card world. One awesome feature that card cavern has is that you can submit cards to them for purchase. This makes selling your cards quick, easy, and hassle free.
Don't expect to get full market value from your cards this way, as they will be reselling your cards at market value for a profit. If you need a fast way to turn your cards into money, then this is definitely one of the fastest ways to do it.
TCGPlayer is another well known marketplace to buy and sell your collection of cards. One awesome unique feature they offer is their app.
Their app comes with a built in scanner for your Pokemon cards. Simply scan your card in order to see the value or list it within their marketplace.
We actually recommended their app when it comes to finding out how much your Pokemon cards are worth. Check out the best Pokemon apps for checking prices by clicking here.
Facebook Marketplace is another place where people buy and sell Pokemon cards. The awesome thing about Facebook Marketplace is that you will also be able to buy and sell locally.
This eliminates the need for shipping costs as well as taxes and other fees associated with selling cards online.
If you prefer to ship your cards, that is always an option as well. Many people find it safer to not have to meet up in person with buyers and sellers.
Frequently Asked Questions
How Do I Find Out How Much My Pokemon Cards Are Worth?
The best way to find out how much your Pokemon card is worth is by checking an online marketplace. Online Marketplaces like TCGPlayer, or Card Market will show you what the current market value is for your specific card.
Card prices can fluctuate weekly and even daily. It is very important to have a dedicated app or site to use in order to keep track of trending Pokemon card prices.
Can You Sell Pokemon Cards at a Pawn Shop?
You can sell your Pokemon cards at pawn shops. Pawn shops are actually resellers at heart. They are trying to make the biggest profit possible so don't expect to get much money at all for you Pokemon cards
Getting only a fraction of what your cards is worth is what you can expect. Many pawn shops will also be very picking and choosy when it comes to paying you money for Pokemon cards.
Chances are, if your Pokemon cards aren't very valuable, they probably won't be buying them from you.
Final Thoughts
Although Gamestop's trade-in program accepts a wide variety of electronics and collectibles, they are currently not accepting Pokemon cards for trade-in value or cash. However, their website does show that they once had a page where they did accept some sort of Pokemon cards.
Whether they accepted Pokemon booster packs, single cards, or booster boxes, it does not say. Your best bet to making money from your Pokemon cards is by selling them on trading card websites.
There are many different third party marketplaces in which you can quickly sell your Pokemon cards. Places like Card Market, TCGPlayer, Facebook Marketplace, and eBay are just a few of the places where you can list your cards for sale.