With the increasing popularity of trading cards, especially Pokemon, prices are at an all-time high for singles and booster packs. If you are late to the party, don't worry. There is still enough to go around as long as you know what to look for.
Keeping track of the rising and falling prices of Pokemon cards can be daunting, but using a Pokemon Card Price app makes this process a lot easier. Many of the apps we will be taking a look at include a scanner which makes it very easy to pull up the card you want the price checked for.
Creating your own decks and viewing their price in real-time is just one of the many features these apps can provide. Here is a list of the best apps you can download for Pokemon Card Prices.
Best Pokemon Card Price Apps
TCGplayer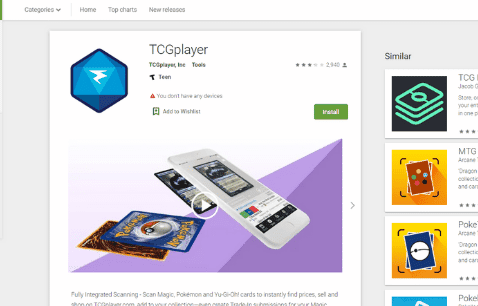 The first Pokemon card pricing app we will be looking at is the TCGplayer. It is a fully integrated scanner for Pokemon, Yugioh, and Magic the Gathering. The app is directly connected with TCGplayer.com, which means you can scan your cards to find prices and sell them on the TCGplayer shop.
The overall reviews and ratings are average. Many complaints in the reviews are based on glitches when scanning.
Glitches are more likely to occur during patches but can be annoying nonetheless. Another complaint many users have is the app randomly crashes.
Besides the random crash, or the scanner glitching out, this app has many handy features on top of just scanning and pricing cards.
The app also comes with filters, like choosing between Mid, Direct Low, and Market Price when searching for cards on the app. You can also create a listing with photos within the app which makes listing very simple.
The image recognition of the cards is also very good. It can scan and recognize cards in card sleeves, upside down, or even inside a card binder. The most crucial factor is to scan the cards at a 45-degree angle with a plain background that contrasts with the card.
Did you know Pokemon booster boxes usually sell for more than the suggested retail? This is mostly caused by supply and demand. Click here to check out the current market prices of these booster boxes and you may be surprised at just how lucrative it is to hold onto booster boxes and sell them at a later date.
PokeTCG Scanner – Dragon Shield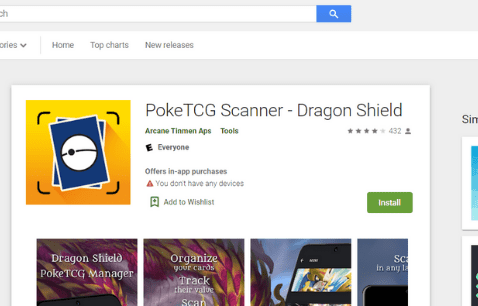 The popular PokeTCG Scanner app was created by one of the best card sleeve brands in the industry, Dragon Shield.
PokeTCG Scanner is another popular Pokemon card pricing app. The reviews on this app are very good, with a 4/5 rating. This is a great app to keep track of card prices as well as keeping track of your card inventory.
This app makes it easy to check for Pokémon card prices and to keep track of your own collection. You can build decks, translate foreign language cards, and find oracle text and rulings.
Some basic features this app includes:
Card Scanning:
This app can scan cards in English as well as foreign languages instantly. Card prices are checked daily from TCGplayer.com and CardMarket.
Inventory
With this app, you can also organize your cards into folders with custom images. These folders can even have a price valuation and a win/loss ratio. Cards are also able to be exported to .csv or text documents.
Winners, Losers, and Trades
The Winners and Losers feature makes it easy to see what cards went up or down in value. These can be filtered by date and format, which makes seeing the top card winners and losers easy within your collection.
TCG Hub – Card Collection Tool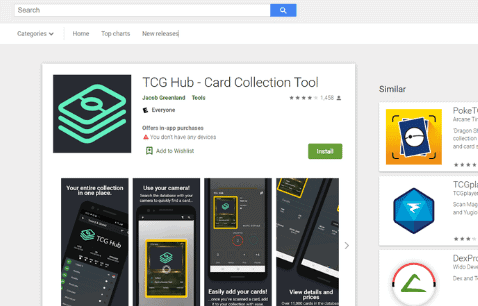 The TCG Hub – Card Collection Tool is another excellent app that cannot go unnoticed. It has a ton of features and rivals the Dragon Shield app.
This app has received outstanding positive feedback with a 4/5 rating.
Instantly and quickly scan cards to add them to your collection and check the price quickly. You can even sync your entire collection to the cloud to have it on the go.
There is also a trade feature where you can compare prices between cards being traded to see if it is fair trade or not.
One noticeable difference with this app is that there is no paywall, and it is 100% advertisement free making this one of the cleanest apps on the market.
PocketPrices – PocketMonsters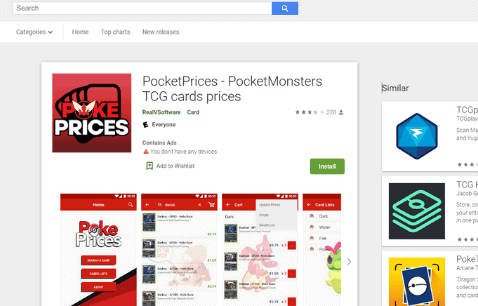 Another popular Pokemon card pricing app is PocketPrices. Pocket Prices is an app designed to show prices for Pokemon cards from the popular and well-known TrollandToad website.
This app has an average rating and gets a lot of great reviews from many users.
One of the big highlights of this app is that it will calculate your collection's total value and also has the option for card quantities.
This app is still a work in progress and lacks many features found in other apps, like scanning, but if you are a fan of TrollandToad, give this app a shot.
TCG Price Check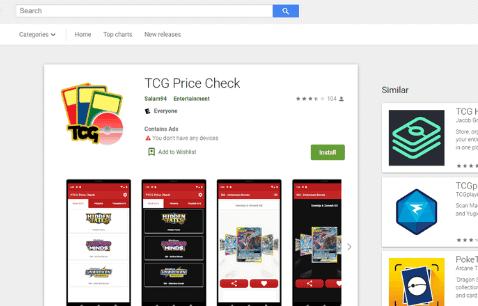 TCG Price check is another great app to keep track of Pokemon card prices. However, there are quite a few bugs that many users have reported.
You can view all the sets from the trading card game and even search for particular cards in any given set.
Viewing prices from different sets is also possible, as well as toggling between the different card versions like reverse holo-foil, normal, and so on.
Simply set your preferred currency in the settings, and it will provide live and accurate conversions.
One downside to this app is there is currently no scanner which means you will need to manually search for and find the cards you want prices checked on.
Related: Topps Pokémon Cards Value
Final Thoughts
With Pokemon card prices going through the roof, having a price app on your phone can be a very handy tool. Pokemon card price apps will help you keep track of the market value of cards in real-time. Some apps come with a scanner and the option to create decks.
Once decks are created, you can keep track of the deck's overall price and win/loss ratio. These cool features can't be overlooked and are almost necessary if you are an avid Pokemon TCG player.
Overall, we recommend the PokeTCG Scanner – Dragon Shield app. It's created by one of the best brands in the industry and has all the tools needed to make it easy to keep track of prices of all your cards.