You've likely heard of the staggering amount of cash enthusiasts have earned from trading card games or TCGs. Yet, with the NFT and crypto gaining ground by the day, people are raking in millions by collecting trading cards. The 1999 Pokémon-themed Topps cards are among the most popular TCG cards.
Topps Pokémon Cards originally featured the Kanto region's Pokémon, later including other personalities from the Johto series. After immense popularity and plummeting sales, Topps stopped releasing new Pokemon-themed cards. The company's Pokémon license expired in 2008, and they reported no plans to renew it.
Fast-forward to the post-pandemic era; these cards cost way more than you'd buy them in the 90s. However, the pricing may still vary because of multiple factors. So if you're curious about Topps Pokémon cards' value, this detailed piece will guide you appropriately.
Key Takeaways
Topps Pokémon cards are among the most potentially lucrative TCG items
The value of these cards depends on their rarity, condition, set and type, popularity, and the laws of demand and supply
You have to maintain your cards in mint condition to retain their true value
Factors that Determine the Value of Topps Pokémon Cards
The following factors can determine your Topps Pokémon cards value:
Rarity
All Topps Pokémon cards have a rarity stamp at the bottom right section. Typically, Uncommon and Common cards aren't much valuable. But their Rare and Extra Rare counterparts are the most expensive, as evident in the impressive Topps Pokémon the first movie cards value.
Edition size and distribution also matter, which you can find out by checking the card's edition and print date. Generally, an earlier edition fetches more money, with the first edition Topps cards being the Holy Grail.
Finally, cards available in the secondhand market are generally cheaper than their rare counterparts.
Condition
The card's physical condition will also determine its value. That's why savvy cardholders aim to achieve perfect storage surroundings. Cards in near-mint or perfect mint conditions sell for full price, but played ones often lose value because they're mostly flawed.
Experts determine a card's condition by checking its surface, edges, centering, and corners. The primary factors that affect a Topps Pokémon card's state include:
Playing frequency
Whether you use the right storage accessories
The environmental conditions of your storage space
Cards display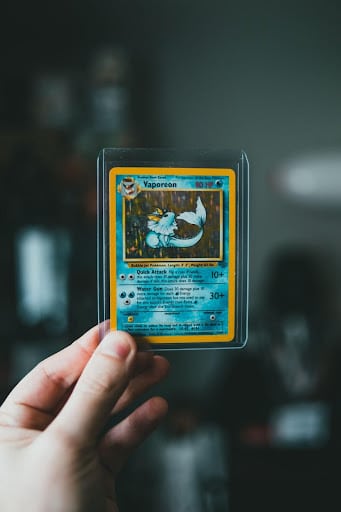 The Popularity of The Pokémon
TCG cards with popular Pokémon are among the most eagerly sought-after. This colossal demand increases their value. Usually, newly released Pokémon cards tend to be relatively cheaper initially compared to their legacy peers unless they're very rare or competitively viable. You're better off saving them for the future when they'll likely cost more.
Also, regional popularity can determine the card's value. Usually, a card will cost more where it enjoys immense popularity than in areas where it's less prevalent.
Set and Type
Your cards' type and set determine their value. Generally, special edition Topps Pokémon cards are more expensive than base set cards.
You must also consider holo, reverse holo, and full-art cards. Usually, "holo" cards have reflective and shiny artwork, while "reverse holo" cards are glossy with matte art. Their full-art counterparts have the Pokémon embedded on a solid color background. Generally, holo and reverse holo variants cost more than their full-art counterparts.
Supply and Demand
Finally, you must consider the law of demand and supply when valuing your cards. Simply put, scarce, high-demand cards, such as 1st edition Pokémon cards, cost more than their widespread counterparts. Of course, market trends and fluctuations can also come into play.
Related: Are Pokemon Break Cards Rare?
The Most Valuable Topps Pokémon Cards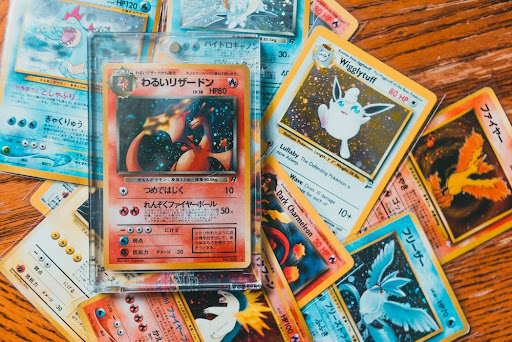 Undeniably, Pokémon collectible cards rule the TCG market the same way baseball sports cards did through the 20th century and parts of the 21st. Surprisingly, the most valuable of these cards measure up well to their sports equivalents. In fact, some Pokémon cards can compare to just about any puck or ball card in terms of flashy selling prices.
That said, here's an overview of the rarity and value of each card:
Pikachu Illustrator – Considered the most high-valued Pokémon card, this is the true holy grail of the collection, with only one PSA 10 Pikachu Illustrator in existence. In July 2021, the card sold for$5.275 million.
Prerelease Raichu – Prerelease cards stopped featuring the "PRERELEASE" stamp after HeartGold & SoulSilver hit the market. The Prerelease Raichu is exceptionally rare and could be worth up to $10,000.
Charizard – The Gem Mint 10 Charizard is among the most valuable Topps Pokémon cards. A January 2021 sale fetched $300,000, and the record was smashed a year later by a PSA 10 Charizard that sold for $420,000.
Mewtwo – This Psychic Legendary Pokémon entered the scene in Generation I. It's remained one of the most sought-after cards after featuring in the first movie. PSA 10 Mewto examples have sold for as high as $1,000.
Dark Charizard – A black Charizard is a rare, valuable shiny Pokémon that would make a great addition to your Pokémon collection. The average "Dark Charizard Team Rocket 4/82" value is $156.16. Sold comparables range from a low of $20.50 to a high of $4,210.60.
Related: Most Expensive Pokémon Cards in 2023
How to Determine the Value of Your Topps Pokémon Cards
The PSA, a professional grading organization, has reviewed every item in the above Topps Pokémon card list and rated them out of ten. Low-scoring cards tend to have a less desirable condition, while a score of 10 means that a card is in Gem Mint condition–as perfect as you can find it. Grading proves a card's authenticity and value.
If you intend to keep your cards for long, provide the best storage conditions possible. The following tips can come in handy:
Consider storing the cards in cases or sleeves to maintain their pristine condition and prolong their life
Acquire specialty cardboard boxes to wick away moisture and shield bright lights
Store the cards in a cool and dry place
Display your cards cautiously to prevent damage by the sun's UV rays.
Related: 5 Best Apps for Pokemon Card Collections
Resources for Researching the Value of Your Cards
The most straightforward way to determine your cards' value is to check online price guides and marketplaces. Some of the best platforms for this include:
eBay Sold Listings – eBay sales provide the most comprehensive sales history. You can determine what a card sold for in the advanced search tab or on the sold listing checkbox. Smartphone users can use the "Filter" option.
PSA Population Reports – These reports offer the correct PSA-related pricing information. The platform's Pop Report lets you search card sets by year or using brand keywords.
Mavin.io – This free research tool lets you review sold eBay listings and quickly learn the average price of recent card sales.
PWCC Auctions – The website offers a vast and complete marketplace for modern and vintage trading cards. You'll simply send graded cards, and the platform will scan and create listings you can sell on eBay.
Apart from the online marketplaces above, you may also research your cards' value by talking to local collectors and card shops.
Related: Pokémon Card Price Checker – 4 Legit Options
Topps Pokémon Cards Value – FAQs
Did Topps Ever Make Pokémon Cards?
Yes. Topps created Pokemon-themed cards in 1999. However, the company stopped production after sales plummeted.
Are Pokémon Topps Cards Valuable?
Yes. Pokémon Topps cards are potentially lucrative, especially if you're dealing with a rare or unique edition TCG card.
How Many Topps Pokémon Cards Are There?
The Topps Pokémon series 1 card list included 90 cards comprising 76 standard cards, 13 character cards, and a checklist. Each has a standard version, a rainbow foil, and a silver foil version.
How Can I Check the Value of My Pokémon Cards?
You can quickly tell how valuable your card is by browsing through online marketplaces or local card shops and collectors.
Related: Best Pokémon Card Binder 5 Options
Conclusion
You can make good money collecting TCG cards. However, you must ensure the best storage conditions to maximize Topps Pokémon cards' value. Fortunately, you're now equipped with the proper knowledge. Be sure to continue learning about and exploring the world of Topps Pokémon cards to stay ahead of the trends and prices.