Some of the best apps for Pokémon card collection include Pokemon TCG Card Dex, Pokécardex, Collector, TCGplayer, and Pokellector. Each of these apps has its own quirks that separate them from the rest.
Out of these 5 apps, Pokemon TCG Card Dex is the only official one but has fewer positive reviews than unofficial apps such as Pokecardex and TCGplayer. These apps usually have scanners to scan physical cards and add them to your collection. Others like Pokecardex allow you to download scans.
The rest of the article will cover each app's various pros and cons to give you a better idea of what app is best suitable for your Pokemon card collection.
Best Apps for Pokemon Card Collections
Introduction to Pokemon Card Collection Apps
It can be a bit of a hassle to keep all of your Pokemon cards cataloged manually, but this is made easy with Pokemon card collection apps that you can use to keep a digital collection for all your cards.
These apps let you organize your pre-existing cards and have features letting you find and shop for more cards to complete a collection.
Some apps are only compatible with English cards, but others support cards in other languages too.
Figuring out which app is best for you comes down to experimenting with each and knowing which functions the most seamlessly on your device.
Each app provides a different interface, so it's good to try several apps first and then decide which suits your needs best.
Wonder what your current and old pokemon cards are worth? Click here to check out the Unofficial Pokemon Collectors Guidebook on Amazon.
Related: Topps Pokémon Cards Value
Top 5 Apps for Pokemon Card Collectors
Pokemon TCG Card Dex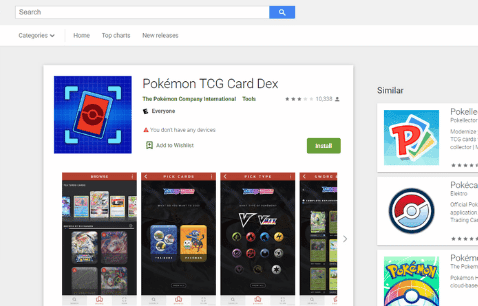 The official app designed by The Pokemon Company International, Pokemon TCG Card Dex is downloadable on iPhone, iPad, and Android devices for free. It's an effective app for organizing your cards in an ever-growing TCG database and setting goals regarding which collections you want to build next.
One of the best features of this app is that after scanning a particular card and adding it to your collection, it lets you know which cards you still need to complete your collection. Scanning a card works by simply using your device's camera.
You can easily search for your desired card on the app by using filters related to card type, energy type, weakness, etc. The app supports several languages, such as English, French, Italian, German, and Portuguese.
The best feature of this app is the translator, which automatically translates a physical card in a foreign language to the language you've selected for the app.
Some of the cons include the lack of accuracy of the scanner feature, as it works well only on a good and transparent background. Moreover, only cards starting from the Sun and Moon sets are compatible with this app. In the future, though, there may be a possibility for the users to be able to add older sets.
Pokecardex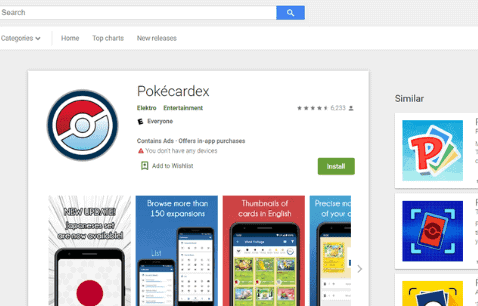 Pokecardex, available for Android, is one of the most popular unofficial Pokemon card collection apps. The database boasts over 15,000 cards belonging to as many as 160 expansions and allows users to design a Japanese catalogue, with about 14,000 cards and 170 expansions.
One of the best features of Pokecardex is that it is very easy to keep all your collections secure since you can create an account and backup your card collections, so you never lost them.
It's usable both online and offline and provides you with multiple interface options to experiment with. The app's pro version has a Wishlist feature so you can set goals regarding which cards you want to collect next.
Some negative reviews on Pokecardex say that although the app boasts a large inventory, some rare cards and sets are unavailable. Also, unlike other apps, there is no scanner option to add cards to your collection quickly.
There are some language issues as well. While the rest of the app is in English, the name of a set is shown in French, and there is no option to change it.
Did you know Pokemon booster boxes usually sell for more than the suggested retail? This is mostly caused by supply and demand. Click here to check out the current market prices of these booster boxes and you may be surprised at just how lucrative it is to hold onto booster boxes and sell them at a later date.
Collector – for Pokemon TCG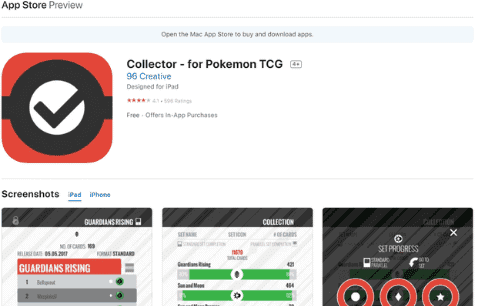 Next on the list, Collector is a well-received TCG app with a 4.1 rating on the Apple app store. It has an extensive database ranging from Fossil to the latest expansions.
Apart from adding your card collections, you also have the option to import and export them so that you can share them with other users.
The app automatically displays the HP, attacks, evolutions, and other stats when you click on a card to open it up. It even lets you know the lowest price of a particular card you can purchase from Amazon or eBay.
Like Pokecardex, it also has a Wishlist feature to keep a record of which cards you wish to own in the future.
There's also a Deck Manager that you can use on the app and email to yourself for using in leagues and tournaments.
Collector boasts some of the best features out of all Pokemon TCG apps, but it has flaws. The interface is known to be glitchy at times which spoils the user experience.
Also, there is a lack of simple features, such as selecting multiple cards to delete them at once. You have to select one by one, which is time-consuming.]
Pokellector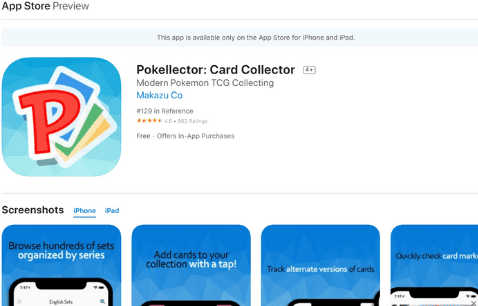 Pokellector also has a decent database, including expansions such as Sun and Moon, Sword and Shield, Black and White, etc. It gives you detailed card prices and a scanner for scanning and emailing PTCGO QR codes. Like other apps, it also has a My Collection feature to keep all your decks in one place.
One of the major cons of Pokellector is that it lacks a Wishlist feature. You do have the QR scanner if you want to look up a card and purchase it, but you can't keep the cards you wish to own in a separate folder or record. Also, some reviews complain that the card prices on the app can be inaccurate sometimes.
TCGplayer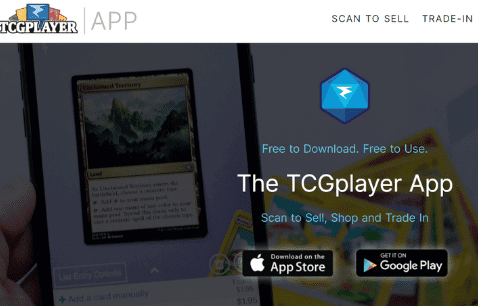 TCGplayer is not only an app that lets you organize a card collection – it also boasts the feature of letting the users find prices for their cards so that other people can purchase from them.
The app is compatible with Pokemon and other TCG franchises, such as Yu-Gi-Oh! and Magic.
You can scan your cards and know their prices based on their condition, language, and other aspects. Even if it's in a foreign language, the app can still scan the card and let the user know its price.
You also have a very efficient option of scanning several cards at once.
Like other apps with the scanner feature, the main issue lies in the lack of accuracy in the scanner. Its accuracy heavily depends on whether you're scanning your cards under the right background.
Related: Value of 1st Edition Pokémon Cards
Final Thoughts
All 5 apps we've mentioned in this article are effective in their own way. Still, Collector and Pokellector are the most recommendable as they have the most features and an efficient interface.
TCGplayer is what you might want to go for if you also want to sell your cards apart from just collecting them.
Lastly, Pokemon TCG Card Dex is a good option if you mostly have cards of the Sun and Moon sets and beyond.