Gamestop buys a wide variety of electronics, both new and used. Over the years they have been expanding on what they are accepting, and now it's more than ever. Does Gamestop buy smart watches? The answer is yes Gamestop will give you store credit or cash for your smart watch.
If you check on Gamestop's website, you will see all the electronics that they accept for trade-in. Their smart watch selection is not that big and is mostly comprised of Apple watches and Galaxy watches.
In order for your watch to be purchased by Gamestop, you will need to make sure that it is indeed a model that they are accepting for cash or trade-in value. The easiest way to do this is to use the search function on their website along with the correct filters for smart watches.
How Much Does Gamestop Pay For Smart Watches?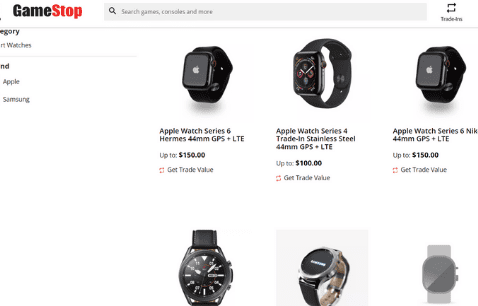 Device
Trade-In Value
Apple Watch Series 4 Stainless Steel 40mm GPS + LTE
Cash: 80$

Store Credit: 100$
Apple Watch Series 6 Hermes 44mm GPS + LTE
Cash: 120$

Store Credit: 150$
Galaxy Watch 3 45mm GPS
Cash: 80$

Store Credit: 100$
Galaxy Gear S3 Classic
Cash: 40$

Store Credit: 50$
Does Gamestop Give Cash for Smart Watches?
Gamestop does indeed pay cash for smart watch trade-ins. However, it is worth noting that the cash value that they will pay out are substantially lower than if you were to accept their store credit instead of cash. This should be as of no surprise as they are already well known for lowballing customers for their video game trade-ins.
If you do plan on trading in your smart watch, it may be worthwhile to accept credit, as the amount they will pay is much higher. The chart that we provided above is just a small example of the difference in price that they will pay in cash vs. store credit.
How Does Gamestop Trade-In Work?
The Gamestop trade-in system has changed over the years, and for the better. Back when the trade-in program first started, Gamestop only accepted video games and consoles as a form of eligible electronic. Now that their trade-in system has become more mainstream, they have refined it through the years.
Gamestop now accepts a wide variety of electronics ranging from video games and consoles, to smart watches and tablets. So how exactly does the Gamestop trade-in program work?
The customer can trade in as many eligible electronic items as the want for credit towards any product in the store, and even upcoming products that are not released yet.
When trading in electronics, a customer can trade as many items as they want and they can trade towards any product in the store or an upcoming product that is not released yet. If you decide to cash out in Gamestop credits, they will give you a Gamestop card that you can use later at any Gamestop location.
The only requirement for trade-ins are that they must be on their list. Even if you have an eligible electronic, you need to make sure that they accept the model you have. Some older models of electronic items are not accepted. The best way to check on this is to either check their website or get assistance with an employee in the store.
Does Gamestop Buy Broken Smart Watches
Gamestop will in face buy your smart watch if it is broken. There are three types of conditions listed, all which offer a different price for your electronic. They accept items in working, damaged, and broken condition. The price you will receive from a broken smart watch is tiny compared to the price you will get for a fully functional and working device.
Gamestop offers such a low price for broken equipment because before this equipment can be sold again, it must be fixed. And depending on the severity, it can be costly. The price given to a broken device is a one price fits all. It doesn't matter what the issue is, the payout will still be the same
Can You Negotiate Trade-In Prices with Gamestop?
Unfortunately, the Gamestop prices are not able to be negotiated. These prices are set by corporate and can be found on the website. Every eligible device that is listed on their website for trade-in will have a cash value as well as a store credit price next to it.
These prices change as the market value changes, so it's always a good idea to check on the website before bringing your device in to get the most current price.
Is It Worth Selling Your Smart Watch to Gamestop?
In our opinion, we only recommend selling your smart watch to Gamestop if it is your only option. Gamestop will heavily underpay you for what your device is actually worth. This is mostly done so they can have the highest profit available they resell it.
There are many other third party platforms to sell your items on. We recommend platforms like eBay, Offer-Up, and even Mercari. Through these platforms, you will be able to get the highest amount of money possible for your smart watch.
Of course the major drawback to selling your device on a third party platform is that it can be a learning curve. You will have to take pictures of your item, list it, sell it, and then ship it out. On top of all that, you will most likely have to claim it as a form of income at the end of the year for tax purposes
Final Thoughts
Gamestop will in fact buy your smart watch. It can be fully functional, damaged, and even broken. Their trade-in platform has been expanding the past few years to where it is today. Now they accept a wide variety of different electronics from tablets and smart watches, to phones and gaming consoles.
The amount of money or in store credit you receive will vary greatly on the item you are trading in as well as the make and model.
Overall, if you are thinking about selling your smart watch to Gamestop, we first recommend that you see how much they will be offering you, and then check your local marketplaces to see what the actual going prices are. Most of the time you will be able to get more money for your items if you were to sell them- on your own.