Ever since Gamestop started its popular trade-in program, they have been accepting video games and consoles as a form of valid trade-in. Through the years, this program has expanded in the types of electronics that they accept from video games, smart watches, phones, and more. Video games are still a very popular trade-in item which leaves many people wondering about older titles.
Does Gamestop still buy DS games? The answer to this question is yes! Gamestop is still buying DS games for both cash and in store credit. Although you may not get much for them, it's still an easy way to get rid of unwanted games in your collection.
However, there is one caveat. The game must be on their buy list. Most of the DS games that they will be buying are going to be popular titles like Zelda or Pokemon. If the game is not on their buying list, they will not accept it. This is mainly due to the nature of DS games and how old they are.
How Much Does Gamestop Pay For DS Games?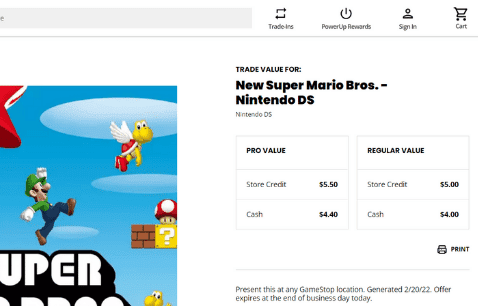 How much you get for your DS games will highly depend on the title, as well as if they even accept your game at all. At this time, Gamestop is only accepting popular titles for the DS since the system is fairly old. These games are usually very valuable in their pre-owned from and even more so if they are brand new and sealed.
Below is a small chart with some of the most recent credit and cash prices for Gamestop Trade-In values for a few popular DS titles:
DS Game
Trade-In Value
New Super Mario Bros.
Cash: 4$

Store Credit: 5$
The Legend of Zelda: Spirit Tracks
Cash: 8$

Store Credit: 10$
Kirby: Super Star Ultra
Cash: 6.40$

Store Credit: 8$
Pokemon SoulSilver
Cash: 20$

Store Credit: 25$
Does Gamestop Give Cash for DS Games?
Gamestop will pay you out in cash if that is the type of payment that you prefer. We highly recommend against trading in your games for cash as you will get a lower amount than if you were to accept in store credit instead as your form of payment.
One thing to take note of is that Gamestop is notorious for paying substantially under the market value for video games so that way they can churn the biggest profit when they resell the video games to customers.
Does Gamestop Buy Ds Games Without the Case?
Gamestop will buy your DS games even if they do not come with a case or a manual. The term for this is called "loose" as it is the game only. One thing to not is that Gamestop will pay you the same amount whether you have a loose game or a complete copy.
This is very unfortunate, because many of the expensive DS games will be worth a lot more if they are complete. This is mainly due to the collectibe value that the older and more expensive titles hold. This is especially true with DS games like Pokemon Heartgold and Pokemon SoulSilver.
How Does Gamestop Trade-In Work for DS Games?
Trading in video games to Gamestop is pretty easy. First you need to check their website to make sure that they are actually going to be able to pay you out for your game. There will be two different values when it comes to trade-in value. There will be a cash value as well as a store credit value.
The in-store credit value will always be higher. Also, they will pay you a little bit more if you are a Gamestop pro member. Also note that Gamestop will pay you the same amount whether you have a loose game, or if it's complete with the case and manual.
Can You Negotiate Trade-In Prices with Gamestop?
Sadly, you cannot barter or negotiate with Gamestop's prices. The prices on the website are non-negotiable and are set by Gamestop. If you try to barter with an in store employee, they will kindly refuse, even if you know your game is worth much more than what they are offering.
Also, these prices can change without notice, going up or down at any given time. This is usually due to the fluctuation of prices due to some of the rarer and harder to find titles like Pokemon.
Is It Worth Selling Your DS Games to Gamestop?
We highly recommend against selling your DS games to Gamestop. They will offer you a low price which is usually way under the market value of the game in order to gain a huge profit. A great example is the Pokemon Soul Silver title. Currently they will only give you about 25$ of store credit.
If you were to sell this yourself on a platform like Offer-Up or eBay, you will be able to get substantially more. At the time of writing this article, a complete pre-owned copy of Pokemon Soul Silver can get you over 100$.
To get the most up to date market prices for various games you can check out price charting. This website keeps track of the current prices of older games to help you get an estimate of what you will be able to sell your game for.
Final Thoughts
Gamestop accepts a wide variety of video games, consoles, and other electronics. Surprisingly they are also still accepting DS games even though they are very old.
However, you will need to make sure the DS games you are trading in are on their list of accepted games. At this time they are only taking in very popular titles like Zelda as well as Pokemon.
Before taking your entire DS collection to Gamestop, be sure to check their website or contact a store near you to see if they accept the games you are wanting to trade in.