On average, new bowling pins cost about $170.00, but it depends on the type of material the bowling pins are made of. Synthetic pins are considered to be the most expensive, and a case of synthetic pins averages around $195.00. If you are looking for used bowling pins, you can find a decent set for about $100.
There are different pins, such as ten-pin and duck-pin, which vary in different material types and weights. Depending on which pin set you are looking to purchase, the price may be higher or lower.
You can purchase these different types of pins either via the internet or through your local bowling alley. To learn more about the different kinds of bowling pins and their price points, read below.
Different Types of Bowling Pins
In America, the most common bowling pins that are used are the ten-pins. Not many people are aware that there are different types of pins with other materials that can affect your game.
Five-Pins
Five-Pins are more common in Canada, and they are a little bit shorter than the ten-pin. These pins are about 12 inches tall with a base diameter and 2 pounds 7 ounces.They are made of hard plastic, and it carries the same two stripes around the neck like their ten-pin counterpart.
The significant difference between the two is that the five-pins had a protruding band around the pins that provide additional weight and support to keep them stable.
Ten-Pins
The ten-pin bowling pins are the well-known pins that are commonly seen in bowling alleys in America. They are tall, standing at about 15 inches tall with a 2.75-inch base diameter.
The standard weight for these pins is about 3 pounds and 6 ounces, making them considerably heavy and harder to knock down with the bowling ball. These pins are very sturdy and are sure to challenge you at your game.
Duck Pin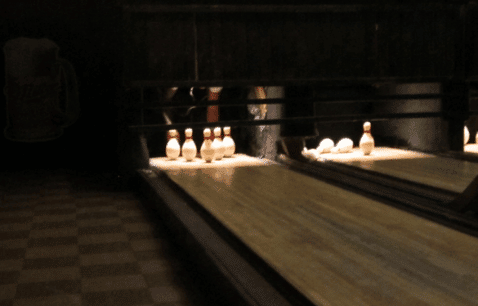 Duck Pins are unique-looking bowling pins that mimic the ten-pin bowling pins, but they are chunkier in the middle. They only weigh about 1.5 pounds and have a height of 9 inches.
People mainly played the duck-pin game in Maryland and Connecticut, but today those bowling alleys have either been closed or transitioned to the ten-pin bowling pin set. Most people who have been able to get their hands on duck-pin sets typically keep them as keepsakes.
Candle-Pin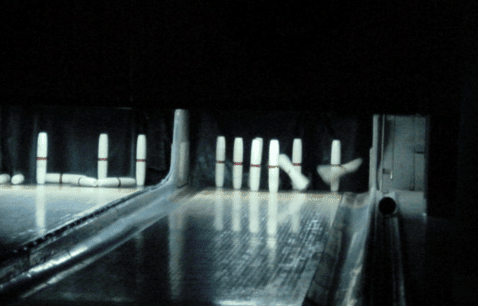 Candle-pin bowling is a game that is most likely played on the eastern coast of Canada, and it is also prevalent in the States of New England.
Just as the name suggests, the pins are cylindrical in shape, making them look like candlesticks. They weigh about 2.4 pounds, have a height of 15 inches, and have a base diameter of 2.12.
How Much Do Synthetic Bowling Pins Cost?
A case of 10 synthetic pins will run you about $180.00 depending on where you purchase them from. If you want to buy synthetic pins that are USBC, United States Bowling Congress, approved, you can check out Twister Synthetic Pins.
You can find these synthetic pins online via Amazon or the Twister website. If you are looking for other synthetic pins, you can find them online, but they may or may not have the same quality as the Twister synthetic pins, and they may not be United States Bowling Congress approved.
Did you know that Storm bowling balls have tons of different fragrances available for their bowling balls? This Storm bowling ball is widely popular due to its birthday cake fragrance!
Other Types Of Materials
Not all bowling pins are made equally, as some of them are made of materials like hard, durable plastic, synthetic materials, or maple wood.
Most people prefer to use bowling pins made of synthetic materials because they last longer and don't need to have periods of rest like wooden pins do.
Not many people use pins made of hard, durable plastic as they break down quicker than the other materials. Plastic bowling pins are typically used in children's games.
Do Bowling Alleys Sell Used Pins?
Yes, bowling alleys sell used pins! They usually don't advertise that they sell the pins; if anything, you should call ahead and inquire about buying the bowling pins.
Sometimes they don't have bowling pins on hand that are ready to be sold, and you may not be able to get a complete set of pins for a game. Again, make sure you call your local bowling alley to see if they have any pins ready to be sold or if they even sell bowling pins.
How Many Bowling Pins Come In A Case?
In an average case of bowling pins, you get ten pins.
Other Uses For Bowling Pins
Some people look to purchase old or new bowling pins to create art, and bowling pins can have multipurpose uses.
Some artsy ideas for uses of used bowling pins are:
Coffee tables
Lamps
Chair Legs
Bench Legs
Christmas or Halloween decorations
If you are interested in doing more extreme art with bowling pins, you might be interested in creating birdbath fountains or carving your artwork into the pins.
How Are Bowling Pins Made?
Making bowling pins is not an easy feat as there are many requirements a bowling pin must meet before they are ready to be put out on the market.
In order for the pins to work properly, they have to weigh a certain weight, have perfect symmetry, and excellent structural integrity. There are strict rules and regulations as to how bowling pin manufacturers make their pins.
If they are made in the U.S., they have to pass the United States Bowling Congress level of standards before being sold. Most manufacturers have their machines and their materials checked and approved by the United States Bowling Congress to ensure they are following code.
Because bowling pins are constantly being hit by a bowling ball coming at them at fast speeds, the pins must be made of durable materials to prevent cracks and dents.
Maple wood and synthetic materials are typically used to create these pins because they are the most durable. After the material is shaped to its well-known shape, it is coated with a plastic exterior.
After the plastic coat sets, the pins are pained with the signature red stripes. Some companies offer options to customize the color of the pins and stripe. They even have options for people to purchase bowling pins that glow in the dark.
How Long Do Bowling Pins Last?
Bowling pins are usually built to last about two years, based on how often they are used and how often they are rotated at the alley. Typically, they are meant to last about three years before they are rotated out of the other bowling pins.
Where Can You Buy Bowling Pins Online?
You can purchase used and new bowling pins on websites like eBay, Amazon, or the Facebook Marketplace!
Final Thoughts
If you are looking to purchase bowling pins, whether they are new or old, you can find them easily. Depending on the pin, material, and amount you want to buy, you can find them online.
If you do not want to purchase bowling pins online or through marketplaces like Facebook, it is ideal to contact your local bowling alley.
Not only will you be doing that business a favor by purchasing their old pins that they weren't going to use anyway, but you are also helping the earth by recycling!