Trading cards have always been popular, but over the past few years, more people have taken interest in collecting football cards. With the increase in demand also comes an increase in value, with many collectors anxious to get their hands on certain trading cards. Even though interest in football cards is higher than ever, it also seems more difficult than ever to find football cards.
This leaves a lot of people wondering where they can buy football cards. If you're wondering where to buy football cards, you've come to the right place. You can buy football cards at your local sports card shops, major retail stores, garage sales, and online stores.
Certain stores have stopped selling trading cards altogether, which makes it difficult for collectors to find new cards. Let's take a look at some of the different places where you can find football cards.
Where to Buy Football Cards
Ever since Target and other big-name stores announced that they were no longer going to sell trading cards, football card collectors have been wondering where they can buy cards. Whether you prefer to shop in the physical store or order online, there are many options to choose from.
Shop Local
Is there a local game or hobby shop in your municipality? This could be a prime spot for finding football trading cards. Local shops often have a great selection of new edition cards and older ones. Some game stores will also buy used cards that are still in good condition to re-sell, which means you could find some valuable rare football cards.
Retail Stores
Many big-name retail stores sell football trading cards. Even though some have stopped sales, a lot continue providing them because they are big sellers. When new football cards are released, stores that provide them can get so busy that they have to set specific rules in place when selling trading cards. This includes a limited number of packs per customer and no returns.
So which retail stores are known for carrying football cards?
Wal-mart
Walgreens
Kohls
Dollar Tree
Hobby Lobby
Kmart
Barnes ; Noble
Rite Aid
CVS
Select grocery stores
Buy Cards Online
One of the easiest ways to buy football cards is to purchase them online. When you shop for football cards online, you'll be able to find a wider range of options from newer packs to special rare cards. The most common website to find football cards is eBay. Many sellers will list their cards for sale, so you will come across a good selection with different price ranges.
With eBay, you'll likely come across more used cards. This makes it a great site for finding rare cards and other special cards you want to add to your collection. There are also some options to find cards that are still sealed in the package. However, if you want more options like this, Amazon is another website that shouldn't be ignored.
However, sites like these aren't specifically targeted at sports fans, If you want a better selection of football cards online, check out the following online shops:
thesportscardzone.com
dacardworld.com
breakingbangers.com
topps.com
fanatics.com
blowoutcards.com
diamondcardsonline.com
comc.com
To check the current price and availability of football blaster boxes, click here to view the selection on Amazon.
Flea Markets
Flea markets can be hidden gems for finding rare cards. Many collectors have found some of their most valuable football cards at flea markets. If you're interested in finding more vintage football cards, you may have the best luck looking at a flea market. They will likely be more affordable at a flea market compared to a hobby shop as well.
Garage Sales/Yard Sales
Never underestimate what you could find at a yard sale. While we can't guarantee you will find football cards at a yard sale, if you do happen to stumble upon some it could be a once-in-a-lifetime score. Typically with yard sales, the owner wants to get rid of the items so they are not concerned about making a profit.
If they are selling their used football cards, there is a good chance that you could find some really rare or valuable cards for a low cost.
How to Find Football Card Shops Near You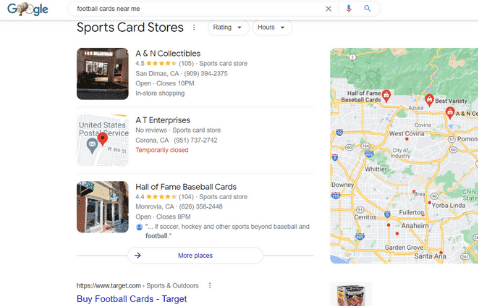 While we mentioned some great retail stores above where you are able to find football cards, we can not guarantee that the establishment in your area has football cards in stock. Some stores sell out of them the day they hit the shelves. If you don't want to waste time driving all over your local municipality to find football cards, you may be wondering if there's an easier way.
Using a search engine, like Google, you can find football card shops near you. Simply type "football card shops near me" in the search engine and hit enter to see the results. Google will bring up a map of your area with the closest retail stores that specialize in selling sports cards.
If there isn't a shop in your town, Google will let you know what's available in towns nearby. Along with letting you know which stores, Google will also provide you with the location's address, phone number, and website (if they have one). We recommend calling first to confirm that the card shop has football cards in stock before making the trip.
Apps for Buying Football Cards
One of the websites we mentioned above, topps.com, has a mobile app. Topps.com is a very popular sports trading card website. They are one of the leading online retailers for providing authentic football cards. Topps.com now has a mobile app that collectors can download to make buying football cards easier.
If you enjoy using eBay to find football cards, then you should check out the Poshmark app. This is an app where people can upload items they have for sale and buyers can place offers on them. You may be able to find some rare football cards to add to your collection using this app.
Sports Card Investor is another app that football card collectors should download. This app can be used to buy football cards from other collectors or sell the ones you no longer want for your collection. People who use this app can get a full overview of the football trading card market. Another similar app that is worth checking out is StockX.com. 
Related: Best Sports Card Packs to Buy in 2023
Final Thoughts
If you collect football cards, there are many ways you can buy cards. Many hobby stores and department stores sell football cards, but if you can't find what you want at any of them, there are many resources online. 
There are many online stores that specialize in selling authentic sports cards. These shops have a variety of different options for purchasing football cards. However, if you're after rare or vintage cards, you should see what sellers on eBay or Poshmark have listed. These sites should be checked every once in a while because you never know when a seller will add something new.
Out of all the places where you can find football cards, one of the most overlooked is flea markets. However, when you take a look at football trading cards that are for sale at a flea market, you could find a lot of value. This is where many rare and vintage cards are hiding.