For decades, at least in the United States, trading sports cards has become very popular. From Babe Ruth to Ken Griffy Jr and beyond, baseball cards are some of the most sought after. Whether you're young or young-at-heart, there's a magic about sports cards of your favorite players.
The world of collecting and trading these cards widened alongside the invention of the internet. This has grown the industry by leaps and bounds in ways never before imagined. People now have the opportunity to get their hands on rare memorabilia and other sports cards not easily found at the local trading stores.
If you're looking to buy, sell or trade some sports cards, finding an online forum will be the best way to connect with other hobbyists. You can hunt for that long-desired card and trade out some of the duplicates you've been hanging onto. Below are some of the best forums you can find online.
Best Forums for Buying/Selling/Trading Sports Cards
The following websites come recommended by top trading card manufacturers, like Topps. It's advisable to closely inspect each site and do a quick browse to see if it's right for you and what you're looking for. Each site offers something a little different and some are a little more visually congested than others.
This online area provides sports and non-sports card collectors a safe place to discuss while buying, selling and trading. They have the tools to allow collectors to manage their online collections along with viewing information about what's happening with the hobby.
They also have robust data to send autographs through the mail. What's more, they have a calendar of dates for trading card shows and other events surrounding this time-honored hobby.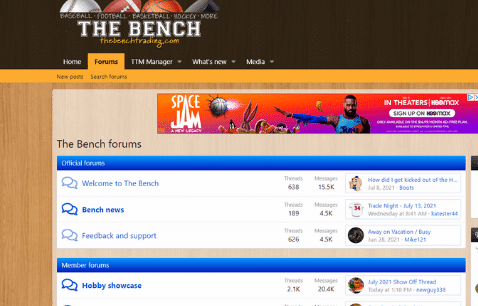 For sports fans looking for a family-friendly forum, the Bench offers discussions along with opportunities for trading, buying and selling sports cards. From baseball to football, basketball, hockey and more, there's something here for 8everyone.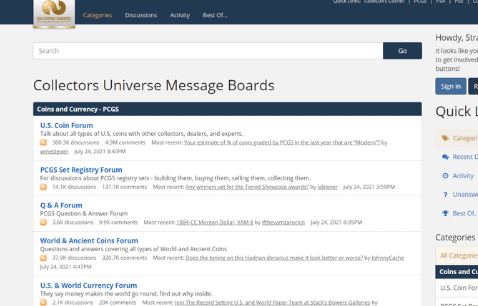 A site that allows for trading, buying and selling of not just all sorts of sports cards, but also stamps, coins and currency. People can also buy directly from dealers and look up the many auctions available for collectors.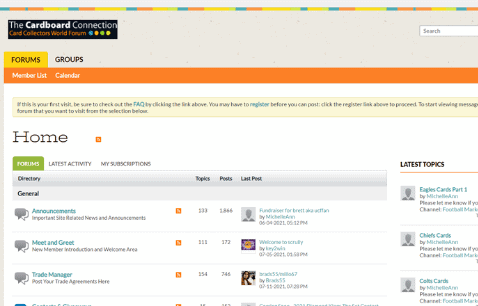 A simple online forum for trading just about any kind of sports card. Although users don't have a specialized interface for trading, selling or buying sports cards, business conducts right within the forum itself. Website staff is easily available and accessible to address any issues that arise.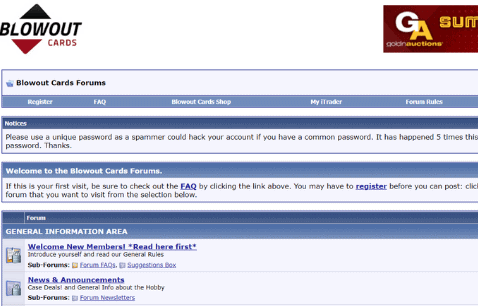 A simple, quick and easy to use forum where you can post any questions, comments and concerns while buying, selling and trading sports cards. Blowout Cards also has their own stand-alone store where you can purchase cards. Users must create an account to see, view, post and etc.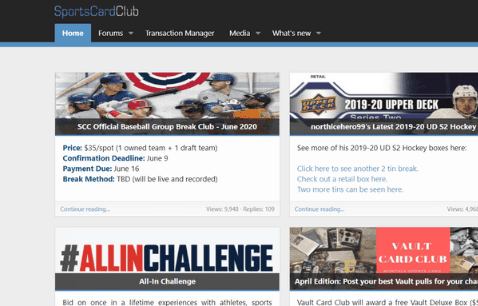 Sports Card Club takes buying, trading and selling sports cards one step further. Not only do they offer a forum for people to do business with each other, they have a host of useful resources along with news about the hobby. Users can also enjoy a personalized interface to track their transactions.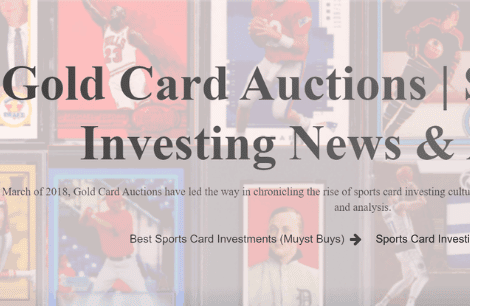 For a solid standard in online forums and sports card trading, Gold Card Auctions offers news, a regular newsletter, their own store and many other interesting tidbits for sports card investors. Since 2018, they have led the way in chronicling sports card investment culture.
According to their manifesto, Gold Card Auctions pride themselves on being a trusted world-wide dealer in the industry by supplying honesty amid opinions and analysis of the sports card industry.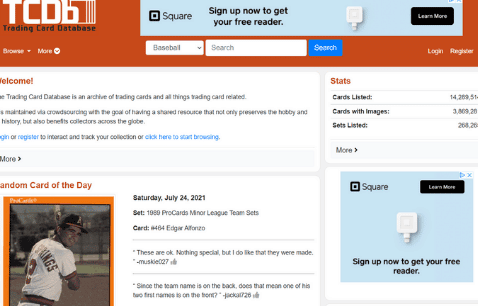 Trading Card Database (TCDB) offers a huge archive of trading cards and anything else related to the trading industry. The site commits itself to providing the most accurate information. So, they make it easy to report inconsistencies and inaccuracies.
They employ crowdsourcing so all visitors can pitch in to add items with the goal of having a shared resource. This is in the hopes of preserving the hobby and its history to benefit collectors all over the world. Anyone can view the FAQ to learn more about how the site works and what kinds of things are available.
TCBD's search function is top-notch. You can use an advanced search to look for cards by year, manufacturer, player or team. This database grows literally by the hour. When users register to the site, they can track personal collections and add items to the database.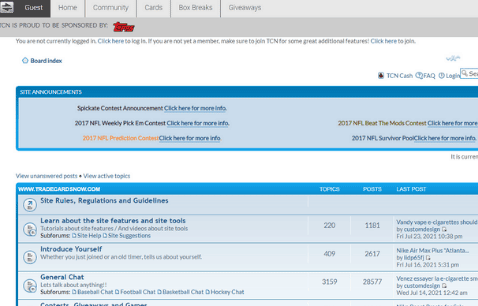 Mostly focused on baseball and football trading cards, Trade Card Snow Board deals in almost any sport. They have a huge community and a card database they curate while offering giveaways along with a place to view unboxing videos of people sharing their new sets of cards.
Trade Card Snow Boards have forum areas to engage with other collectors around trading, buying and selling. The site also has an area within the forum to help you use all the site's features and tools.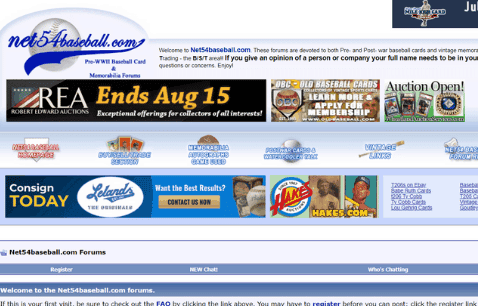 This is a smaller trading industry site, but a valuable and specialized one at that. Net54baseball focuses their forum around pre-World War II baseball cards and memorabilia. They do have cards after World War II as well, but almost all the cards are vintage in some way, shape or form.
Not only does Beckett Media have a radio show and magazines but they also offer an online forum specifically for sports card trading. They offer other collectible services along with a market place and a store locator to make an in-person purchase for higher ticket items.
They also have various authentication services that include grading, certification appraisals and comic book certification services. They're a trusted leader in the industry and they guarantee all sales.
Final Thoughts
Regardless of whichever site you choose, always ensure you read all the terms and conditions along with the site's privacy policies. Also, read their guarantees on their services as well as the risks associated with trading, selling and buying online.
In the event that none of these sites are anything in which you want to participate, you can do a search online for "sports card forums" (keep the quotes). The most visited sites will appear first because of how many people visit per day.
You could also go to your favorite manufacturer and see if they have any suggestions. Your local trading card store may also have some ideas for you as well. There are also options for doing sports card buying and selling through Ebay and other auction houses.