Meijer is a popular supercenter franchise that has locations all over the Midwest US and an online selection to help customers find everything they need. This franchise has almost everything a person needs as far as home, electronics, and groceries. Many people wonder whether or not they can find sports cards at Meijer. 
This is a yes and no answer. People can't order sports cards online from Meijer, and they can't find them on the shelves at Meijer locations either. Actually, even if they walk into a Meijer store and ask an associate for some, they won't have luck either. However, they do sell sports cards on particular dates and times.
Sports cards are such an exclusive seller that they can't be left unattended. This is to avoid having one person come in and buy the entire selection. If you are curious about how selling sports cards at Meijer works, this page will discuss everything you need to know. Keep reading to find out how to buy sports cards from Meijer.
Where Are the Sports Cards in Meijer?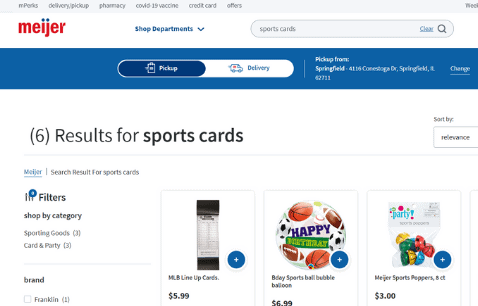 If you've visited Meijer's location recently, you probably didn't notice any sports cards on the shelf. Don't worry, you're not bad at finding things. Meijer doesn't stock sports cards on the shelves in their store. The same can be said online. If you were to visit their official website and search for sports cards, there will be none to display.
Buying sports cards at Meijer is a whole different experience. There is so much hype and excitement revolving around sports cards that they sell out almost instantly when they are released. So how do people buy sports cards from Meijers? There are particular days and times when they will be available.
When Meijer sells sportscards, customers can find them at the desk in the entertainment section. People can line up and will be served individually upon the time of their release.
What Time Does Meijer Restock Sports Cards? 
Meijer doesn't restock their sports cards when they run out. Instead, they are given a set day and time of when they are allowed to sell them. At most Meijer locations, customers can buy sports cards on Fridays at 3 pm. However, you should always check with your nearest location to find out the exact day and time.
Customers can arrive at the store and get in line at any point throughout the day. Sports cards are a huge seller and for some releases, they have had people start to line up in the morning. All cards are sold on a first come first serve basis. If it's a very popular release, there is a chance they may sell out before all customers are served.
Meijer recieves its sports cards from MJ Holdings. They are one of the largest sports card distributors worldwide. MJ Holdings doesn't have specific dates when they restock the sports cards at Meijer stores. They could arrive with a new collection any day between Monday and Friday. They usually arrive between 9 am and 2 pm to deliver the inventory.
Even if MJ Holding were to arrive first thing Monday morning with a restock of sports cards, Meijer is likely to still wait until Friday at 3 pm to release them. If you are a big collector, it's a good idea to get there early enough. If there are too many people in line, Meijer may not have any sports cards left by the time you get up front. 
To view current prices and inventory stock of sports card blaster boxes, click here to check them out on Amazon.
What Are the Protocols for Buying Sports Cards From Meijer? 
Sports cards are so high in demand that there are rules when it comes to buying them at Meijer. When sports cards were sold on the shelves, it was very common for the first customer to come in and buy the entire selection. After that, the Meijer employees would have to manage irate customers looking for cards for the rest of the day.
To avoid upsetting people and to make things easier on the staff, Meijer decided to put a policy in place when buying sports cards. The cards will be available to sell on the specified date and time and there will be limits. Each customer is only allowed to purchase 2 sets.
The staff at Meijer will only be able to sell what they have in stock. It's important to remember that they are not trained to be knowledgeable about all the information on these sports cards.
They will only know the information that is available on the package and will not be able to give out any exclusive information. 
In many cases, once a customer arrives at the desk to buy the cards, they will be shown a handwritten list of what is available and get to select two items from that list. This process keeps the lineup moving and allows every customer a fair chance at buying sports cards when they are released. 
To view current prices and inventory stock of sports card blaster boxes, click here to check them out on Amazon.
Final Thoughts
Meijer is one of the leading superchain franchises in the Midwest US. Shoppers can find nearly everything they need in one location when they visit a Meijer store. One thing they likely will not see on the shelves at Meijer are sports cards. They won't be able to find them on the Meijer official website either. However, Meijer does sell sports cards when they are released.
Since sports cards are such a big seller, Meijer has rules in place. This is to prevent one person from buying the entire inventory's worth before anyone else arrives at the store. All sports card collectors get a fair shot at Meijer. This means, they will only be able to buy sports cards on certain dates at a set time. 
Every customer is limited to 2 sets per release. For more information on the exact day and time you can buy sports cards from Meijer, always contact your local location. Sports cards are only available in store, and will not be available for purchase online from Meijer.