Beckett Grading Services (BGS) is a third-party grading service for cards. Grading your collectible cards and memorabilia verifies their authenticity. The serial numbers assigned to every graded card act as an assurance. The cards increase in value, and collectors can be confident that the cards are in the condition described.
Key Takeaways
BGS is one of the cheapest card-grading services
BGS provides faster turnaround times for card grading
card grading fees start at around $20-25 per card, while fees for comic books can start at around $40-50 per book.
BGS has a 1-10 scale, with a sub-grading (9.5, 8.5, etc.) system for more accurate grading
BGS has four grading tiers; economy, standard, express, and premium
For your sports cards, autographs, gaming cards, and other collectible items, BGC can provide reliable and accurate grading. As more collectors learn about the benefits of professionally grading their cards, BGC's popularity continues to grow. Its standards are recognized internationally.
The cost of grading a collectible item, such as a sports card or comic book, by Beckett Grading Services (BGS) can vary depending on the item being graded, the level of service requested, and other factors.
Generally, sports card grading fees start at around $20-25 per card, while fees for comic books can start at around $40-50 per book. Additional services such as encapsulation, authentication, and signature verification may also be available for an additional cost. It is recommended to check with BGS for their exact pricing and services.
The BGS Grading Scale
BGS uses a 1-10 grading scale, with a descending one-half increment included. i.e., (10, 9.5, 9, 8.5, etc.). BGS assigns colored labels to distinguish the cards. Cards rated 9.5 and 10 come with a gold label, while those rated 8.5 and 9 have a silver label. The rest have a white label.
BGS grades cards based on:
Centering: The width of the border affects how centered a card appears. Borders should have the same width on all sides.
Edges: Straight and sharp edges receive a higher grade than those with dents.
Corners: Sharp corners receive a higher grade than weak or bent corners.
Surface: Cards appearing stained or faded receive a lower grade than cards appearing to be in their original condition.
They grade every factor on a scale of 1-10, then combine them to give an overall 1-10 grade. The grades are as follows:
10-Pristine
9.5-Gem Mint
9-Mint
8-Near Mint/Mint
7-Near Mint
6-Excellent Mint
5-Excellent
4-Very Good/Excellent
3-Very Good
2-Good
1-Poor
BGS rarely hands out the Pristine 10 grade. It can turn a $10 card into a $1,000.
BGS Grading Tiers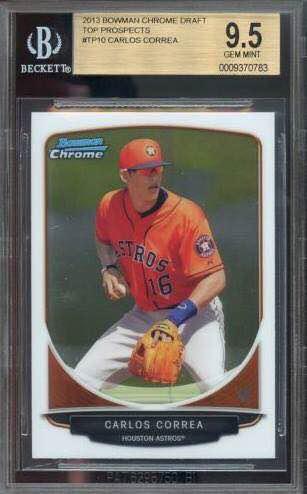 BGS has six pricing tiers for cards, namely:
Collectors Special
Base
Standard
Priority
Next day
Immediate
The pricing for each level is as follows:
| | | |
| --- | --- | --- |
| Tier | Price | Turnaround Time |
| Collector's special | $16 per card or $18 per card with sub-grades | 40-60 business days |
| Base | $18 per card or $22 per card with sub-grades | 40-60 business days |
| Standard | $30 per card or $40 per card with sub-grades | 10-20 business days |
| Priority | $100 per card or $140 per card with sub-grades | 2-5 business days |
| Next day | $400 with or without sub-grades | 1 business day |
| Immediate | $500 with or without sub-grades | Same day |
BGS may request you to pay additional charges for return insurance, autograph verification, tax, and oversized items surcharges. Despite the additional charges, BGS is among the cheapest card grading services.
Related: Do Card Shops Grade Cards?
Submitting Cards for Grading
The submission process begins with filling out an online form that will accompany your items. You must fill out the online submission form, whether mailing your items or submitting them in person. The BGS does not accept handwritten submission forms.
The steps for submitting your cards include:
Step 1: Visit Beckett-authentication.com and log into your account. If you don't have a Beckett account, create one on beckett.com for free.
Step 2: Select the service you want between authentication and encapsulation. Choose the service speed.
Step 3: Select the item type and signer to add your items.
Step 4: Confirm your address (for return shipping) and select the payment method.
Step 5: Counter-check to ensure you've entered the right information and complete your submission. Print the confirmation page.
Step 6: Package your items for shipment, and include the form.
Packaging Your Shipment
BGS recommends using USPS or FedEx and purchasing the required insurance. Follow the steps below:
Step 1: Purchase Beckett shield products. Place your cards inside Mylar sleeves, then insert them into the Beckett Shield card sleeve. Place it between two cardboard pieces, then add a rubber band around them.
You can use bubble wrap for some items. Ensure they are intact and won't get scattered when the box is opened.
Step 2: Add a copy of the printed confirmation page to the package.
Step 3: Seal the box with packaging tape. USPS requires the use of craft paper tape to cover every seam. Don't use regular plastic tape.
Step 4: Enter the address of one of the Beckett grading locations.
Step 5: Take the package to your shipping carrier and purchase the insurance. Get a copy of the tracking number.
How to Choose the Right Grading Service
You want to settle for a grading service that provides the most accurate grades. The Beckett Grading Services (BGS) and Professional Sports Authenticator (PSA) are some of the most popular grading and authentication services.
Consider the following factors when choosing your grading service:
Reputation: A company's reputation is critical as it indicates customer satisfaction with the offered services. The company staff must handle the cards with care. Check out customer reviews before sending your cards.
Grading standards: Many companies check details of centering, corners, edges, and surface. Check how accurately the company grades the cards. Both PSA and BGS have a grading scale of 1-10.
Turnaround time: Consider how long the company takes to have the cards returned for the grading tier you choose. Some companies may take longer. The turnaround time may also affect the card grading prices.
BGS vs. PSA Grading
Let's compare BGS and PSA based on various factors.
| | | |
| --- | --- | --- |
| Factor | BGS | PSA |
| Labels | Uses four color labels: white, silver, bronze, and black | Uses a one color: red labels across all submissions |
| Sleeves | Uses plastic sleeves to prevent movement of cards when shipping | Only encases cards, and they can freely move |
| Turnaround times | Takes shorter time than PSA | Known as a grading service with the longest turnaround times |
| Cost | BGS grading cost is lower than PSA | PSA grading cost is higher than BCG |
BGS Grading Cost: FAQs
Yes, BGS is cheaper than PSA. The overall PSA grading cost is among the highest in the market. BGS also has shorter turnaround times, allowing you to determine the value of your card quickly.
Is BGS 10 Worth More Than PSA 10?
Yes, BGS 10 is worth more than PSA 10. It is rare to find a BGS 10 card because BGS reserves this score for cards without blemishes. PSA leaves a leeway when rating a 10.
BGS is better than PSA. BGS is cheaper and provides faster turnaround times than PSA. It also has a sub-grading system (for instance, you can get a score of 8.5). The sub-grading allows for more accurate scores.
Conclusion
BGS is an internationally recognized grading system. You can trust them for reliable card grading. It provides shorter turnaround times and charges significantly less than other services. Choose BGS for your card grading services.