So, you've finally taken the plunge and submitted your cards for official evaluation. Congratulations on making a solid investment choice for your collection! Both PSA and BGS ratings increase the likelihood of selling your baseball cards for a high price in the future, and they're pretty good for on-display bragging rights too.
The only possible downside to having your cards evaluated is that you'll need some new storage for your newly slabbed baseball cards. Perhaps you have used the two or three-row shoe storage box system or monster boxes in the past. Those are great storage solutions for sleeved or top-loaded cards that fit; however, your cards will have bulked up considerably when they're returned to you.
Of course, there are equally great storage options for you to choose from to protect your graded and slabbed sports cards. Sleeves, box storage, individual displays, and lidded display shelves are all available to store graded baseball cards just the way you want. The dimensions will be slightly larger to accommodate your card slabs' new bulk. 
Card Preservation
You want to guard your prized trading cards against UV rays, heat, and humidity. Humidity often has a reputation for being the leading destructive force at work against trading card collections, but heat and UV rays are just as severe of offenders. To keep your card collection's value intact, you'll need to take all three seriously.
So don't be tempted to skimp on the appropriate storage solutions! Although it can be expensive to store large numbers of graded cards appropriately, it's definitely worth it in the long run.
[medavine-ad]
After all, you've already spent a lot of money (and time) to get your collection to where it is today, right?
Spending a little extra money now to get new storage options that appropriately fit your graded cards is a no-brainer when you think of your baseball cards as an investment.
And the prices genuinely aren't that bad. There are many excellent, affordable storage options for graded baseball cards nowadays, from simple box storage to fancy display cases.
[medavine-ad]
Preserving Your Favorite Baseball Card Slabs On Display
Once your graded baseball cards are in appropriate containers, you still have to consider those pesky UV rays, heat, and humidity.
These things are relatively easy to control in your home or office, but there are still a couple of pitfalls to avoid when displaying your favorite slabs. Ideally, you aim for a temperature range of 68-72 Fahrenheit and a humidity level between 45% and 55%.
[medavine-ad] 
It is advisable to keep your prized slabs out of direct sunlight, even from windows. Yes, PSA and BGS both boast UV-resistant slabs, but the keyword here is resistant. They are not 100% effective at blocking the harmful rays that fade card colors and any signatures obtained on the cards.
So if you're determined to keep that card out where you can see it every day, make sure that it isn't facing a window that gets heavy sun exposure.
[medavine-ad]
It is also wise to avoid keeping your cards anywhere in the house with humidity or moisture build-up problems. So try to stay away from kitchens, bathrooms, basements, and attics too.
To check the current price and availability of baseball card wall mounts, click here to view them on Amazon.
[medavine-ad]
Storing Your Graded Baseball Cards Long-Term
Obviously, you aren't going to toss your carefully packed playing card storage boxes out on the lawn and call it a day. So let's assume that in long-term storage, your graded slabs are pretty safe from the sun. Humidity and heat will be your main problems in long-term storage.
[medavine-ad]
The number of graded slabs you need will dictate the storage system you use to avoid these card-killers. If, say, you only have 10-100 graded slabs that need a safe storage spot, a small BCW card box would be ideal. On the other hand, if you have closer to 500 slabs that need to be stored, you'll need something more secure and accommodating, like a safe.
[medavine-ad]
BCW Card Boxes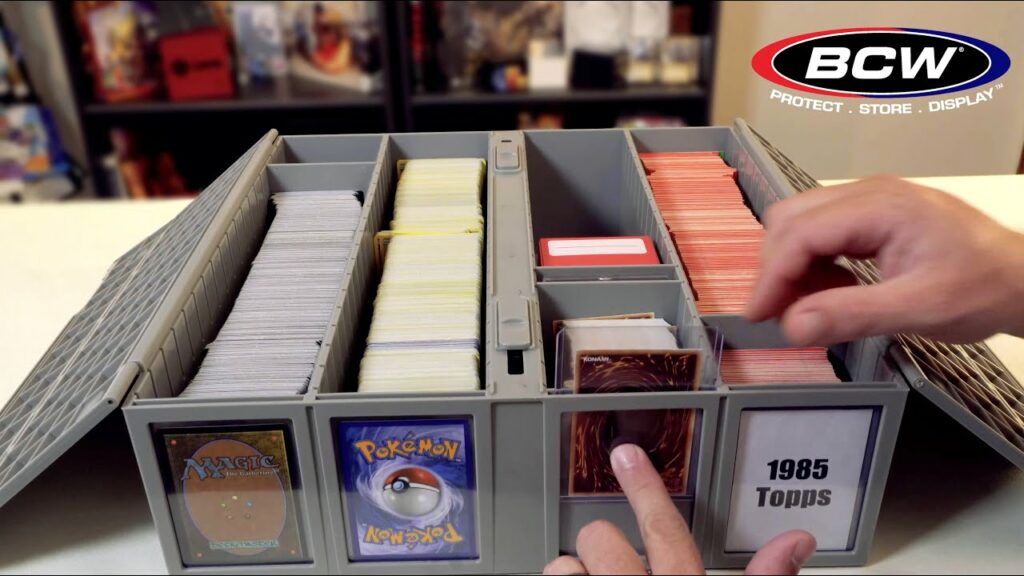 You'll be hard-pressed to find a better storage solution than BCW's card boxes for small to medium-sized collections of graded baseball cards. They have a wide selection of storage boxes that will fit your graded slabs perfectly. They have options that fit any collector's storage style from stackables to slotted storage. 
[medavine-ad]
For instance, you might consider one of BCW's slotted graded card boxes for a small collection that you like to pull out and look at now and then. With 26 fitted slots, this graded card box is perfect for your first set of slabs. It's attractive, made with quality materials, and can easily be tucked away in a dresser or closet where temperatures and humidity will be consistent.
If you have more slabs to store, or you are actively adding to your grading collection, you might need something with a bit more space. BCW has several other graded card boxes in graduating sizes that will fit your PSA, BGS, or other graded card slabs perfectly as well. Their other most popular graded boxes include.
[medavine-ad]
Graded Trading Card Box (it holds 30 graded slabs)
Graded Super Vault (it holds 75 to 80 graded slabs)
2-row Graded Shoe Box (it holds roughly 100 graded slabs)
BCW's boxes are highly rated amongst the collector community because they make some of the highest quality boxes available, period. They're resistant to the elements and super easy to store practically anywhere. If you decide that security is an additional concern for your collection, however, these boxes will fit snuggly inside of a medium to large-sized safe as well.
We recommend using these BCW Graded Baseball Card Storage Boxes to store your PSA graded baseball cards. It is the most cost and space effective method for storage.
[medavine-ad]
Storage Safes for Sports Cards
Once you hit a particular volume of valuable cards in your possession, you have to start thinking about protecting them from additional threats such as theft, fire, or flood. This is where secured storage such as a safe comes in. 
For collectors with upwards of 100-150 graded slabs, a medium to large home or office safe could be a perfect security solution.
[medavine-ad]
The only big problem you'll face with safe storage is humidity. Fireproof and waterproof safes, in particular, are known for their humidity problems.
Ridding your safe of humidity is an easy fix, however. You place a dehumidifier in the safe and either recharge or replace it every so often. A little baggy silica gel will do the trick!
[medavine-ad]
Final Thoughts
One of the saddest things we see in the trading card community is a collector's forgotten stash that's gone unchecked and unprotected from the elements. Regardless of the measures you've taken to protect your collection, you should check on them regularly.
[medavine-ad]
Stuff happens. People get busy and sometimes forget to check the basement for signs of mildew/mold, or a thermostat gets left up too high over the weekend while you're out of town. Even these small environmental changes in your home/office can spell disaster for your card collection over time.
So, don't forget to take your entire collection out and give it a once-over occasionally! Best case scenario, you'll never have to worry about discovering they've all molded over spring. Worst case scenario, you get frequent opportunities to admire your treasures!