Baseball cards can be purchased in stores such as specific trading card stores and large retailers. Online stores and sites provide a variety of ways to obtain baseball cards; auction sites, retailers, manufacturers, classifieds, and social media, all provide a way of purchasing baseball cards.
Baseball card shops do still exist in a few places across the country but due to the rise of the internet and technology physical storefronts are becoming more obsolete. Other physical locations where you can still find baseball cards include retail stores, thrift stores, flea markets and garage sales.
There are many online stores and websites where you can find baseball cards to buy and trade with other collectors. Auction sites such as eBay, classified ad sites like Craigslist, mobile apps, manufacturer websites and social media sites are all good platforms for buying, selling, and trading baseball cards.
This article explores all the possible locations, both physical and online, for you to find, purchase and trade baseball cards. The following areas will be detailed in the article:
Physical Locations
Retailers
Baseball card shops
Flea markets
Garage sales
Thrift stores
Online
Auction sites
Online classifieds
Consignment
Manufacturer websites
Online retailers / E-commerce stores
Mobile Apps
Facebook marketplace
OfferUp
Other apps
Physical Locations to Purchase Baseball Cards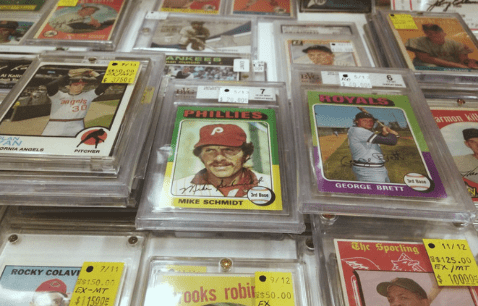 Physical locations are any place that you can go to in-person and see products directly in front of you, this includes brick-and-mortar stores, markets, and garage sales. When it comes to individual cards, viewing them in person is the best way to guarantee you know the condition of the card before purchase.
There is a certain thrill and excitement of browsing through cards and packs that you can see and hold, compared to looking at an image on a screen. With this excitement, you need to approach with caution as there is a possibility that packs can be opened and tampered with when they are on display and can be picked up by anyone.
Retailers
Retail stores are commonplace for purchasing baseball cards as they are visited by consumers for a variety of goods; the largest stores are Walmart and Target. Other retail stores that you might not realize sell baseball cards include:
Baseball cards are sold by retailers in packs, as opposed to individual cards, with odds set on the chances of you packing high-value cards. If you purchase directly from a baseball card shop or through certain online platforms, you can purchase individual cards, this way you know exactly what you are getting. Part of the joy of collecting comes from the excitement of purchasing a pack not knowing what's inside.
Cards sold in retail stores are labelled as retail whilst cards sold in baseball card shops are labelled as hobby. The difference is that retail packs have lower odds meaning you're less likely to pack valuable cards. This is done because retailers sell them as part of a large variety of goods, whereas baseball cards specializing in selling one product; baseball cards.
Retail packs often contain repackaged items, and it is unlikely that you will find any specialised cards in your pack such as autographed or low serial numbered cards. It is worth noting that you should make sure packs are unopened when purchasing from retailers as there is a possibility the packs may have been opened or tampered with.
Pro's – Buying from retail stores you can physically see the product in front of you and experience the thrill and anticipation of what cards you might get when you open the pack. Retail packs are priced to match the odds of the packs, so if you are on a budget or you have just started collecting, retail packs are the ideal place to start.
Cons – The odds on retail packs are low in comparison to hobby packs which means you are highly unlikely to find a valuable card when you open the pack, if this is what you are hoping to find.
Unlike other ways of purchasing, there is no option in retailers of purchasing individual cards so if there is a specific card you want you will need to look elsewhere.
Baseball Card Shops
Baseball card shops are a dying breed and have been on the decline in numbers since the late 1990s. However, for die-hard baseball card collectors, there are still some baseball card shops remaining across the country. You will probably have to travel quite some distance if you plan to visit one, or you might be one of the people lucky enough to live within the vicinity of a card shop.
Baseball card shops are the most authentic method used for buying baseball cards. Owners tend to be collectors themselves and knowledgeable about the cards they are selling.
Seeing cards before you purchase them means that you will realize the true condition of the card. Also, it means you can purchase a specific card as opposed to buying a pack with low adds of packing a high-value card.
The first baseball cards came into existence around the 1860s, with clubs giving cards out as mementoes for fans and opponents. The hobby of collecting and trading baseball cards had begun and remained the same until the 1970s. Eventually, collectors would move on to something else and the baseball cards were left forgotten at the bottom of a cupboard.
Baseball Card Shop History
The first professional baseball card dealers emerged in the early 1970s. To begin with, the dealers operated from home, placing classified ads in newspapers, and meeting up with sellers in person. At this point, only a few traders dared to open physical storefronts. Baseball card shops opened frequently right through to the early 1980s as they increased in popularity.
Baseball card shops remained a staple of most towns and cities until the 2000s. With the rise of the internet, came the decline of baseball card shops, as with many other physical storefront retailers. The internet opened a whole new world of opportunities for collectors to connect instantly, something that was not possible before.
Pro's – You can purchase individual cards as well as packs, giving a more expansive selection to choose from in comparison to retail stores. There is a certain enjoyment of searching and looking at the different options, rather than an instant online purchase. You have access to instant face-to-face interaction if you need help or information from an employee.
Cons – Baseball card shops are rare and could be 100's of miles away or more from where you live. Prices are higher than purchasing through other platforms as these stores are specialised in selling baseball cards and the owners understand the value of the cards they have available.
Flea Markets
A flea market refers to a market where secondhand goods are sold, and they generally take place outdoors. Individuals can sell their old unwanted items at flea markets, and professional traders sell their specific type of goods.
Flea Markets can be a good place to find a trader selling baseball cards, or individuals clearing out their house with unknown cards, with an opportunity to purchase cards at a better price than baseball card shops.
Although prices will be lower, in general, than brick-and-mortar stores, there is no guarantee that you will find a rare valuable card. If sellers are unaware of a card's value, then it is possible that the card hasn't been looked after very well and it might not be in good condition.
Pro's – It is possible to find a valuable card that the seller isn't aware has any value. Rummaging through boxes and bags and not knowing what you will find can provide a thrill. Markets also provide you with a platform where you can access multiple sellers in one location.
Cons – The condition of cards may not be very good as cards get passed on through families and people often forget about them and don't look after them. If items aren't laid out neatly it can be time-consuming sifting through all of the items a seller has trying to find cards.
Garage Sales
A garage sale (also referred to as a yard sale) is an informal sale that takes place outside someone's house. Like a flea market, the individual will be selling their unwanted, secondhand items. It is easier to drive prices down at garage sales as ultimately the seller is looking to get rid of items that they no longer need.
Pro's – Garage sales provide an opportunity to meet new people as you hunt for unique baseball cards. As with flea markets, garage sales provide you with the thrill of the unknown and the potential to find hidden gems. You will grab some bargains if you can find multiple garage sales to attend.
Cons – It is time-consuming to search through all the boxes and items on display at garage sales. These types of sales are not always advertised, often making it difficult to find them. There are limited opportunities to find baseball cards as there is only one seller, compared to markets that have multiple sellers.
Thrift Stores
Thrift stores (also known as charity stores) are stores that sell secondhand items, usually to provide money to a charitable institution. Not only can you grab yourself a bargain but in doing so you are also supporting a charity.
You can negotiate the price quite often in thrift stores, particularly on items that have been stocked for a long period. In general, the prices in thrift stores are very generous as the items have been gifted to the store as a way of people getting rid of their unwanted items, and the money raised will go to a charity.
Thrift stores aren't associated by many as a place to buy baseball cards which will give you an advantage in searching for valuable cards. Not everyone is aware of the value of baseball cards that are in their possession meaning people will donate their cards to places like thrift stores.
Pro's – You will find bargains as most people are unaware that you can find baseball cards in thrift stores. When you locate cards in a thrift store, that will be the common location of the cards making them easy to find on your next visit.
Cons – A lot of the cards you see in thrift stores will be more recent, low-value cards from the 1990s. You won't always see cards in thrift stores and when you do there will be a limited amount. Many cards will be damaged as the original owners, and potentially the store workers, will not have realised the value of the cards.
Online Stores
Online retailers are accessible 24 hours a day, 7 days a week, unlike brick-and-mortar stores which have set opening and closing times. This makes online a great platform for all shoppers, including baseball card collectors, as they can browse and purchase at a time that suits them.
Websites can also provide a place for collectors to connect, allowing them to negotiate deals, trades, delivery and meet-ups for trading cards. The internet provides more opportunities for a collector to find the cards they want with buyers having access to an array of websites within a matter of seconds.
To check the current price and availability of Baseball Card Blaster Boxes, click here to view the selection on Amazon.
Auction Websites
Auction websites are a platform whereby anyone can place their items for sale, brand new or secondhand, and set their price. These types of sites allow buyers to increase their search area, often across the entire world, increasing their chances of finding what they are specifically looking for, or finding a great deal.
As with any auction, on these websites, you are bidding against others to win an item. Whereas an auction at an auction house will take place immediately, selling an item there and then, auction websites tend to have bidding open for multiple days. You will face a lot of competition when bidding on certain cards as anyone with the internet can bid against you.
eBay
eBay is by far the most popular auction site used by Americans, if not the whole world. eBay is available on desktop devices and as a mobile app which means you can bid on and purchase items no matter where you are.
Using eBay is straightforward, when opening eBay by whichever method you choose, simply type in a term that you wish to search, this can be as simple as "baseball cards" or as complex as a specific type of card, player, year, etc.
Once you have the results of your search, eBay offers various options for you to filter the search even more. These filters allow you to specify characteristics such as condition, price, and location. When you click on an item to view it you will be given the option to bid on the item or buy it now, depending on how the seller has set up the sale.
eBay offers one of the largest selections of baseball cards on the planet. Whether you want to buy packs or single cards, find cards from a specific season, or a specific team, eBay is sure to provide a solution to most of your searches. Take note of a seller's feedback score before any transaction takes place as this is a great way to tell if the cards are genuine.
Pro's – There is an almost endless selection of items available due to how easy to use and accessible eBay is. You can buy cards from the comfort of your own home or wherever you are at any time. Sellers can set an option for buyers to make offers on cards, giving opportunities to buy cards below their set price.
Cons – Bidding can drive prices up above the market value of a card and you could be bidding against any number of other people.
Online Classifieds
Classified advertising is a common method used for advertising online at little to no cost. People use this method as a way of advertising unwanted items they are trying to sell. Most transactions that take place through this model are individuals selling to individuals, but businesses do also use this method to advertise and sell their products.
Craigslist and Nextdoor are two of the most popular online classifieds in the U.S. There is a difference between these two; Craigslist allows you to search across the entire country, whereas Nextdoor is focused on matching you with sellers in your neighborhood.
The premise to both is the same, you search for a product (i.e. baseball cards) and the website will identify all sellers that have this product up for sale. You then negotiate a price with the seller and arrange to meet up to conduct the transaction.
Pro's – Sellers's listing on classifieds tend to be looking for a quick sale which will give you the advantage when negotiating a price. There are no fees involved as transactions are conducted face to face, normally with cash.
Cons – There will be a low number of baseball cards available at any given time on classified sites. Meeting a stranger can be unpredictable, and even unsafe, as they may try and change the price when you meet them.
Consignments
Consignments are digital platforms where users can pay a small fee to an online store that will sell goods on behalf of the owner. Although the items are shipped to the store, it remains the owner's property until it sells. Items are listed and shipped on behalf of the seller, but the seller can set the price of each item.
Check Out My Cards (COMC) and StarStock are the two major websites when it comes to the best consignments for finding baseball cards. As these companies store cards on behalf of the sellers, they allow buyers to purchase and stack items before shipping.
Stacking cards is when the buyer purchases multiple cards from various buyers and keeps them stored in the company's warehouse until they decide to have them shipped. This allows multiple cards to be shipped together rather than having them all shipped individually.
Once a card has been purchased, you now own it, meaning that you can then sell it on to another buyer whilst it is still stored in the warehouse and the consignment platform will process the whole sale for you without you ever physically having the card.
Pro's – There is the option of purchasing and storing cards indefinitely without handling them first. You can sell unwanted purchases to other buyers without handling the shipping or listing.
Cons – The process of buying and selling is longer than other online platforms due to the cards being stored at the company's warehouse. Consignment sites are not as popular as other online platforms like eBay meaning you won't find as many cards for sale. There is a greater risk of damage from double shipping: seller to warehouse and warehouse to buyer.
Manufacturer Websites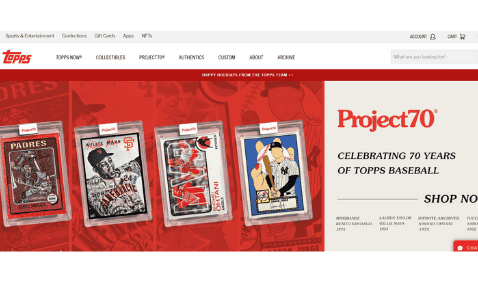 A manufacturer website is an opportunity to browse and purchase the baseball card manufacturers cards directly from them, rather than purchasing from other online stores or brick-and-mortar retail stores. Topps are the biggest manufacturer of baseball cards and you can buy baseball cards directly from them online.
Pro's – Purchase directly from a manufacturer without leaving your house knowing you are buying genuine cards. Manufacturers offer a large selection of cards on their websites.
Cons – Prices tend to be higher when purchasing directly from a manufacturer. If you are not looking for a specific product it can be time-consuming to browse through the entire selection available on the website.
Online Retailers / E-commerce Stores
Brick-and-mortar retailers generally have websites where you can purchase much of the same products as you can in-store, including baseball cards. Other retailers such as Amazon, Etsy, Fanatics, Overstock, Poshmark, StockX, and even CVS provide competition to traditional retailers by operating purely online.
Often, online retailers will sell baseball cards that are exclusive to them, for example at Fanatics you can purchase "Fanatics exclusive cards." Providing exclusives creates a more unique experience for the buyer as they can buy cards that will not be available anywhere else.
Whereas most retail stores only sell packs, some online retailers do sell single cards, increasing the number of products available to consumers. It is well worth noting that E-commerce platforms such as Etsy do not always have baseball cards available as they are sold by individual stores/sellers, Etsy do not stock cards like retailers.
Pro's – Exclusives are available that you won't find anywhere else. You have the option to purchase single cards and not only whole packs.
Cons – Cards aren't always available as some of these online stores do not stock cards, individuals sell them. Prices are higher for exclusive cards due to not being sold anywhere else.
Mobile Apps for Baseball Cards
Mobile apps are a great place to look for baseball cards due to the convenience of being able to browse whilst on the go. If you're travelling as a passenger, or have a bit of downtime, you can pick up your phone and search for the next card to add to your collection.
Many of the retailers mentioned earlier in this article do have websites and apps which are accessible through your mobile. In this section, you will see apps available in the app store of whichever device you own. Apps take a matter of seconds to download and then you can immediately start searching when you open the app.
Facebook Marketplace
Facebook Marketplace is a platform within Facebook that allows users to buy and sell items from each other. Sellers set a price, which can be negotiated, and buyers contact them to arrange a deal. There are no payment options on Facebook Marketplace and both parties will have to agree on a payment method, usually cash, to process outside of Facebook.
You can find some good cards at reasonable prices using Facebook. If someone has a rare card that they want to sell for as much as possible, they won't be advertising it on Facebook, they will use more traditional methods where they have access to more collectors.
Buyers and sellers, in the main, are local to each other as most transactions are done face-to-face, rather than items being posted. Like Craigslist, sellers are looking for a quick sale, and Facebook Marketplace is set up to accommodate this type of sale.
Pro's – You can find a bargain as sellers probably don't realise the value of their cards. It is easy to use Facebook Marketplace and to use the search features to find cards.
Cons – A lot of the cards on offer will be common and of little value. Sellers prefer buyers to collect cards rather than post them to the buyer.
OfferUp
OfferUp is a customer to customer app allowing people the opportunity to buy and sell their items to each other, including baseball cards. The functionality of OfferUp is similar to Facebook Marketplace, buyers and sellers negotiate on a price and arrange to meet up to complete the transaction.
Other Apps
Other apps available that are similar to Facebook Marketplace and OfferUp include eBay Classifieds, TradeMade, LetGo, Close5, Recycler, Yerdle, Oodle, Listia, SocialSell and Mercari.
How Can You Find Baseball Card Shops Near You, Using Google?
Visit Google on any device and search for "baseball card shops." Google will provide results of baseball card shops based on your location data. You can also search "baseball card shops [+ location name]" if Google can't see your location or if you are going to be travelling to a certain area and want to see what baseball card shops are there ahead of time.
When you perform these searches on Google, at the top of the list will be a map pinpointing the exact location of stores. You can click on "maps" and this will open the map in a larger view for you and you can move around and widen the search area using this tool. Clicking on the pin for any of the locations will provide a preview of that shop.
On the Google search page, the map preview is followed by a list of store names which includes options to get directions to a specific store and visit the store's website. The amount of information available will depend on how much has been shared with Google by the shop.
Another useful tool you can access during a Google search is Google reviews. If there are reviews available for a specific shop, it can give you an insight into the size of the collection available and any positive or negative aspects of that shop.
You can perform similar searches using other search engines; however, Google is the simplest to use and has other features which can help in your search.
Final Thoughts
Anyone who has a passion for collecting baseball cards has a world of possibilities and opportunities to obtain more. Those who may have recently struggled with finding places to purchase baseball cards have now discovered an abundance of new ways to find cards, be it online or in more traditional brick-and-mortar stores.
Part of the enjoyment of building any kind of collection is in the adventure of searching for and finding the items, especially at garage sales and markets where you have no idea what you might find. You might travel to a new location, meet new people, discover other collectables you have an interest in, all whilst on your search for baseball cards to add to your collection.
The methods of finding and buying baseball cards may have vastly transitioned from the traditional baseball card shops popular in the '80s, to online stores and apps accessible on your mobile phone, but the people collecting them are still the same. Passionate and enthusiastic about baseball and collectables, there will always be a strong market for baseball cards.