Did you know that German Pokemon cards have been around since the original base set? Until today, German Pokemon cards are still being produced in Germany for the most recent Pokemon Card series. But how does their value hold up?
Are German Pokemon cards worth anything? Without a doubt, German Pokemon cards are still valuable. However, they are not nearly worth as much as their English and Japanese language counterparts.
Certain German Pokemon cards have a lot of value. And to nobody's surprise, many of these valuable cards we will be mentioned in this post will resonate with you as they are pretty much the same cards that are valuable with the English set.
What Are German Pokemon Cards?
German Pokemon cards are simply Pokemon cards that are sold in Germany. The significant difference between these cards and their English counterpart is that the text on the cards is written in German.
Many of the Pokemon names were re-created in German and look unique, as with all other foreign Pokemon cards.
When Were German Pokemon Cards Made?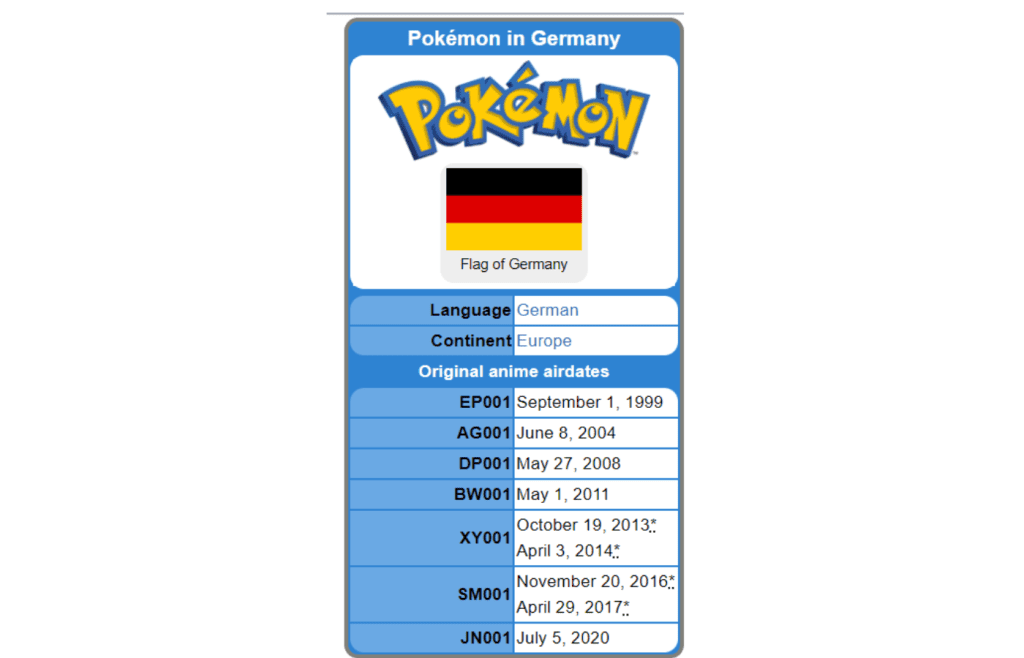 German Pokemon cards were established way back during the release of the original base set back in 2004. German Pokemon cards and many other foreign language cards are still being produced today.
While their popularity with their English and Japanese counterparts may not be as big, the Pokemon Company wanted to provide the best product possible to as many customers as they could worldwide.
Pokemon has a huge fan base, and they give their fans what they want. Even if you don't speak English or Japanese, you will still be able to find Pokemon cards in a variety of languages ranging from Spanish, French, and even Russian.
The Pokemon Trading Card Games have been produced in a total of 13 different languages and are being sold in over 70 countries and regions.
For a complete list of languages for which the Pokemon Company produces cards, click here.
How Much Are German Pokemon Cards Worth?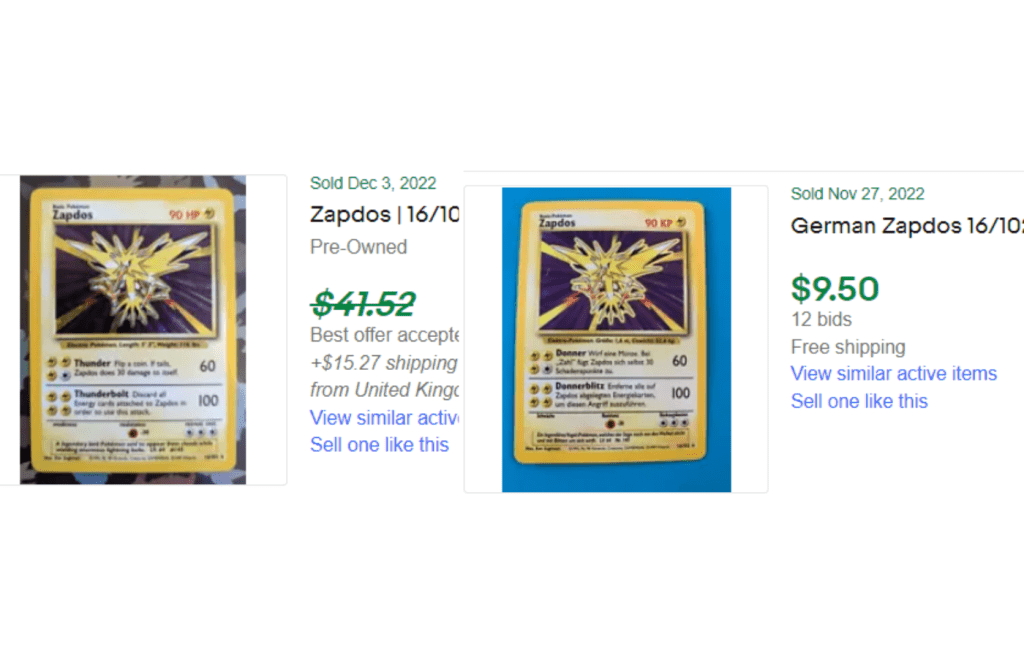 German Pokemon cards can be worth anywhere from a few dollars, to thousands of dollars. This mainly depends on the card rarity, condition, and popularity within the Pokemon community.
To give an example, we will be comparing two card types. One from the German set and one from the English Pokemon set so you can get a feel for the difference in value.
In the above picture is a Zapdos. On the left is a Zapdos from the English set, while on the right is a Zapdos from the German set.
Even in similar conditions, German Pokemon cards are worth much less than the English set. Although they aren't worth as much as the English set, you can still sell them for a reasonable price. This is especially true if you get them graded by the PSA or BGS.
Which German Pokemon Cards Are Worth the Most Money?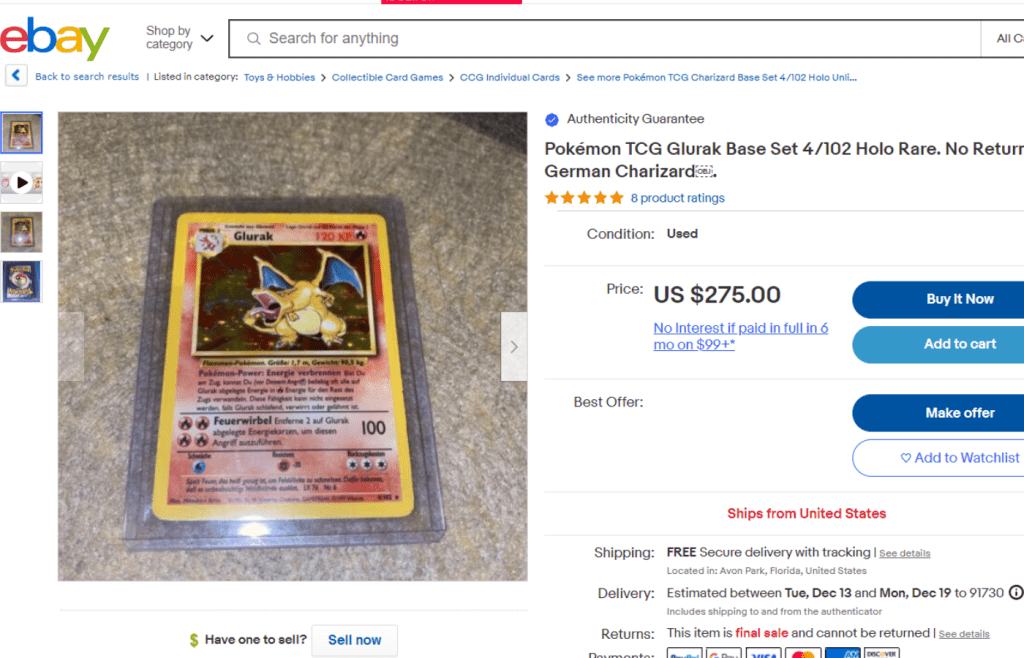 The most expensive German Pokemon cards come from none other than the base set. The legendary first edition Charizard from the base set with a PSA grade of 9.5 sold for around $14,000! This price is still very cheap compared to the English counterpart, but that is still a big lump of money.
Some other very expensive and noteworthy cards are the base set Mewtwo, Venusaur, Blastoise, and Dark Charizard.
Where Can You Get German Pokemon Cards?
The most abundant marketplace to find German Pokemon cards is eBay. eBay is an online flea market where almost anything can be bought or sold.
eBay has a wide selection of new and used Pokemon cards in just about every language. You will be able to find single cards, booster packs, booster boxes, graded/ungraded cards, and more.
eBay also has its own authentication system to help prevent and catch fraudulent cards. There is also a 100% eBay money-back guarantee if you aren't completely satisfied with your order. You can simply return it for your money back.
Are German Pokemon Cards Worth Anything? FAQs
Are Pokémon Cards in Different Languages Worth More?
For the most part, Pokemon cards in other languages are worth less than English and Japanese cards. English and Japanese cards are the two most expensive languages in terms of card value.
This is primarily due to the population of players as well as the amount of product sold in both of these languages compared to all of the other languages.
What Language Pokémon Cards Are the Most Valuable?
English and Japanese Pokemon cards have the most valuable cards.
Final Thoughts
German Pokemon cards have been around since the beginning of the base set. It used to be very hard to get your hands on these cards as they were only sold in parts of Germany. However, with the era of the internet and eBay, purchasing these cards from third-party sellers has never been easier.
Many holographic, rare, and mint-condition German cards are worth a good bit of money. This is especially true with the older vintage Pokemon sets, such as the base set. You will still find that your old favorite cards still hold a high value, even in the German language version.
While a German first edition PSA 10 Base set Charizard won't get you six figures, you can still expect a nice lump sum of money if you have one lying around in your closet.