Many sports card collectors will attest to the thrill of cracking open a pack of cards, hoping to secure a rare or expensive card. Sport card collectors make up a passionate and active subculture.
Among the many options available to card collectors are the opportunity to trade with friends, to search online for rare cards, and to shop at pawn shops. But, in every one of these situations, you risk getting duped. Fortunately, tech innovation has solved the problem.
Using top Android and iOS sports card scanner apps, you can ensure that you're only adding authentic cards to your collection. In this guide, let's examine how sports card scanning apps have revolutionized the collection and valuing process.
Key Takeaways
Most sports card apps use AI/ML-powered image recognition.
PSA is the best sports card grading app, and it's free.
Before submitting your cards, prepare them for grading to improve their value.
PSA, Beckett, and SGC are some grading services available.
Understanding Sports Card Value Scanner Apps
Most sports card apps use picture recognition technology powered by artificial intelligence and machine learning. The scanner creates a high-quality scan of your card image using the camera. The value lookup will show you the rate for comparable cards on eBay.
When you scan a card into the app, it automatically looks for it and saves any relevant data. Most modern apps can read a sports card's QR code or barcode and display its present value if it finds a match.
Plus, most apps offer current auctions and fair prices. You will see your portfolio's value rise with each new copy added. Now, to stay on top of the game, you can configure the app settings and set parameters for card evaluation so that you only receive the prices of interest.
Related: Top 5 Best Storage Cases for Graded Cards
Popular Sports Card Value Scanner Apps
Beckett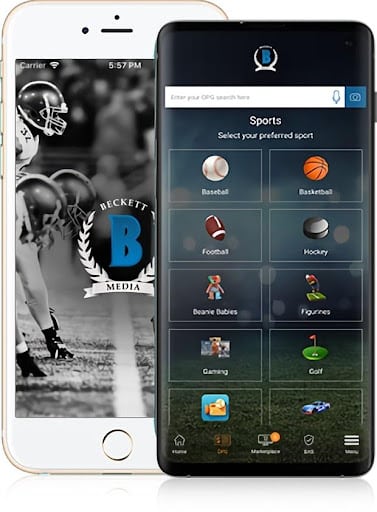 You've undoubtedly heard of Beckett before, but now you can access card pricing anywhere you go with their mobile app.
If you are a frequent Beckett user and have occasionally used the print or online guide, this app should make your life easier, but you will still have to pay the monthly price.
It's important to note that the Beckett value may differ significantly from your final selling price on sites like eBay or other apps.
Pricing
15 days: $33.99
Monthly: $40.99
Quarterly: $119.99
6 Months: $199.99
Annually: $349.99
Rating
Sports Card Investor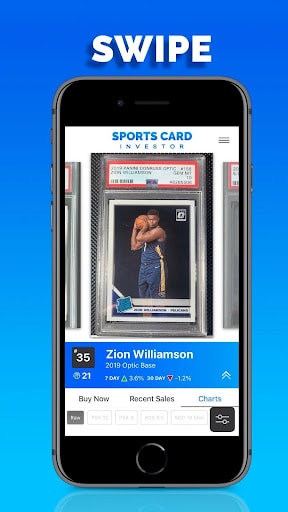 Sports Card Investor will be an invaluable resource for card collectors. You can effectively manage your portfolio with the help of the mobile app.
It won't take long to assemble a deck for Magic, Pokemon, or Yu-Gi-Oh. Now, this app consolidates purchasing, selling, storing, and trading collectible cards.
Anyone can use the app; you only need the internet and some free time. Set the card at a 45-degree angle and choose a monochrome background to scan it. What's even better? It's easy to scan multiple cards at once.
The app is compatible with cards from around the world. If you don't know a foreign language, Sports Card Investor can guide you in learning all the details on the market value and the date of issuance.
Pricing
Starter: $9.99/Month
Premium: $24.99/Month
Unlimited: $49.99/Month
Rating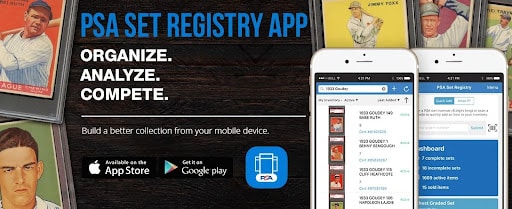 This app is a must-have in the world of sports and merchandising cards. Every collector can benefit from the innovative PSA Set Registry. Using it, you can name the card, learn its true worth, and show it to your pals.
The app is free. To use it, you only need access to the internet and a reliable connection. It's compatible with modern and older versions, making it easier to do everyday tasks.
PSA Set Registry details the purchase's date, price, and location. The best part?
The app is simple and quick to use, and you only scan the barcode on the card with your mobile device to add it to your collection.
Rating
Related: Where to Get Cards Graded in Person? Here Are Your Options
How to Use a Sports Card Value Scanner App
Most sports card apps use AI and machine learning to recognize a card based on its image and then display its information. It saves you time because you won't have to manually enter each card's information. Here's how it works:
You open the mobile app and tap the "scan a card" button to begin the card-scanning process. Select the card by toggling between the options.
You can avoid keying in all of your card information by using your phone's camera or uploading a picture of your card and having a matching engine recognize and catalog it.
Scan your sports card with a Sports Card Scanner, and it will find a match based on its image and provide you access to the card's full details. If the card has a grade, it will also include the grade information.
Check the information returned for your card, make any necessary changes, or choose another match. Add supplementary data, such as the buying price (optional)
After a successful scan, the site will reveal further details on your card, such as up-to-date price guides.
If the app scanner cannot positively identify the card, it will offer alternatives from which to choose.
Upon completion, you can add your card to your collection, sell it online, or share it via social media.
Related: Best Baseball Card Pack to Buy In 2023
Sports Card Value Scanner App: FAQs
Is There an App to Scan Sports Cards for Value?
Yes, you can scan any sports card with certain apps. The CollX, for instance, can scan a sports card and immediately tell you what sport it is and how much it's worth on the market.
How Can I Check the Value of My Sports Cards?
You can look up the auction price of your card at PSAcard.com. The more specific you make your inquiry, the better quality of results you'll get. To narrow your search, try entering information about the card's subject, year made, and manufacturer. Include the card number for guaranteed A-list service.
What Is the Best Sports Card Scanner?
You can scan many cards at once with the SV600 or a Fujitsu flatbed/feeder scanner, which are great options for scanning slabbed cards. Fujitsu's cutting-edge image and feeder technology are ideal for risk-free, high-throughput card scanning.
How to Look Up Baseball Cards Value Free?
You can get a good idea of your baseball card's worth by looking at its historical sales statistics. You can readily locate the sales figures from well-known card sites, as most trading cards are now sold online. The largest online sports card market is still eBay.
Related: How to Get Cards Graded for Free
Conclusion
Scanner apps have changed the game for sports card collectors and investors alike. Now, with the best sports card value scanner apps for Android and iOS, you can be sure that any new additions to your collection are legit.
What's even better?
When the chance arises to make a trade with a buddy or purchase something from a local pawn shop, you need not worry. Having the app ready will allow you to quickly verify legitimacy and market price.