If you want to be good at a game, what's better to do than researching the professionals in the industry? However, knowing what cue your favorite professional uses may not do you as good as you think.
So, what cues do snooker pros use? Professional snooker players choose a cue based on personal preference, performance, and sponsorship. The majority of professional Snooker players use cues made by John Parris.
That said, a professional does take how well a cue performs into consideration when choosing which snooker cue to use. Performance makes some brands of snooker cue more popular among the pros.
Snooker Pros and the Cues They Use
After a little bit of research, it's safe to say that the majority of professional Snooker players use a cue that is custom made for them by John Parris Cues. A few other popular custom cues are Stamford Cues as well as Northwest Cues.
| | |
| --- | --- |
| Professional | Choice of Cue |
| Judd Trump | John Parris |
| Neil Robertson | John Parris |
| Ronnie O'Sullivan | John Parris |
| Mark Selby | Stamford |
| Kyren Wilson | John Parris |
| John Higgins | Northwest |
| Shaun Murphy | John Parris |
| Stephen Maguire | John Parris |
| Ding Junhui | Stamford |
| Mark Allen | John Parris |
To check the current price and availability of Professional Snooker Cues, click here to view the selection on Amazon.
What Are the Best Brands of Snooker Cues?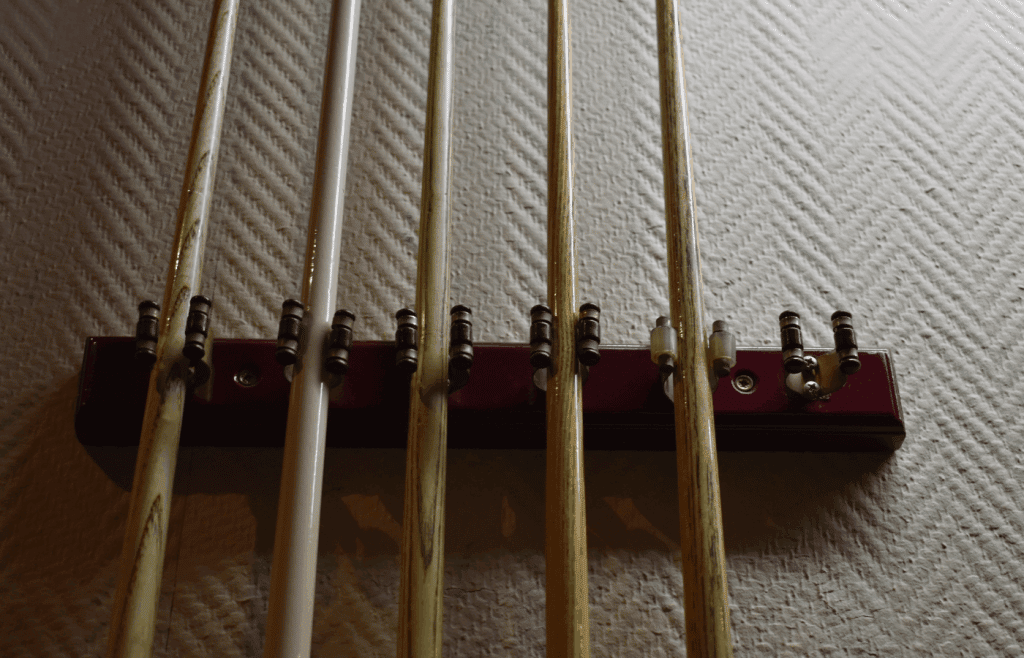 Some of the more popular snooker cue brands include
Hunt & Osborne
John Parris
Robert Osborne
Maximus
Trevor White
Peradon
Glover Cues
Craftsman
Riley Leisure
Mastercraft
Fusion
Hunt & Osborne
Hunt & Osborne cues are a series of pool cues made during a five-year collaboration between Will Hunt and Robert Osborne. When the duo went their separate ways, both Will Hunt and Robert Osborne would become big names in snooker cues individually.
Hunt and Osborne's cues were only available for a select time and are now considered specialty items that are getting harder and harder to come by.
John Parris
John Parris is a popular name among professional snooker players. Parris cues are world-renowned and recognized for the material quality and precision that goes into making each one.
Parris makes cues for both snooker and pool, and all Parris cues are handmade and have been for the past twenty-five years!
Robert Osborne
Robert Osborne is a small business but a big name in snooker cues. Osborne is known for being the manufacturer of one of the leading brands of snooker cues in the world.
Osborne makes cues for both snooker and English 8-ball pool, and all Osborne cues are handmade and have been for the past thirty years!
Maximus
Maximus Cues are widely known for the quality of their ash cues as well as the exotic wood that they use in their special-edition products.
Maximus cues are all hand-spliced and crafted in Thailand by skilled workers. Maximus has been in business for thirty years!
Trevor White
Trevor White Cues are all crafted by Trevor White himself. White's cues are in high demand, but this does mean sometimes having to wait for a year or more to receive a specialty cue order. That said, the quality of these snooker cues means that there are plenty of people on the order waitlist!
Peradon
Peradon has the distinction of being the oldest cue maker in the world. Peradon is also known for introducing the hand spliced cue to the world of snooker and for having some of the highest quality cues on the market.
Peradon makes both snooker and pool cues and has been in business since 1885.
Glover Cues
Glover snooker cues are all handmade and of exceptional quality. Glover is often recognized for its custom-made cues, but they also make cue replicas.
Glover cues are all made by Tony Glover in his workshop, yet production time is surprisingly reasonable.
Craftsman
Craftsman is a small family-based business that specializes in making custom cues. Craftsman is dedicated to the quality of their product which is why they are a favorite among serious players.
Craftsman makes cues for both snooker and pool and they have been in business for over twenty-five years.
Riley Leisure
Riley Leisure cues are recognized as one of the leading cue brands today and they focus on producing custom-made-to-order snooker cues. Quite a few professional players choose to play with a Riley Leisure cue.
Riley Leisure makes cues for both snooker and pool and they have over forty years of experience in cue making.
Bce Snooker Cues
BCE is a brand tied to the Riley Leisure company name that is best known for the quality of its cues as well as their affordability.
BCE specializes in snooker and pool cues and they have been in business since 1976.
Britannia Snooker Cues
Britannia is a company founded by a professional snooker player, Del Smith, who is also a well-known snooker coach. Britannia makes a full range of cues with something for everyone and every budget range.
Britannia makes cues for both snooker and pool.
Final Thoughts
Choosing a great cue is one of the most important aspects in Snooker. Picking a high quality brand and customizing a cue that fits a certain style is the approach that professional Snooker players take.
Most professionals use a custom cue that is made by big, well known brands in the Snooker world. John Parris, Stamford, and Northwest are three of the biggest names in the game and they prove themselves year after year by providing some of the best cues ever made to the pros.
It takes years and years of using different cues in order to hone in on what types of cues work best with you. If you know what you like, then having a hand crafted, custom made cue would be the best way to go.